Day one of Île Soniq had some rainy moments, but even the turbulent weather wasn't enough to keep anyone from enjoying the festival!
The day started out with its usual Montréal-style festival festivities: a full metro car echoing with excited singing and chanting from eager festival goers, almost like an energy pre if you will.
When we arrived at Parc Jean-Drapeau we were greeted by the warm sun and I got my first look at the newly renovated festival grounds, that have recently been relocated to its previous spot on île Sainte-Hélène. The layout of the festival is spacious, even for vast crowd of festival goers and the view of the city and the glistening water just makes the experience all the more ethereal. 
The first show I catch is Sydanie, a Toronto-based rapper (and self-described "bad rap mom" on her Soundcloud). She's glimmering angelically in a sparkling jumpsuit and doesn't hesitate to bust a move in it as she raps some realness.
We definitely felt her energy when she performed her newest song I want u 2 see this and even debuted an unreleased track Abby. Sydanie doesn't just speak truth in her music though, and midway through her performance she reminds us of the sadly minimal effort by Île-Soniq to hire any female performers by shouting out to "the fact that I'm the only live performing female for the day."
While I wait to catch MurdaBeatz' show, I head over to the superman ride that île-Soniq has set up for its festival goers. As I'm strapped into the ride I hear the crowd screaming as he hits the stage, but by the time it's over the rain has taken over the festival and stopped the show. At first the crowd screams for MurdaBeatz, but as it starts to get pretty wet it begins to dissipate in large pieces as everyone seeks out shelter. 
By the time it stops I'm just in time to catch Nora En Pure, a South African-Swiss DJ known for her deep house and indie dance music. Her music is light and euphoric even amidst all the clouds and intermittent rain, an almost perfect foil for the next show I saw: 1000volts.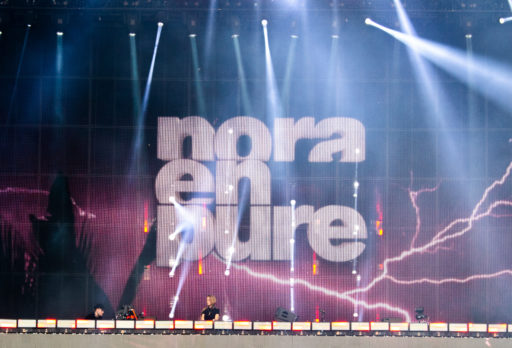 The story of 1000volts' conception reads like a love story to me, and I can't unsee it. Hip-hop ace Redman and trap and bass producer Jayceeoh joined forces after working together on a song in 2015, and have been bridging the gap between hip hop and electronic music ever since. Their name didn't disappoint either with the electrifying performance they gave, perfectly set under an actual stormy sky.
While I was waiting to catch Lil Pump on his first trip to Quebec, I also managed to catch Oliver Helden's performance — a sea of beautiful people swaying back and forth to the uplifting but poppy sound — as well as the end of Smokepurpp's show from afar which had perhaps one of the most energetic crowds I saw, singing along to all of his songs and bouncing rhythmically together with shots of the mosh pit hitting the big screen every few minutes.
I made sure to catch Mo Bamba at Sheck Wes' show, took a few minutes to get some poutine in me and then trekked back to the Mirage Stage with the masses to catch a glimpse of Soundcloud sensation Lil Pump, who was unsurprisingly 20 minutes late to his own show. Though I do enjoy a few of his most popular songs, (Gucci Gang will always be a bop), his overall performance felt to be a bit of a disappointment, but that can probably be blamed more on his tech guys as the cameraman was visibly struggling to follow him across the stage and his DJ/hype-man's mic seemed to be louder than his own, obscuring the sound of his voice and lyrics punctuating everything Pump said with the perhaps overly frequent and loud "yuh"s and "okay"s. Once it started to rain, it was a sign for me to leave. 
Overall the first day was absolutely jam-packed with exciting and energetic performances for every sub-category of electronic music, even including a metal EDM performance by Sullivan King, as well as the various hiphop/electronic music fusions, (although almost completely lacking in female performers). See you all at Day two for what will hopefully be better weather! 
Photos courtesy of the lovely Celeste Bonnier (featured image of Sydanie and her backup dancers)
Île Soniq concludes today, tickets available through IleSoniq.com