I am a human being and a citizen of the United States, and more importantly a citizen of the Earth. I live in a free country, which is part of a free world, right? I am allowed to love who I love and live in peaceful harmony, right?
Daily I find reasons to doubt that my rights, freedoms, and civil liberties mean anything at all. For the last week I have been reading all about Indiana and Governor Mike Pence's Religious Freedom Restoration Act… this act gives business owners the right to deny service to anyone who goes against their religious point of view. Therefore any Christian run business can openly and legally discriminate against same sex couples and those who are transgender or do not fit into the "good Christian" box.
Religious rights are more important than rights given to a human being who was born LGBTQ. WOW-all I can think is that we have entered the fucking Twilight Zone… this is absolutely ridiculous, so many people (from Stonewall to the Human Rights Campaign and every person who has spoke up against LGBTQ oppression in between) have spent lifetimes fighting for marriage equality and human rights, this is even more demeaning- its a gadzillion steps back. It rationalizes injustice in the name of Religious right. You are doing it wrong Indiana.
Many people and celebrities are calling to boycott the entire state of Indiana. The NCAA championship in Indianapolis is even cancelled due to this. While I do agree with the ban on travel and boycott of Indiana, at the same time I want to go there and say it to his face that we will not sit back and take this.
Action needs to be taken now. This whole situation is infuriating. I am angry for all the steps that we must reclaim and agree that a convergence of protestors would be absolutely awesome but would also have to be self sufficient / rely on the Indiana LGBTQ community to help support or it would be counter productive.
Protestors would have to take steps to not support any of the businesses who are openly in favor of this preposterous act . Bringing food, sleeping in your cars, and making sure that all amenities are procured across state lines are a must.
Although some businesses have openly come out in praise of this new act, there are still many who will suffer unjustly. There are many non-Religious, LGBTQ friendly businesses in Indiana who do not support this act.
My only hope is that they do not unjustly suffer for the idocracy of their government. Thousands of businesses are now donning stickers that say "This business serves everyone" and registering to be part of the list of businesses who openly disagree with the act. In a time where all small business is suffering, why would anyone want to turn away willing customers?
Memories Pizza is one of these businesses that openly celebrates the new act. They have openly delclared that they would deny service to any same sex couple who would want pizza at their wedding.
A local Indiana television station spoke to Crystal O'Connor, the owner of this pizzeria. She says that they are a Christian establishment and that she and her family have beliefs and others are entitled to their own.
"We definitely agree with the bill." She doesn't think the bill targets gays or discriminates but instead protects businesses like hers who have a religious belief.
ABC Channel 57 also spoke to her father: "That's a lifestyle that you choose, I choose to be heterosexual, they choose to be homosexual–why should I be beat over the head because they choose that lifestyle?" Ignorance is really special.
There has been a public outcry against Memories Pizza in response to their intelligent statements on social media and review sites such as YELP. My only question is, who cares? What respectable/ fabulous Gay or Lesbian couple would ever have pizza at their wedding? Especially pizza made by hate mongers. Come on now.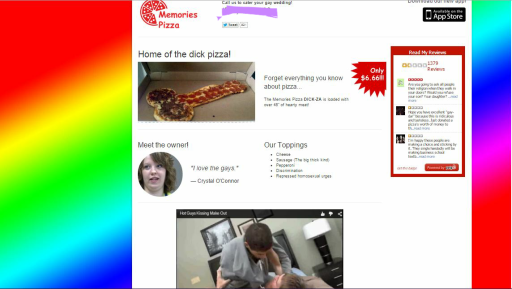 This whole situation just all beyond reason and morality- whenever we have to ask ourselves "WTF?! Aren't we past this?" LOVE IS LOVE, people are born gay or straight or in between, we have no choice in the matter, and all love should be respected and diversity celebrated.
It makes me wonder what else is going on in Indiana that they are trying to put the wool of Hate over our eyes… there is clearly some other shit going on there. Its unfathomable to think that this asshole wants to run for president. Even some Republicans are embarrassed and outraged believe it or not.
I said "some" Republicans. Then there is the Bush family tree. "I think Governor Pence has done the right thing," Jeb Bush said in a radio interview on Monday, "people aren't going to see this as discriminatory at all" and that the facts have not been established – wow he's so smart, just like his broski, former "President" George W. Bush, infamous for his intelligence (or lack there of).
Palm to face. The fact that anyone supports this travesty is also astounding to me and really speaks volumes about how this world is run.
For the most part the far right has lost the battle against marriage equality, but there is clearly work that needs to be done. There must be international backlash to this act, the world showing support for every human on this planet, discrimination is unacceptable always and forever.
The religious veil is thin, it does not hide the hate. We cannot go backwards. Arizona vetoed a similar act last year, there will be more instances of this if we all do not band together and stop it.
Bigotry is unacceptable and it will be stopped. This act affects ALL of humanity. Love one another and support human rights by speaking up against injustice.
FUCK HATE! FUCK THE RELIGIOUS FREEDOM RESTORATION ACT!