In the years I've been covering Fantasia, there hasn't been a lineup of filmmakers as diverse in terms of the gender as this year's program. What often feels like a boys club (the film scene in general that is, not Fantasia) was refreshingly less so. One of the films that peaked my interest from the get go was Honeymoon, which tackles some of the ways that human relationships can be horrifying. I had the opportunity to speak with director Leigh Janiak about the inspiration for the film, casting, lepidoptera, and her experience directing an engrossingly eerie debut.
Offering an unconventional cabin in the woods tale,  Honeymoon refuses to rely on traditional scares and manages to build tension in a way that is insidious. Paul (Harry Treadaway) and Bea (Rose Leslie) are a pair of lovebirds sojourning at Bea's family cabin for their honeymoon. Neither of them could have imagined the turn of events just a few days in the wilderness could take.
The incentive behind making Honeymoon, Janiak explained, came from trying to break into the industry with her scriptwriting partner Phil Graziadei in LA since 2005:
"There was the writer's strike and it was just not a great time to be trying to be a new writer. And I think it was around 2011 that the movie Monsters came out and we kind of just had this epiphany of what are we doing here, why don't we just make a movie?"
The idea of making a film that would explore a relationship launched the story that would eventually become Honeymoon:
"I like this idea of how you never really know who another person is. I think that anyone who has had any kind of relationship, boyfriend, girlfriend, partner, wife, husband, has had that moment where even if you've been with them for a long time, something happens and you are suddenly reminded that they exist outside of you," Janiak added, "there's this idea, this freudian thing of the uncanny, which was the Das Unheimliche, and that was a kind of core theme for the movie too. Which is that sometimes the most familiar thing can become horrifying."
From this, Janiak and her writing partner began thinking about movies they both loved centering on 70s horror films like The Shining, Rosemary's Baby and Body Snatchers, which she cited as the strongest influence. However, Janiak is more inclined towards sci-fi than horror and particularly "grounded movies that become fantastical."
The casting in Honeymoon is excellent. The performances by leads Rose Leslie and Harry Treadaway render Honeymoon's tensions and eeriness palpable.
"I had read the Game of Thrones books before the show and Ygritte was one of my favourite characters. When Rose showed up I was just so excited because I had seen her on Downton Abby and this scottish show called Newtown. She was completely different in those two roles and then she was completely different again in Game of Thrones. I just thought her talent was incredibly immense. She just has this great charisma […] I just felt lucky that she responded to the material and signed on," Janiak recounted.
"For Harry," she continued, "I had been kind of scouring young actors and all of the agencies in LA were sending us ideas. Harry ended up being on one of those lists and I was immediately extremely excited when I saw it because I had loved him from Control and Fish Tank. He hadn't just come to mind. I had just seen all of these American men that were talented but they were all kind of looking and blending together. They all seemed the same. So, I skyped with him. I think he was still on set for Lone Ranger at the time and he was wearing this crazy cowboy drag makeup. I don't know how to explain it but when you have a conversation with Harry he just comes alive in this amazing way. He did a tape for us and it was perfect; he was Paul right away."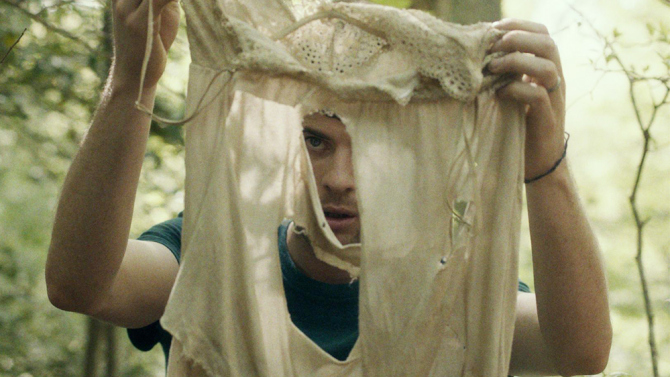 Janiak's background involves working as a production assistant on several bigger film projects. When we spoke, I asked what unexpected lessons she had learned making her first feature. Janiak explained that although warned, she had left some of these unheeded and learned things the hard way.
" Shooting on the water with a tight schedule is something that everyone had said is a nightmare, but I hadn't quite realized how difficult it would be. Our amount of coverage just dropped, it was not as nearly close to what we had when we were inside […] The night shooting outside, that's another that people had warned me about but I hadn't quite realize the limitations that we would have with the limited schedule until we got there. And then the only other thing that I'd say really really was a great thing for me to learn and I'll certainly keep with me on my next movies is the importance of a temp score."
Honeymoon boasts strong, at times subtle, stylistic elements as well as reverberating imagery. One of these is that of moths, fascinating creatures that they are. Janiak shared her experience directing moths:
"Fun is not the word. It's interesting. My writing partner is an amateur moth-er, I guess, I don't know what you call that. He advised the prop master about how we need to kind of capture moths and keep them happy and healthy while we are shooting. It involves this mixture of molasses and beer. And you are supposed to have this crazy light. They caught a bunch of moths and had them feeding in the back camera room. Then, we would start rolling and everyone on set would just be holding their breath that the moth would perform. We ended up getting really lucky. They did what they are supposed to do and go to the light [laughs]."
We'd like to thank Leigh Janiak for a captivating in depth interview that tempted us to write two feature length pieces.