Ho! Ho! Ho! Yule love this Fire Faery.
Chestnuts roasting on an open fire, Jack Frost nipping at your… holy shit that girl is hot! You're welcome. That is your present for being naughty this year, because let's face it "nice" is out.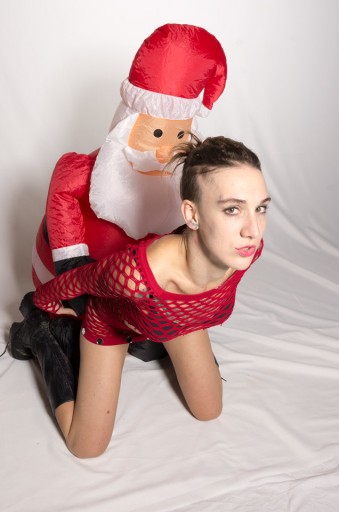 Figured I would warm you up on this Christmas Day. Would you have preferred the usual socks, underwear, and ugly sweater? Yeah, that's what I thought. Well, due to seeing those NSFW photos you may need those ill-fitting underwear from your mom after what just happened in the underoos you are currently wearing. It's Christmas, have you no shame? Clean yourself up man.
Although it is tempting to use my privilege as a writer with no boundaries, I am not going to get into my thoughts on Christmas, consumerism, religion, whether Santa Claus is real or not (he looks like a real pervert from these photos, if you ask me), and the general greed and stupidity of the human race today. Hell no! Today, on this Christmas day 2014, I am merely sharing with you the profile of a miracle, because you deserve it. This bombshell almost died on her last birthday, but has managed to blaze on to higher planes of beauty and fascination.
Meet Maria Rola, aka the Hoopnosis Fire Faery: fire and LED spinner, flow artist, hoola hoop instructor, pinup model, animal and human rights activist, and a genuinely excellent person (which is, in fact the rarest quality of them all). She melts hearts with both her tantalizing dances and acts of pure kindness.
I am lucky enough to be her fire safety, tip herder, fellow performer, and friend. I first saw The Fire Faery at the Buffalo Infringement Festival several years ago and was immediately impressed with her ability to captivate an audience of all ages. I then met her again at a music festival turned circus and my life has never been the same since.
Since 2009 Maria has traveled the world for her craft. She has performed in Africa, Costa Rica, all across the United States, and next stop Canada! Her talents are versatile and can fit everything from swingers conventions and strip clubs to princess birthday parties and outdoor festivals, and that is why I love her.
Festivals like Burning Man have put fire arts on the forefront of pop culture. Worldwide performers are innovating the art with new props and techniques. The circus and fire arts world is in the middle of a resurgence and modern renaissance.
Ever since I first saw the classic burlesque dancer Satan's Angel I have always wanted to twirl fire tassels. This is on my bucket list, but will take time. Performance of this kind is not to be attempted at home, you must have proper training and respect for the fire. You literally will get burned. It is beautiful and exhilarating, as scary as life, and awe inspiring to watch, but dangerous.
We live crazy lives. We have been in magical forests and circus tents, with our bodies painted in glowing radiance, we have led parades and gone to the moon and back, passed a bottle of honey wine like a joint, we are kindred spirits, not like everyone else, a little insane, and always down for adventure.
Friends like this are what I am thankful for this Holiday season. I look back at this last year of my life and realize how lucky I am to have so many incredible people in my life… musicians, painters, dancers, activists, humanitarians, and general freaks of the unknown.
You only spread love and share wonderfulness. You are my teachers, my friends, and my family. You make me happy. Happiness…"Thousands of candles can be lit from a single candle, and the life of the candle will not be shortened. Happiness never decreases by being shared."― Buddha.
Find out more about Maria (and book her for ALL of your events no matter where you are in the world)
Photos by Ted Sandilands, all of this shoot is here