POP Montreal released the first part of their lineup for their annual fall festival at a 5 à 7 on Wednesday in their new venue, Chez Ursa, which is conveniently located right below their official headquarters.
The atmosphere at Ursa is friendly. Dan Seligman, POP's co-founder and creative director, even acknowledged the good vibes as he thanked us all for coming.
The venue itself is quite cozy; lamp-lit, with a rug in front of the stage which creates a sense of the familiar comfort of being in your own living room, the only thing missing being seats. Although on my way to the venue I had the unfortunate luck of choosing a particularly broken Bixi bike, and so my feelings about the matter were more inspired by my aching legs than anything else… Choose your bike wisely, folks.
When I first arrive, Hua Li is casually mixing her set, fluidly transitioning between a mix of rap and RNB. Her adorable dog, Edna (pictured below), joins her on stage, calmly gazing out at all of us while Li sways rhythmically in time with the music. The combination of their presence invites a relaxed overall mood, though there is an air of something among us that is similarly curious and intriguing.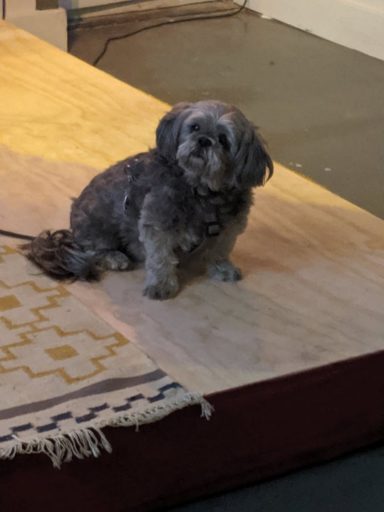 The performances also include POP's first play: Trapped in Elon's Mansion, written by Joe Bagel (of which a reading of an excerpt was performed at Chez Ursa). The play was inspired by a twitter fight between Elon and Jarrett Walker, and is full of rapid-fire witticisms, many in reference to Musk and his ex-girlfriend, Clair Boucher (Grimes), and their own various connections to Montréal.
Some other noteworthy acts from the lineup also include: Laurie Anderson, Tirzah, and Aldous Harding. (Full list of performers to date pictured below). The festival is set to take place from the 25th to the 29th of this September throughout Montreal. Tickets are on sale now, and can be purchased through POP's website.