While Syrian refugees have been greeted with widely applauded warmth by the Canadian government, other immigrants, jailed without trial, are resorting to a hunger strike to get themselves heard.
Fifty immigration detainees have started a hunger strike in Ontario to protest the conditions and the too-often undetermined length of their detention. Like thousands of others across Canada, the fifty men have been placed in custody without charges or trial, because their situation does not conform to the country's immigration laws.
They have been refusing food since Monday and intend to keep doing so until they get a meeting with the Public Safety Minister Ralph Goodale. Immigration detainees had originally gone on a hunger strike April 21st and stopped after representatives from the Canadian Border Service Agency (CBSA) met with them to discuss their concerns. But the group End Immigration Detention (EID) says that the Agency has not followed through with their promises and now the detainees want to speak with elected officials.
"We would like immigration detention to end and something more fair or realistic be worked out," said Toby Clark, detained since 2014 in an EID press release.
Migrants are the only category of persons that can be held in custody indefinitely and without charges in Canada. Every year, the CBSA issues between 4000 and 7000 arrest warrants against immigrant men, women and children who haven't been able to prove their identity or haven't been granted asylum.
The lucky ones are sent to one of the three overflowing CBSA immigration detention centres in Vancouver, Toronto and Laval. The others are held in provincial prisons, among criminal offenders. This is the case of the fifty protesters detained in Central East Correctional Centre and Toronto East Detention Centre, where they are often subjected to lockdowns and solitary confinement.
Immigrant detention lasts 23 days on average, but some people wait for years to either be granted asylum or deported. "If your country refuses to issue travel documents, some people are held months, some people are held years and there is nothing that they can do about their country not issuing travel documents," explained Clark.
Despite the fact that immigration detention is supposedly an administrative procedure with no intent of punishment, the detainees are effectively treated like criminals in jails and CBSA centres alike.
One woman recounted her ordeal in the Laval facility to Radio-Canada last February: "when they escort you to court or to the hospital, they always cuff you, as if we were murderers." She recalled the shame she felt, after waiting for hours in an emergency room, cuffed like a prisoner. "I asked God to take me, so I could just stop living. What use could all of this be? It was too humiliating," she confided. She was released after one and a half months.
Immigrant detainees are released if they can provide the proper documents, but it is very hard to do so while in custody. Jenny Jeanes from Action Réfugiés Montréal visits detainees in Laval twice a week. According to her, they don't have access to internet and are only permitted local phone calls at certain times.
The Larger Problem
Over 80 000 immigrants were arrested by the CBSA between 2006 and 2014, according to End Immigration Detention. Many of them were children, often unaccompanied. The UN has chastised Canada for making detention a systematic response, when it should be an exceptional one. The Red Cross, the High Commissioner for Refugees and multiple groups of legal experts, social workers and doctors have called on Canada to change its ways.
One would think that the election of PM Justin Trudeau, praised around the world for his compassion and acceptance of refugees, would have put an end to this practice, but they would be disappointed. The number of immigrants detained yearly is still above 4000 according to more conservative guesses.
And people are indeed guessing, since the CBSA has not known exactly how many people are in its custody since 2013. Apparently, it's the fault of an outdated computer system.
90% of immigrants are detained for reasons unrelated to security. Half of the immigrants detained are asylum-seekers.
Who is Overseeing the CBSA?
Two years ago, Lucia Vega Jimenez died while in CBSA's custody. The 42-year old Mexican was risking deportation when she hung herself in a cell in Vancouver's airport. When the affair was finally made public one month later, it raised some serious questions about the federal agency.
Who is overseeing this process? What resources are available to detainees? Why didn't Jiminez get medical assistance when she needed it? And how come Canada routinely infringes on the basic human rights of non-citizens?
These questions, just like the chorus of calls for a public inquiry, remain unanswered. Since 2000, 13 people have died in CBSA custody.
A Burundian refugee hung himself in Toronto East Detention Centre just last March, while he was awaiting deportation for killing his wife. Last year, a diabetic Somali refugee died in Central East Correctional Facility. Both those cases, like many others, are shrouded in suspicious secrecy.
Federal bodies with coercive powers usually have an independent commission overseeing them. The RCMP, the Canadian Intelligence Service and the Centre of Telecommunication Security all do.
There is no independent entity overseeing the CBSA, or receiving complaints about them.
Last February, a senator with liberal allegiance introduced a bill to change this. Senator Wilfred Moore wants an independent inspector to be appointed as watchdog of the CBSA. "I don't want Mrs Jimenez's death to be in vain, he told Radio-Canada while explaining his motives.
The government refused to acknowledge that the CBSA's methods were in any way problematic but claimed that they were open to consider ways to ensure some accountability mechanisms.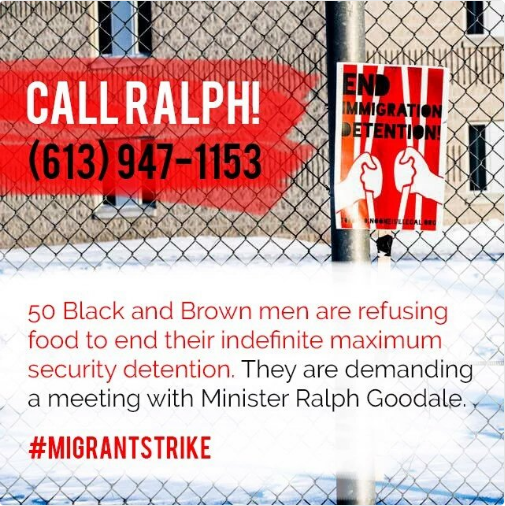 Fifty men are currently resorting to a hunger strike, facing indefinite detention in maximum security prison, despite having committed no crime. Canada would never treat its citizen that way; it should not treat anyone that way.
End Immigration detention has launched a campaign to reach out to Minister Ralph Goodale and ask him to meet the detainees.
You can participate by calling him at 613-947-1153, or tweeting at him using the hashtag #migrantstrike.
Just like Justin Trudeau told us, when greeting Syrian refugees in December: "show the world how to open our hearts and welcome in people who are fleeing extraordinarily difficult situations."