A couple days back I was at the mayor's press conference concerning the provincial budget and something he said, and repeated, caught my attention. In essence he insisted Montreal is a metropolis that requires a greater say in how provincial tax dollars are spent in our city. I couldn't agree more and I know where I heard this before.
Referring to the provincial budget, Coderre shrugged and said, simply, that it was realistic, but generally gave the impression he thought it was uninspired and was far too vague on the specifics of provincial money earmarked to develop social housing and improve infrastructure. A few months ago, Richard Bergeron was more direct: Quebec has to revisit its pact with the city.
Yesterday's news is that the open trench of the Ville-Marie Expressway will be covered over between Hotel-de-Ville and Sanguinet and Coderre has put Bergeron in charge. Though plans to cover the trench go back nearly thirty years, it was Bergeron and Projet Montréal that campaigned on the idea during the last election.
Bergeron's plan, as you might expect, is bold. He wants to cover the entirety of the trench from the Palais des Congres all the way to the Champ-de-Mars métro station, adjacent to the new superhospital. Coderre's plan is limited – initially – to the easternmost section, where hospital, métro station and city hall meet. By pushing this idea, with or without Transport Quebec's initial approval, Coderre may encourage private developers to get interested in the project and this in turn may encourage the transport ministry to get on board.
Why the province is apparently in charge of the aerial construction rights over our city's exposed highway trenches is anyone's guess. Why one of the most conservative and arguably corrupt ministries in this province is even allowed onto the island to do any roadwork is another.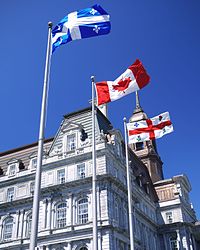 But this aside, Coderre and Bergeron have something in common: neither are keeners vis-à-vis PQ and provincial interventions in this city's affairs. They both want opportunities to show we can take care of ourselves, and in my opinion this couldn't possibly come at a better time.
As long as the PQ is sabre rattling about how Quebec would be better off without 'interference' from the Fed, so too should the city of Montreal make it known we'd be better off without the meddling of the province. If Quebec requires autonomy from Canada, Montreal requires autonomy from Quebec.
Given that we've got a provincial election coming up, and a federal one after that, having an ardent federalist and Liberal in the mayor's seat is just about the best situation for our city and its citizens.
There's more though. Coderre made important changes to the role of the city inspector general based on recommendations by Bergeron and Projet Montréal. And further still, Bergeron has indicated he's sticking around in municipal politics for longer than he originally thought. Perhaps he thought he'd be useless with Coderre in power. Perhaps he underestimated Coderre.
I feel an unlikely bromance is developing. Coderre's recent announcement concerning the Ville-Marie isn't a matter of one stealing another's ideas. The idea has been around for a while. Rather, it's that Coderre seems to be listening to Bergeron and the two of them are clearly working together on key points of mutual interest.
While this might not satisfy hardcore Projet Montréal purists, this is about as good it gets local-politics wise. That Coderre has specifically mentioned he wants this portion of the highway trench to be redeveloped as a public space is only further indicative that Coderre is aware of the value and necessity of Projet Montréal's platform.
If Coderre really is going to be our city's 21st century equivalent to Jean Drapeau, then I can only hope Bergeron is our latter day Lucien L'allier. So far I'm encouraged by Denis Coderre in his role as mayor, though in Montreal politics, as we should all know by now, mayors generally start out well and finish in the dumps. I'm hoping this process came to an end with the disastrous Tremblay/Applebaum administration. What encourages me most is that Coderre has reached out to his chief rival (let's be real, Joly wasn't really interested and Coté didn't have a chance) and the two men have found enough common ground they're actively working together.
That both men are further insistent we handle our own affairs in this city, possibly to the chagrin of the Parti Quebecois, is music to my ears. Anything, any legislation or political relationship that limits what the PQ can do to us is a victory for not only our city and its citizens, but the country more broadly.
If the PQ is destined to win a majority simply as a result of vote-splitting and uninspired leadership, so be it. Without Montreal, the PQ has no hope of achieving its single primary goal, its raison d'être. With two 'bulldogs' in city hall, the next few months should prove very interesting indeed.