Guerilla theatre actions often produce unexpected results in keeping with their improvised and unpredictable nature.   While the goal is always to inspire change, this generally happens by causing reflection and encouraging debate.   Sometimes, though, the change is direct and doesn't always take the form you expect.
Last week, I was part of an action designed to shed light on how Canadian mining companies are destroying communities around the world, generally in the global south, through open-pit mines that rip open historic mountaintops, forcibly relocate residents and wreak environmental damage on the area.
We wanted to let people in Montreal know how what it feels like to have an open-pit mine set up shop in their community.   We created a company called RoyalOr, which had a plan to stake a claim to the mining rights to Mount-Royal in the heart of Montreal.   Not only would we tell people that we owned the rights and deliver "eviction notices" in an over-the-top theatrical manner, but we would actually stake the claim for real.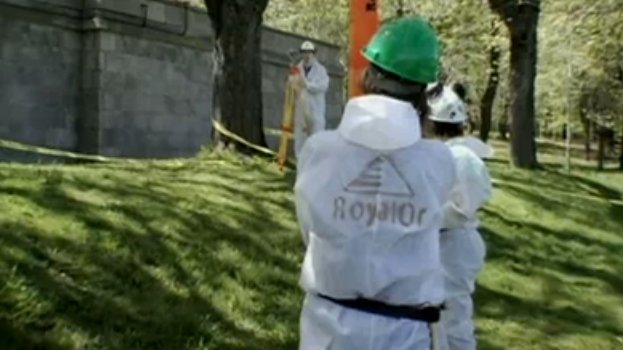 RoyalOr surveying the mountain
It's actually quite easy to do so in Quebec.   In fact, you can even "click and claim" mining rights online.   This ease of staking could possibly explain how easily Osisko was able to obtain the rights to build an open-pit mine in the community of Malartic in Abitibi-Témiscamingue.
On Sunday, we went to the Tam Tams (a weekly gathering on the mountain with drums and people chilling out) in character as Royal Orr.   We had surveying equipment, eviction notices, invitations to our official staking ceremony the next day and even a few chants: "If there's gold in the ground, dig it up.   If there's gold in the ground, dig it up.   If there are people in your way, it's just not their day!   If there's gold in the ground, dig it up."
There were other surveyors there as well.   Members of McGill's Geography Department were doing surveying exercises on the mountain that week as well.   They were almost instantly (and to a certain extent, unknowingly) integrated into our scene.   I spoke to some of them in character as Royal Orr president Alonse Barbe:
The next day was the press conference and the staking of the claim.   Despite the ease of staking a claim online, we brought actual, legally official stakes for the sake of visual imagery.   We also brought official papers to file with the Ministère des Ressources naturelles et de la Faune, the Quebec government agency responsible for mining.
There were representatives from Mexico, Honduras, Congo, Melartic and other communities affected by Canadian mining practises present at the event.   There were also quite a few members of both the corporate and independent media, including CTV, Le Devoir, CKUT, the Independent Media Centre, Allan Lissner,   Metro Newspapers and the Canadian Press, which filed a story that appeared in the online versions of The Globe and Mail, Macleans Magazine and other publications.   Francoise David of Québec Solidaire was also present and filed a video report for her website which is at the end of this post.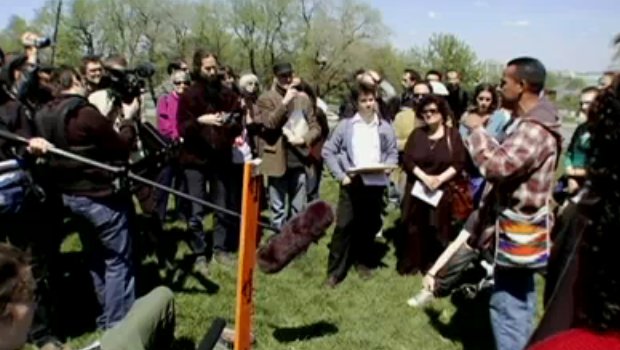 Carlos Amador of Honduras gets ready to hammer the mining steak
It was at the press conference that we discovered that our theatrical stunt had caught the attention of the Ministère des Ressources naturelles, which, fearing most likely a PR nightmare, decided to protect Mount-Royal and remove it from the claimable areas two days prior.   That means that up until last Saturday, Mount Royal was open to mining claims.
True, these claims were the sort that had to be approved by someone and true the Ministère was probably didn't think that we were actually going to start digging, but that doesn't change the fact that it took a theatrical protest to protect a historic landmark in the middle of the city.
Sadly, it also doesn't change the fact that the Ministère has done nothing to protect the people of Malartic against their open-pit mine and probably won't.   It also doesn't change the fact that the Canadian and Quebec governments do nothing to curb the practises of Canadian mining companies abroad.