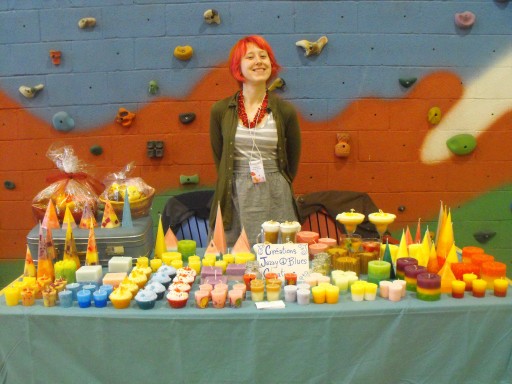 JazzyBlues Creations…..no this is not a band. Although artistically, its creations could very well compare to the random fun and deep characteristic feeling of Jazz and the cool smoothness of the Blues.
Founded by local Montreal artisan, Stephanie Lavoie Trottier, who has worked with many different mediums such as painting, collage, and recently, candle and soap making. Stephanie's fun business-like, nature loving, hippie personality shines well through her artwork.
Using a handmade process from the comfort of her own kitchen, Stephanie creates works of art, sculpting different types of waxes and integrating strong refreshing and therapeutic scents into decorative candles ready to be set alight. She uses both paraffin wax and palm wax. Parrafin wax, her most common ingredient, is a byproduct of the oil refinement industry and has a clean burn which goes straight through the candle, leaving the edges intact and making much less of a mess. Meanwhile palm wax has a much more cleaner and faster burn. It will melt the wax in its entirety and is also completely biodegradable.
Among her vast assortment of styles are pyramid shaped single, double, and tri-color multi-scented designs. She also has cute cupcake-shaped, almost edible models, and classy café lattés and sheik martinis for those interested in the more "fancy" side of life. She's even gone so far as to add sweet and creative designs using natural products and integrating her collage experience to form her "chunky" variations. Each candle, of course, has it's own particular name, such as luscious lavender and green tea mint.
Her therapeutic bath salts come in many invigorating scents including camomile and sea salt which helps to freshen and soften the skin while giving off a delicacy of aromas for an enlightening experience. All of the salts are delicately placed in old fashioned glass containers which can be easily be kept afterwards.
Stephanie arranges her products in gift baskets and each one can be tailored to your specific designs, including color texture and scent.   She will be having her first presentation sale at Riverview Elementary on Saturday April 30th and will also be participating in the Verdun Wellington Sidewalk sale on July 4th as a member of the Circuits des Arts et de Culture de Verdun.   This would be a great chance for you to meet with the artisan herself get a good look at her products and perhaps have an opportunity to enlighten her with some ideas for her to fine tune some of her products to your distinct taste.
All photos courtesy of Jazzy Blues Creations