Last week at Just For Laughs was definitely one for childhood dreams: First the Weird Al concert on Tuesday, and then I got to see the live action version of the cartoon that I grew up with on late night television, Dr. Katz. He had a hit TV show in the 90s – cult cable TV favourite, pre-Adult Swim showcase for comedy.
I wish more people came out to see Dr Katz, but you could tell that most of the audience were long time fans of the show. We did not leave disappointed. The evening was definitely one of the highlights of my festival experience.
On Wednesday night there was much anticipation in the small but very excited crowd at Theatre Maison. But then there he was –with a cane in his hand, Dr. Katz walks onstage to a standing ovation.
Dr. Katz was just as animated in real life as he was in his squiggle-vision TV show.
The catharsis of watching the show was observing the comedians spill the beans about the inner workings of their comedic minds and seeing how insane many of these celebrities are – you just felt better about yourself and your own life.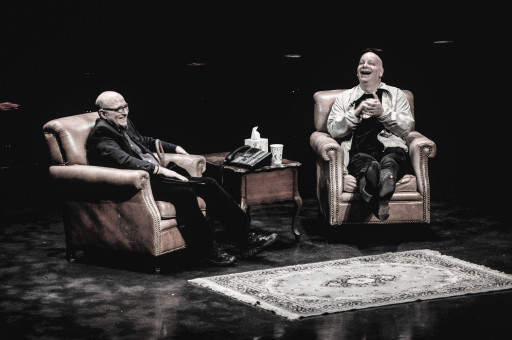 Dr. Katz introduced me to many of the comics I love today (one of them being Dave Chappelle), and that's one of the reasons why I will always respect Dr. Katz.
While it is a unique way to see a comedy show, it's more than just a novelty. The show explores comedy through a psychoanalytic prism, turning Dr. Katz's comedy into a whole new medium. The session begins when Laura buzzes in on Dr. Katz's phone. "Dr. Katz Jeff Ross is here to see you," she says.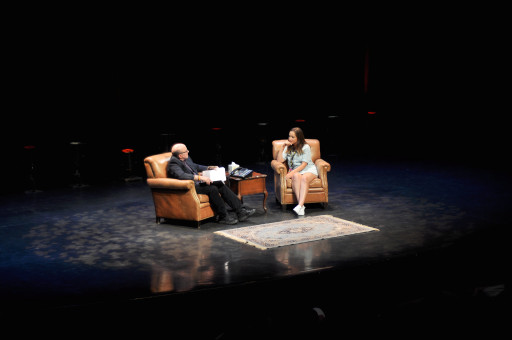 Jeff Ross was then followed by Jen Kirkman, Jon Dore, Moshe Kasher, and Artie Lange.
Moshe Kasher came up, acting all paranoid, and saying that voices in his head are laughing at everything he says. Obviously, the crowd laughed at him. Jen Kirkman discussed her insane life, and Artie Lange about drugs.
When Dr. Katz was finished he got a standing ovation. His style works, because, in this setting, we can learn so much more about a comedian, their life and their mind-frame, than we can through regular old stand-up.
And I have to say that Dr. Katz was one of the best shows that I saw at Just For Laughs this year: Here's hoping that he returns next year for some more therapy.
Photos courtesy of Genie Rae Flynn.