I remember back when I started writing FFR, a time that now seems so long ago that in my memory I wrote on stone tablets, that my goal was to showcase the lesser-known, the obscure, and weird. Of course, times change and I started ruining Forget the Box's carefully cultivated image of trendy urbanism with mainstream movies and Japanese superheroes. But back in those halcyon days, and even since, I've always had one movie stashed away for a rainy day, a special occasion. My favorite movie, in fact. Alex Proyas's 1998 sci-fi noir, Dark City.
So why now? What's so special about this FFR that I'm ready to break out so treasured a piece of my own cinematic DNA? Well folks, it's because this FFR is my last. After many wonderful years at FTB, I've decided that it's time to hit the road, and that I should leave you something a little special before I go.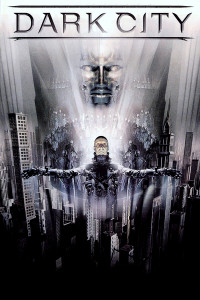 Dark City is one of those movies where the less you know going in, the better. It's built around a mystery, and one of its greatest pleasures is not knowing where it's going next, and holding on for dear life as it takes you around twists and turns with neck-snapping speed. But I have to say something, so let me try and boil it down as much as possible.
Rufus Sewell plays John Murdoch, a man who awakens in a hotel bath with absolutely no idea of who he is, where he is, or how he got there. And to make matters worse, there's a dead hooker in the hotel room with him, because the only thing worse than waking up next to a stranger is waking up next to a dead one.
John naturally runs for the hills, and soon finds himself pursued by multiple parties, including a hard boiled policeman, a psychiatrist who seems to know what's going on but couldn't be more nervous and shifty if he were played by Peter Lorre, a woman who claims to be his wife, and a group of mysterious pasty men in trenchcoats.
The city he's in is a bleak, perpetually dark art-deco burgh somewhere between the Gotham and Sin City, and the more he discovers about what the bleeding hell is going on, the less it all seems to make sense.
Even to my untrained mind, back in my teen years before my film appreciation had fully blossomed into what it is now, I knew that Dark City was beautiful. The film's sets, costumes, props and atmosphere are all stunningly realized, bleak and breathtaking at the same time. The city itself is as much a character as Sewell or any of his castmates.
Speaking of which, the supporting cast is a who's who of talents. Jennifer Connelly, despite a somewhat underdeveloped role, is able to pull of a perfect mix of strength and vulnerability as our hero's wife. William Hurt is pure deadpan sardonic wit as the police inspector on Murdoch's tail, and Richard O'Brien is the picture of sinister as the main villain, Mr Hand.
The only weak spot is a pre-Jack Bauer Kiefer Sutherland as Doctor Schreber, the man with the answers. Sutherland overplays it more than a little bit, affecting a weird, halting accent almost throughout. He's fun to watch, but you have to acknowledge that his performance is more than a bit too over-the-top.
A lot like Gone Girl, part of the fun of watching Dark City for the first time is having no damn clue where it's going next. What seems to start as a straight-up noir mystery turns again and again as more new and outlandish concepts are added to the mix.
And Dark City literally never stops ramping up, coming to a glorious head in the third act, when director Alex Proyas suddenly tears every single brake out and the film explodes like the ending of Akira into a massive…….well, you really just have to see it for yourself.
I can see how for a lot of people, this slow shift from slow-burn noir mystery to something else entirely might be a bit jarring. I can understand that the vast shift from subtle to explosive might be a bit too much. But for me, the ending of Dark City is still more wonderful and mind-blowing than that of Fight Club or The Matrix, maybe because it's such a jarring shift from the comparative sedateness of the majority of the film. A bit like Cabin in the Woods, it's like the film suddenly decides to get the proverbial party started, ending on the bang to end all bangs.
For me, Dark City is one of the all-time great under-appreciated films, a visually gorgeous, mind-bending genre thriller that dares to go all-out for the finale.
I think I've said all I can really say without giving too much away, but I'll leave you with one piece of advice: watch the Director's Cut. The major difference between it and the theatrical version beyond one extra scene is that an opening monologue delivered by Kiefer Sutherland, imposed upon the film by braindead studio execs fearful of audiences being too confused, is cut from the opening scene like a tumorous mass, and the experience is greatly improved for it.
And on that note, it looks like my work here is done. I'd like to thank Forget the Box for allowing me these few years of hopefully coherent ramblings, and especially my predecessor, Stephanie Laughlin, for offering me the chance in the first place. Special thanks also go to my many hard working and long-suffering editors, as well. In a lot of ways, this is where I really discovered that writing about movies is what I want to do for a living. I found my voice here, built up my confidence as a writer, and for that I'm truly grateful.
Starting very soon, I'll be joining Screenrelish.com as a regular contributor, and hopefully you'll all continue to follow me there, and wherever else the future takes me.