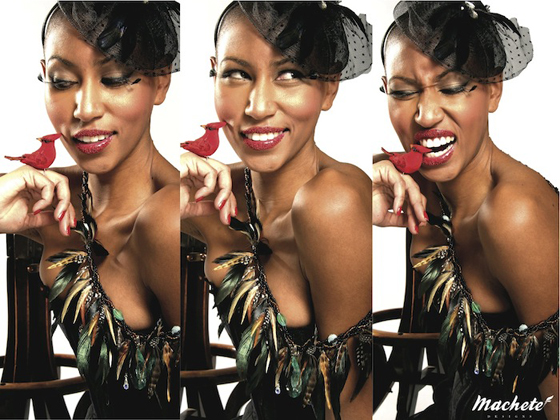 Who doesn't have at least ten different sides to their personality? Hell, I've got a minimum of ten and according to my cab driver a few weeks back (in his obviously very tainted experiences), as a Gemini I should have at least twenty-five more. No no, this isn't a final admittance of my craziness (stay tuned!); this is a celebration of multifaceted personalities.
If you're a Millennial (also known as Generation Y, Generation Next, Net Generation or Echo Boomers) you likely grew up with the ingrained knowledge that you could: do, be, think and wear anything you wanted —Generation Y/Next/Net/Echo Boomer/Millennial babies have options! We're a generation of chameleons who are ever-changing and always looking for new modes of self-expression. This is probably one of the reasons why people have been drooling over the one-of-a-kind jewelry pieces from Montreal's Machete Designs.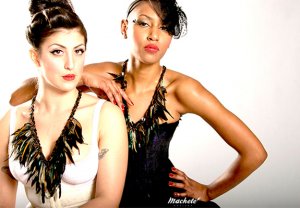 Machete Designs is a celebration of multifaceted personalities and self-driven entrepreneurial spirit. Owner and designer Avril-Maud Giese is the bubbly and business-savvy force behind Machete, whose unique necklace designs reflect her clientele's desires, as well as her own, for self-expression. "Like everyone else who considers themselves human, I have different sides to my personality and each collection is a representation of one of them. I can be tough chick and rock a gun pendant one day, then wake up the next morning feeling like Pocahontas and wear a tribal looking feather piece!" she says. "Today we have the luxury and ability to dive into our indulgences and express them freely. Machete Designs is here to help you accessorize your outfit by celebrating your individuality."
A mere infant in Montreal's entrepreneurial community, Machete Designs celebrated its one year anniversary last month on April 17. For only having been on the scene a year, Avril is doing incredibly well with six collections to date and her next one soon to be launched. Her latest line, The Chandelier Collection, are stunning statement pieces featuring crystal pendants salvaged from antique chandeliers, natural raven and rooster feathers, and semi-precious stones.
"Everything I do is one of a kind. Sometimes it takes me literally months to gather the supplies needed to create a specific collection. The Chandelier Collection is a good example. The crystals used are from the 1940s and required several trips to New York City, countless hours of traveling, antiquing and bargaining. I'm currently on a wild goose chase for the supplies I need for my Winter 2011/2012 collection and the summer collection I am about to release has been marinating in my mind and studio for over five months."
Avril names and designs each collection according to theme, such as The Jurassic All-Stars collection, featuring tiny hand-painted glass dinosaur pendants, and the Protect ya' Neck collection, showcasing high gloss varnished toy soldiers. Raised on a tiny island, Avril says that traveling is a big part of her family's tradition and she's been collecting quirky trinkets from antique shops and street vendors forever. "Some of my favourite digging and antiquing was in Moscow, Paris and Guadalajara but not everything is vintage. I like buying directly from artists and street vendors. I can relate to them, and honestly, a lot of us start by just setting up on a street corner. Although having a logo and a boutique is regarded as professionalism, it's not necessarily reflective of true talent."
Although she took a course in casting silver, Avril is a self-taught designer and entrepreneur, but she doesn't dismiss the value in learning from professionals and says she plans to take many more courses and learn specific techniques. "I also think that Montreal is a great city to start in. After living here for six years, I have a network of creative friends and acquaintances who never stop setting the bar higher and higher, making you have to jump higher in order to keep up" she says. "There is a big sense of community between artistic entrepreneurs in Montreal and you can easily become part of it if you try."
The passion and hard work that fuels Machete Designs is evident in each one of her innovative and beautifully crafted pieces.
Her collections are available for purchase online, and at the following locations in Montreal:
Lustre Boutique: 4068 boulevard St-Laurent
Fuzion Boutique: 4298 St Denis
Raz Berry Boutique: 1841 Ste Catherine O
Boutique 1861: 1861, Ste-Catherine O
Galerie Zone Orange: 410 Saint Pierre
Three Monkeys: 1455 Peel St. Les Cours Mont Royal, Suite 207
Photos courtesy of Machete!