Sir Patrick Stewart is many things to many people. Royal Skakespeare Company veteran, Knight of the Order of the British Empire, Captain Jean-Luc Picard, Twitter phenom, Sir Ian McKellen's BFF. Now you can add raunchy standup comic to that increasingly growing list.
Wednesday night, Stewart hosted a gala at Just for Laughs and made his entrance dressed as a stereotypical old-time knight. He made reference to his title a few times during the night (pun intended), even joking about his duels with fellow knighted British celebs which culminated with a Sean Connery impression.
Most of his material, though, was, as he put it, "far away from The Royal Shakespeare Company." Now, this wasn't The Nasty Show, but it wasn't PG either.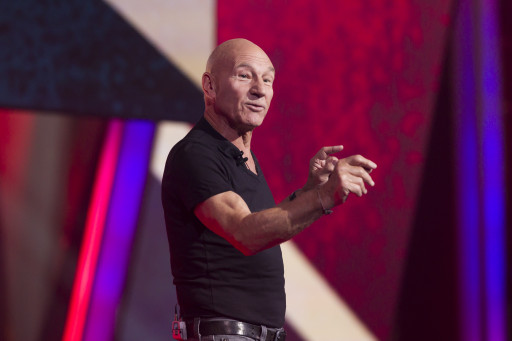 Think of an older relative at a family dinner after a few drinks telling dirty jokes. Now imagine those jokes with a British accent, which adds class. Now give that voice the commanding presence of one of the biggest cultural icons of the last quarter century and you get the almost surreal feeling I had last night.
OMG I'm in the same room as Sir Patrick Stewart…and he's telling dick jokes!
Political Commentary From a Knight
Add one more thing to the list: supporter of Quebec independence. Well, not really. He only said that to stun the audience to silence. He admitted it after quite a long, confused pause.
He did, however, get into Canadian politics for real. He ripped into Stephen Harper, quipping that making the biggest dick Prime Minister wasn't the best way to deal with penis envy.
A supporter of England's Labour Party since he was four years old, Stewart said that they were kind of like our Liberal Party, just without the vapid hairdoo as leader. No mention of Mulcair, maybe it's the Riker beard.
The Comics
As with all JFL galas, the evening wasn't just about the host. Five comics graced the Place des Arts stage and kept the crowd entertained.
First up was Kyle Kinane, whom I had seen a few nights earlier at OFF-JFL's The Canadian Show. While Stewart didn't mention his most famous role, except in a reference to people who kept asking him about Star Trek, Kinane went for it in his routine. It came across more as a tribute to the man who had just introduced him.
Now I'm sure there were more than four lights in Place des Arts, but the other part of Kinane's Trek referencing led us into his bit on male beard grooming. That along with his take on heavy metal roadies and his visit to a fertility clinic made for a very funny set which the audience just ate up.
Two fellow Brits joined Stewart in the lineup. Russell Howard delivered a solid fast-paced set that touched on family and celebrity (he's a star in England) in a very funny and interesting way. Gina Yashere also told dick jokes, sort of, but hers were more about how she wasn't looking for one. Still raunchy and quite funny, though.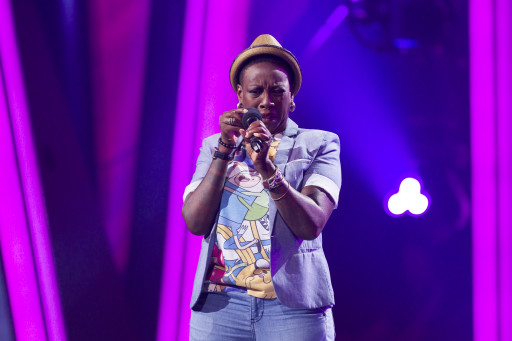 David Acer represented Montreal with class and wit as Pete Zedlacher did for Wawa, Ontrario. SNL alumn Jim Brewer went all the way to Africa to get jokes from a safari and the prospect of being eaten by a lion which the audience ate up (pun also intended). Sebastian Maniscalco got laughs comparing his life with that of the man who introduced him: "he's a knight, I ate hot dogs for breakfast."
I left feeling very satisfied both culturally and comedically. Now to watch some TNG episodes on Netflix and find out if seeing Sir Patrick Stewart in a new light changes how I view the show.
* photos by Éric Myre, courtesy of Just for Laughs