When I read in the Globe and Mail that Rob Ford, Toronto's 64th and current mayor, would be appearing on Jimmy Kimmel alongside Gonzo the Jim Henson Muppet, my first thought was, "It probably would have been more appropriate for him to appear with Animal."
When a CNN camera crew had first spotted Ford in Los Angeles and asked him what he was up to, Ford said something about how Toronto is "Hollywood North" and "we want people to come and visit our city, and make movies, and see the great theatres and restaurants we have and sporting venues and, you know, we have a responsible government there, too."
Ah. Yes, come one, come all, to Toronto to see the responsible government. With Kimmel quipping that Ford is his "new favorite reality show," in what hopefully was a stunt, Ford wandered onto the Jimmy Kimmel stage a night early and had to be reminded by the host that he wouldn't be on until Monday. Whoops!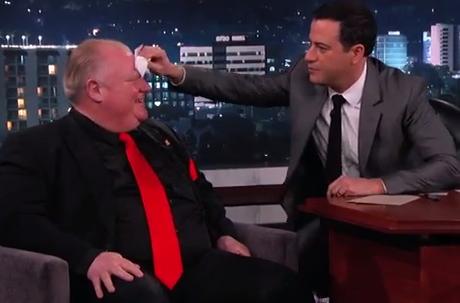 The Kimmel show's executive producer, Jason Shrift, said getting Ford to appear was inspired because they like to "stay on top of any story that seems to have legs," even if those legs are wobbling drunk.
As of November 2013, the Toronto council had Ford demoted to the status of court jester instead of the stable authority figure we pretended he almost was; perhaps that is why he was spotted touring the Hollywood Walk of Fame like a bloated American tourist instead of laying low in Toronto with his crack pipe. Shifting his responsibilities to Deputy Norm Kelly, the whole procedure became an Alice in Wonderland court case, with Ford making tragic threats such as, "If you think American-style politics is nasty, you guys have just attacked Kuwait…This is going to be outright war in the next election," before knocking Councillor Pam McConnell to the ground, and according to the Toronto Star, Ford seemed to "relish much of the drama, shaking hands and hugging spectators and confronting others while a security guard next to him filmed the crowd with a smart phone."
So what was Rob Ford doing in Los Angeles? The same crap that Miley Cyrus, Justin Bieber, Lindsday Lohan and yesterday's news victim Paris Hilton have been doing in Los Angeles: mooching about the streets in varying states of scandal, looking for an extension to their fifteen minutes.
Now that Rob Ford has been reduced to the same status as a football game mascot, naturally the next thing to do is appear on talk shows, make Youtube videos and wander aimlessly through Los Angeles like all the other washed-up pop stars, reaching out their hands and whimpering in a raspy ribbon of voice, "Love me."