Joel Larocque takes the Chiac colloquialism Chose Bottine as his moniker for his new album Les Moyens du Bord. When I asked him what the hell Chose Bottine meant Larocque replied:
"It's a phrase that my father used to use when referring to someone whose name he'd forgotten. He'd say, 'Do you remember when chose bottine fell and cracked his head open on the ice?!'"
At which point I was like, oh, it's the Chiac equivalent to what's his face— it was also at this point that I thought, Chose Bottine is a super fresh name for a band.
The album features songs in both French and English, which reflects Larocque's Acadian roots. Larocque moves between the two tongues as only those who hail from New Brunswick can. The lyrics are nuanced and yet accessible; all these tunes are grounded in the experiential, in life's twists and turns. The character(s) depicted are often sympathetic and recognizable: the underdog, the disillusioned, the heartbroken. But it's not all maudlin gloom, Larocque himself sings that: together we can change the world, which in a different context may seem cliché, but not here as thread of redemption woven into a tapestry of hard luck.
Musically this album finds its roots in American folk and Blues. I often catch a hint of Cajun spice in Larocque's strumming patterns and in his ability to make a song swing by playing with time signatures.
Larocque has enlisted some pretty sharp players for this project: Steve Aitchison on drums, Sean Madden mans the standup bass, Maxime Racicot playing smoking lead and Jesse Ens is as smooth as a suede shoe on the banjo and pedal steel.
Larocque said the title of this EP really reflects its creation, that Les Moyens du Bord is a collection of songs about marginalization and how the collective effort of a community can make something out of nothing. Larocque said:
"A lot of people pitched in to make this happen, mixing was pro bono, recording and cover art was pro bono… this was very much a coming together of the disenfranchised. There's a whole community behind what's his face."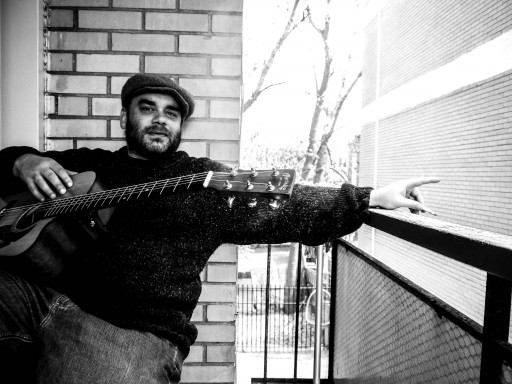 Chose Bottine perform Saturday, June 14 at Grumpy's Bar, free.
Photos by Jesse Anger.