Earlier this summer, I began journeying back into the world of poetry reading, a scene I had exited almost five years ago, and attended one of Montreal's new reading series organized by local poet Klara Du Plessis at the lovely Resonance Cafe. Jon Paul Fiorentino was one of two featured readers and took to the stage at the end of the event. I'm not sure what caught my attention first, the wit in his poetry, or the copy of Hello Serotonin that he threw right by my head as part of his performance. Let's call this a very memorable first impression indeed.
Fiorentino is a young author with an impressive body of work including full length books, contributions to literary anthologies, radio essays, scholarly articles and criticism. His past full length books of poetry and fiction include Indexical Elegies (2010) Stripmalling (2009), soon to be produced into a feature length film, Asthmatica (2005), Hello Serotonin (2004), Transcona Fragments (2002). He is currently a professor at Concordia University where he teaches creative writing.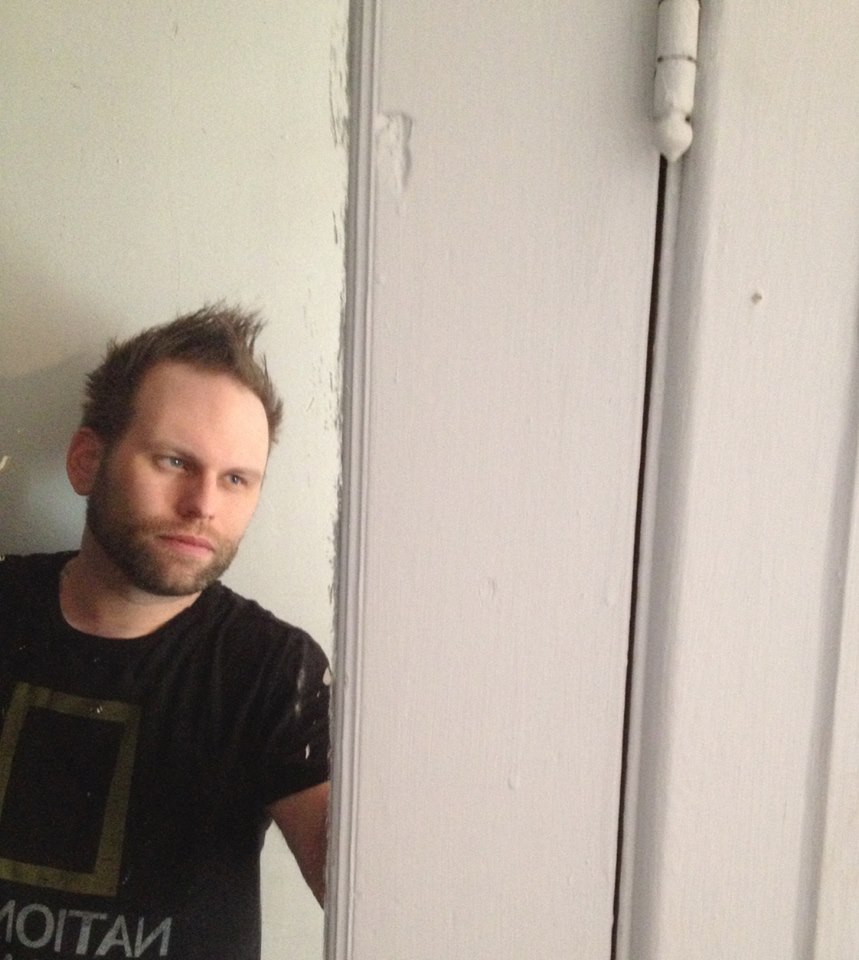 After my encounter with Jon Paul Fiorentino at the Resonance Reading Series, it seemed that we kept bumping into each other around the city at local shows and poetry readings. After a little while, I decided it was time for me to read one of his books. On September 8th, Fiorentino is launching his latest book of poetry entitled Needs Improvement.
Needs Improvement is Fiorentino's sixth collection of poems. In these pages, Fiorentino takes a critical look at the language of education and the way in which pedagogy coerces and enforces certain types of performances. Split into three sections, Needs Improvement, is satirical, witty, and ironically educational in the ways of  poetry and language. Of the collection, "Lowerhand", "The Report Card of Leslie Mackie", 'Guide for Taking the Exams' and "Open Source" are standouts. Furthermore, the schemas used in the 'Pedagogical Interventions' section are poignantly tongue-in-cheek and a treat for those familiar with the seminal works of Foucault, Butler, Freud, and more.
In light of the launch, I had the chance to quickly interview Jon Paul Fiorentino about his writing process, his wit, and Needs Improvement.
Poets you admire/enjoy currently?
JPF: David McGimpsey, Darren Wershler, Darren Bifford, Margaret Christakos, Sina Queyras, Ken Babstock, Christian Bok, Mike Spry, Elizabeth Bachinsky, Jessica Grim, Catherine Hunter, John K Samson. I am happily all over the map.
What is your writing process like?
JPF: Drink, cry, write, rinse, repeat.
What inspires you generally, and more specifically when it came to writing Needs Improvement?
JPF: If this book has a "cause," I suppose it would be anti-bullying. Needs Improvement addresses the way we receive instructional, evaluative, and pedagogical language. It reveals how teachers are often the worst bullies and it advocates for a space for the marginalized, different, odd.
What would you say was the greatest challenge in writing this book?
JPF: I "wrote" some visual schematics for seminal texts and a series of fake report cards. It was a lot of labour to come up with a design that looked like grainy photocopies of 1980s report cards. The schematics were fun to do, but also very labour intensive. Graphic design is one of my unhealthy habits.
You have an impressive amount of publications under your belt, can you tell us a bit  about your journey thus far as a writer?
JPF: I started young. But I'm glad I did. I am proud of my early books, warts and all. The early juvenilia is still mine and it makes it clear how far I've come. I am no longer afraid of saying a thing simply and clearly. Nor am I afraid of letting myself go in the name of linguistic experimentation.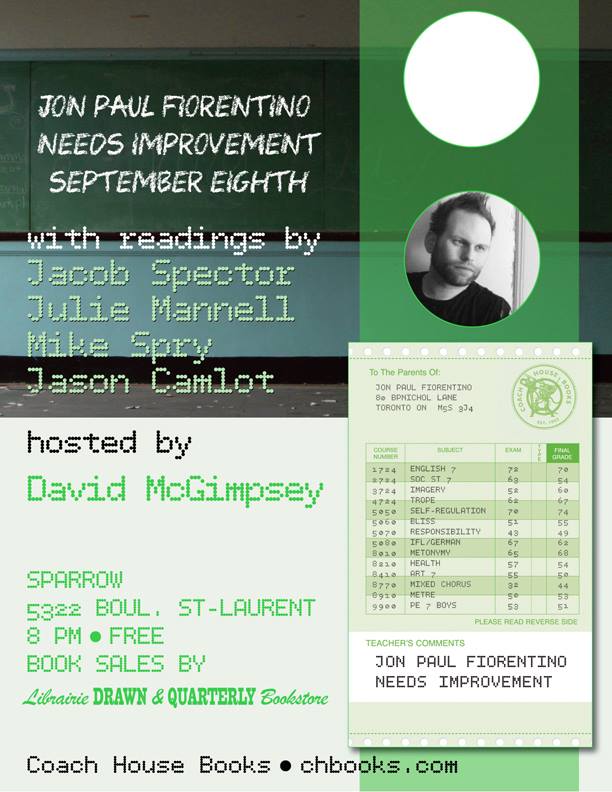 Wit and comedic ability seem to be at the core of your work, where do you think this comes from? 
JPF: I think I use humour (less so in poetry than in prose) because it's a natural component of my rhetoric. I was a weird little kid and got picked on a lot. I developed a heightened sense of humour in part because it was the best way to negotiate with bullies. The adult world has even more bullies and I find myself in the unique position of being able to call them out. Humour is an excellent all-in-one tool for disarming thoughtless, evil people.
What would you say has changed in terms of your writing since your last book?
JPF: I think I am more at ease with the idea of the intersection of activism and art in writing. I've always believed in this intersection, but I wasn't always able to be so direct about it in my own practice. I think things changed for me quite recently when I began to write op-eds about things like sexism, depression, mental health advocacy.
Jon Paul Fiorentino launches Needs Improvement on Sunday, September 8, 2013 at Sparrow (5322 Boul. St-Laurent). Readings by Fiorentino and special guests: Jacob Spector, Julie Mannell, Mike Spry, and Jason Camlot. Event website: http://www.chbooks.com/events/sept-8-jon-paul-fiorentino-needs-improvement-montreal-book-launch-2013-09-08