The Nishnawbe Aski Police Service (NAPS) took a startling position during the inquest into the suicide of Lena Anderson in the back of one of its police cars. On Wednesday, they asked the five members of the jury to recommend that their service either be brought under the Police Services Act before April 2017, or disbanded.
The inquest shone a grim light on the deficient resources of the largest First Nations-administered police service in the country and the role it played in Anderson's death. NAPS board chair Mike Metatawabin told the inquest that there was no point in keeping the service when it didn't have the resources to fulfill its duties.
"Enough is enough. We can't do this all the time where you promise something and then turn around and say you can't do it," he said, as quoted by CBC.
No Cells, No Radio and No Help
Lena Anderson, a 23 year old native woman, died in the back of a police car on February 1st 2013 in the remote aboriginal community of Kasabonika Lake in Northern Ontario.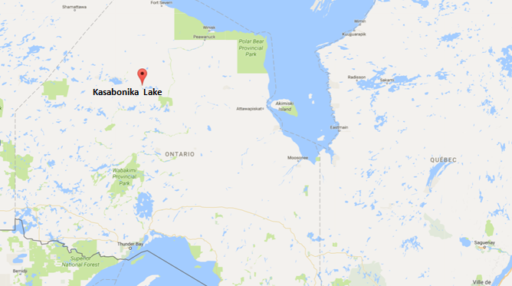 Earlier that night, Anderson's daughter had been apprehended by a child welfare worker after being found drinking at a party in Kasabonika Lake First Nation, where alcohol is prohibited. Anderson became frantic when she learned the news, to the point where Cst. Jeremy Swanson took her into custody for her own safety.
Since Kasabonika doesn't have proper holding cells, the standard practice is to hold detainees in the passenger compartment of the police cruiser until they are let go or transported out of town.  Swanson said that he intended to release Anderson once she had "sobered up".
During his testimony, he recounted how he tried to contact the other officer over the radio but couldn't get through. Since NAPS uses an old radio system instead of the modern ones that would have allowed him to leave a message to a dispatcher, he had no way of getting assistance without leaving the car.
According to Swanson's notes, he left Anderson in the car for 16 minutes while he stopped at the door of a local social worker to get her to try to contact an off-duty officer. When he came back, the young woman had hung herself with a drawstring from her pants.
"I checked for a pulse. There was nothing…I tried to yell as loud as I could. No one was coming to help me."
Swanson cut her down but the conditions made it impossible to "perform CPR efficiently."
He got the social worker, Tina Nevins, to alert the nursing station that they were coming. Still, nobody was waiting for them outside when they arrived, so Swanson "carried and dragged Lena to the building, and started yelling for help." Anderson was pronounced dead 45 minutes later.
When Swanson was asked about alternatives for holding detainees in the absence of cells, he said "there should be cells. Otherwise there shouldn't be police officers, because they can't do their jobs."
History repeats itself
On Thursday, the coroner's council issued 27 recommendations to avoid future incidents. The coroner's office's recommendations are not binding, contrarily to the jury's. They stopped short of endorsing the idea of disbanding the NAPS, advising instead the jury to be careful in how far they take their recommendations.
They largely insisted, however, on the importance of ensuring that First Nations communities have access to the same level of policing and services as other communities.
The inquest into the Kashechewan fire deaths of 2009 brought essentially the same recommendations forward, but they still haven't been followed.
"Lena Anderson would be alive today," said NAPS legal councillor Julian Falconer in an interview with a local paper. "She died in 2013, because of the very same problems the jury identified in 2009."
The NAPS board chair also referred to the failure to follow up on the 2009 recommendations in his emotional testimony: "For me it's heartbreaking, heartbreaking that we're still here, we're still waiting, we're still trying to make it better."
First Nations Policing Program Called into Question
As per the First Nations Policing Program (FNPP), aboriginal communities in Canada are either policed by the RCMP or by a self-administered police service.
The Nishnawbe Aski police service is the largest First Nations police force in the country, with over 134 uniformed officers. Those 134 officers are in charge of 35 communities, spreading from Thunder Bay to James Bay.
First Nations administered police forces like NAPS were first instated when the FNPP was created in 1992 and their legal framework has not been updated since then.
They are mostly constituted of micro-sized services mandated to serve remote communities under provincial police regulations. In 24 years, 58 such services were created. Twenty of them were disbanded due to various crisis and failures.  Recent government research found that the diminutive size of these services was a primary cause of their failures.
Metatawabin and Falconer, with Swanson's lawyer, Mike Maher and the lawyer representing the Anderson family, Christa Big Canoe, all called the entire First Nations policing program into question:
"From the perspective of my client, if they're not willing to put their money where their mouths are, we just need to fold the whole program."
* Featured image via netnewsledger.com