Last Saturday night Piranha Bar hosted Ker-Pow presents; Blood Money 2—a party organized by artists Stef Eerie and Angus Philip Byers. This event was a solid community art show filled with the bar's usual tattooed crowd. A pretty good turn out, which made me smile because nothing makes me happier than seeing people showing love for their local artists. Everyone attending seemed to know each other, and had stories about the artists and artwork to exchange (such as the process involved in creating the testicle paintings—but we'll get to that).
I rushed in from the train station after a trip to Toronto, and made my way down to the bar. I have been to Piranha Bar a few times before, where I have seen some pretty kick ass metal shows. As far as art goes, I am a frequent visitor to more institutional white cube gallery spaces. As much as I appreciate it, it tends to become a pretty cold and stuffy setting. I was totally looking forward to a change of scenery.
I paid the two dollar cover and was handed a raffle ticket. Prizes consisted of swag donated by sponsors such as Stomp Records and Sin City Tattoo and Piercing. The black and red walls of Piranha Bar were filled with paintings, drawings, prints, photographs and crafts alike. Everything was priced under $100, with the most notable price tag set at "a couple drinks". Macabre pointillism, tattoo style illustrations, and whimsical photographs were lined up side by side.
After a quick chat with Angus Philip Byers, one of the organizers, I got a little more insight to the
inspiration for the event. Ker-Pow's goal for Blood Money 2 was to create a comfortable and relaxed environment that allowed contributors to display their work in an accessible context. The aim was to 'divorce' the art from the art gallery environment. Using the space of Piranha Bar allowed for the contributors to keep the full profit, which is a pretty rare occurrence. Steph and Angus approached many of the artists to contribute, but tried to keep a laid-back vibe to allow others to feel comfortable approaching them with submissions.
Working with the intention of trying to get art into people's homes, many of the works came in multiples. Prints and originals were available, both extremely reasonable for the amount of craft put in by the artist.
Some beautiful and insanely detailed post-it note drawings (Stickynotesfromtheheart) and Star Trek Mount Rushmore were among my favourites. Which brings me back to the testicles. In the back corner near the some cool jewelry and leather masks, the wall was plastered with ball art. Cheeky watercolour paintings made with the artist's dick and balls. Of course they left me giggling like a little girl. My friend later gave me the lowdown and the technique used to make them, but I will spare you that visual.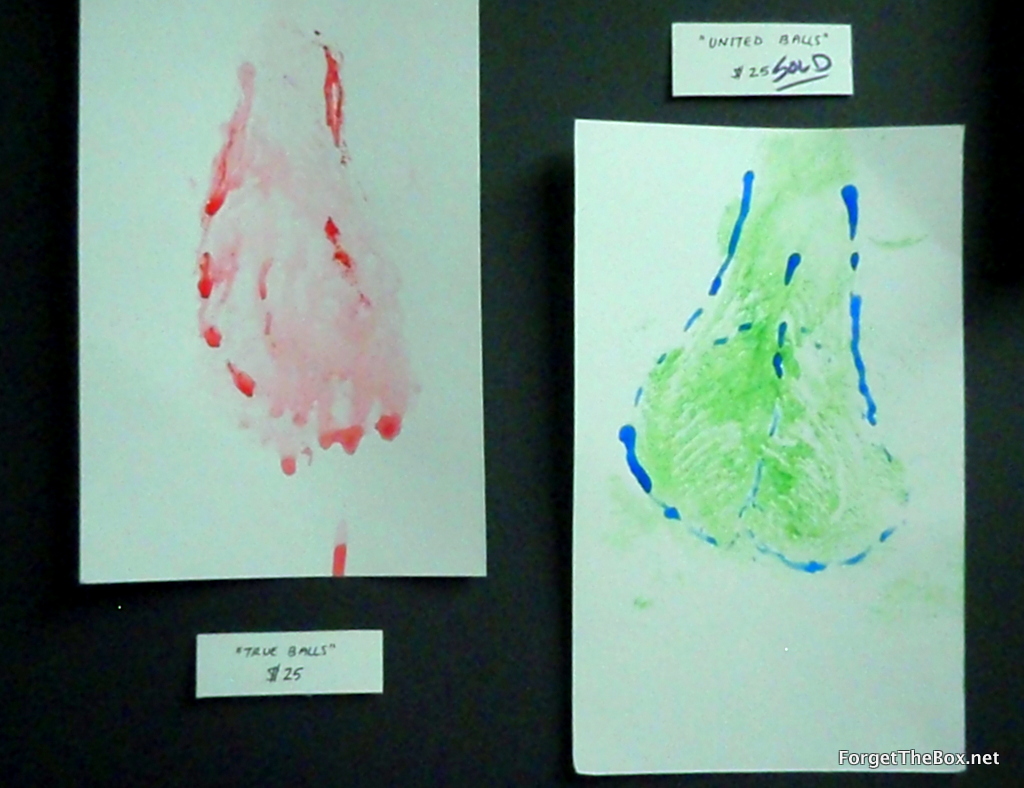 All in all, keep your eyes out for future Ker-Pow events. Affordable art from talented locals, cool people, free swag and imprints of genitals are all pretty fantastic things if you ask me.