You may have heard of the controversies surrounding the Canada-US Keystone XL pipeline which would bring Alberta's oil  all the way down to the Gulf Coast. The resistance to that project is fuelling the push to bypass the US and create a homegrown version, Trans Canada's Energy East pipeline, whereby 1.1 million barrels a day of diluted bitumen from Alberta's oil-sands would be pumped through 4600 kilometers of pipes; Canadian refineries in the east would then process it after which it will be exported abroad.
By allowing  this pipeline to pass through their lands, communities across the country will be supporting further development of Alberta's oil-sands. Conversely Canadians, who may feel powerless against Alberta and our federal government's pro-oilsands position, can now mobilize against the Energy East project and directly curb the expansion of the tar-sands.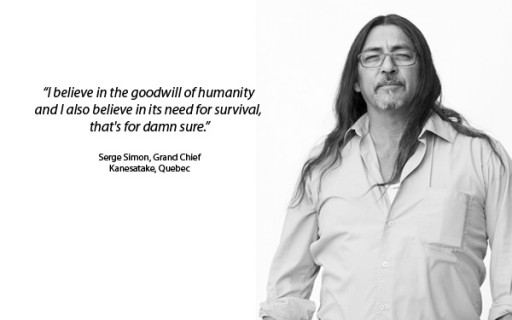 Joining his voice to the choir of activists is Canadian photographer Robert Van Waarden who is setting out on an eight-week Canada-wide journey to capture in words and on film the many faces of those who will live along the pipeline's proposed route. For his Along the Pipeline project, Van Waarden will meet, discuss with, and photograph those who would shoulder the brunt of the risk associated with living in close proximity to the pipeline as well as those who may benefit from job opportunities it would create along the way (a claim challenged by major environmental groups).
We have all seen images of Alberta's tar-sands intended to shock us into action and expose us to the reality of where the oil, that we all use on a daily basis, comes from. But these shock-and awe images are a double edged sword: we are simultaneously faced with the devastating environmental consequences of living in an oil-dependent society and dwarfed by the system that has consented to its destruction. The scale of the environmental degradation runs parallel to the economic and political power that allow the oil-sands to exist.
By focusing on the people directly affected by the pipeline, Van Waarden is seeking out "individuals working on change, pushing our world towards a more sustainable place [and whose] story is one of inspiration, empowerment and co-operation." Since this mighty piece of privately-owned infrastructure will link people and communities on a national scale it seems worthwhile to understand what meanings this connection holds to those concerned. By humanizing those affected by the pipeline and highlighting the interconnectedness of the human experience,  the struggle becomes more relateable; as more pockets of resistance come to the surface, the challenge seems less herculean.
Forget The Box is pleased to follow Van Waarden as he travels across the country chronicling the stories of those affected by the Energy East pipeline. With preparations underway, Van Waarden is seeking help from the public to support his project though his indigogo crowdfunding initiative which comes to a close on April 6. Photographs and multimedia pieces will be published throughout his travels on his website and you can follow him via Twitter and Instagram.
If VanWaarden is on a tight schedule, so too is TransCanada. They must file their project application by this summer, after which the National Energy Board has fifteen months to make a decision. Understandably, they are lobbying hard. Town meetings are sponsored all along the pipeline's route to convince residents to not block their $12-billon project.
Here in Quebec, the Fédération québécoise des municipalités will gather its members in Drummondville on April 8 to discuss the impacts of the pipeline weighing envrionmental concerns with potential economic benefits. One look at the FQM meeting's agenda and it becomes clear that TransCanada is targeting all political decision-makers and potential opponents with their lobbying efforts.
It's not because we benefit from and are dependant on oil that we forfeit the right to object to the expansion of the oil-sands. Why do some people support the pipeline? What acts of resistance, large and small, are being carried out against it?
Through the medium of photography Van Waarden will contribute to the ongoing discussion and will capture not only what the Energy East project "means to this nation but what sort of community, country, and world we want to live in."
Images courtesy of Robert Van Waarden. You can help make Along the Pipeline happen by donating to his crowdfunding campaign