I am going to kick this off by saying I've been a bad girl. A Nasty Gal, some might say.
See, for a while now, I have been getting notifications on my Facebook news feed regarding new items of clothing this online store, Nasty Gal, has produced. When this gorgeous midnight blue, floral Kimono caught my eye, I decided to actually visit their website and explore what they have to offer.

Nasty Gal is an eclectic online store that has something for everyone (but mostly for those lucky women who have experienced the joys of being a size two, or curvier ladies who aren't afraid to pull off the cut-out look). But what I've noticed about Nasty Gal, is that everything they have on their menu are the hippest, trendiest pieces you would see the likes of Rihanna (gag me) sporting.
First of all, let me just say that I've noticed that black is back. The web store is infused with little black dresses, black maxi dresses, black cut out dresses, and black skater dresses. It looks great, classic, and sexy, but I think it's safe to say that black will be making a huge splash in our autumn wardrobes.
Now, KIMONOS. I'm just going to take the opportunity to announce to my friends and family who doubted me two years ago that I told you so. Kimonos have made a comeback and my investment from 2011 was not a mistake, so eat my dust, Mom. Kimonos are fabulous and Nasty Gal has them beautifully fluttering around their website. I am strongly considering being unreasonable and purchasing one.
They do have one trend littering their pages that concerns me, however and no, it isn't overalls. I sincerely hope that we've gotten that one out of our systems.

Has anyone heard of this "peplum" business? Well, if you don't know, the peplum detail is extra material that flairs out at the waist of a dress, jacket, skirt, for added accentuation, I suppose.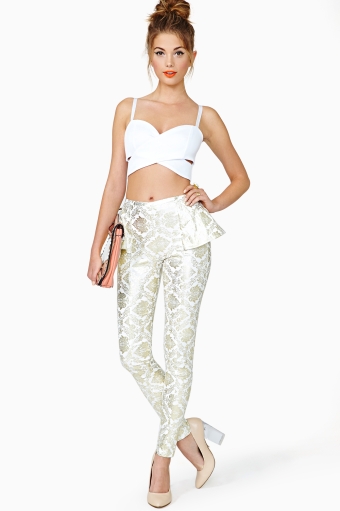 It is supposed to give the wearer an hourglass feel, though I personally think it makes everyone look like they just stepped out of The Jetsons. I think the detail can be cute on a dress, a skirt, maybe even a top that flares out peplum style, if you're into that, but pants? Come on.
Honestly, I could be negatively judging the peplum pants because I'll never forget the whole "skirt attached to pants" phase that was huge in 2002 and can't help but wonder if we're trying to bring it back in a more futuristic way. But for all I know, people will start rocking the pants with killer chunky heeled booties, a tight cross-back bustier top, and high blonde ponytails. Hey, Judy!
Nasty Gal looks like a fun place to shop from home. It's web design is eye catching black and white with pink detail, making you feel like an adult kid in an adult candy store. Personally, the colour scheme makes me crave shoes.
To be honest, it's quite pricy, and since I haven't actually experienced wearing any of their apparel or (knowingly) witnessed any of it face to face, I don't know if their prices are worth it. I did pretend shop there, however, and noticed that they don't charge taxes.. which is weird, possibly illegal, and I could be completely incorrect about it.
Maybe they'll just end up pulling an Ikea: wait till the last possible minute, then BAM! $100 extra has been added to your subtotal. Their shipping costs are decent, though.
Their collection is definitely something pretty to look at. If you feel like window shopping on the net, if you're stuck at home on a rainy day, if you're looking for some outfit inspiration. Would you buy anything? You'd probably want to, but it depends on your own personal budget and money spending ethics.
That being said, both my budget and money spending ethics are pretty low, so I'm off to purchase that Kimono and solve the "no tax" mystery. You can do the same at NastyGal.com