Montreal has a great music scene. From the numerous summer festivals that draw international acts and audiences to the local dive bars that feature some of the city's best homegrown bands year round, there's plenty to hear. Even with this widespread, diverse palette of music offerings in town, one niche has been lacking in recent years.
Where are we supposed to go hear some good old party funk? The city doesn't have any local bombastic mainstays but fortunately for us, the funk powerhouse Lettuce will be coming this weekend to perform at the Virgin Mobile Corona Theatre on Sunday, October 26. These guys put forth an explosively groovy show each and every time they step on a stage. Their fiery live performances earned them a spot (#13) on Hype Music Festivals' list of the 50 Greatest Live Acts Right Now, put out this past August.
It's difficult to argue with Lettuce's self description as "the modern day rulers of old school funk." The Brooklyn-based supergroup has been at it for 20 years, touring all over the world and consistently being a highlight of the festival circuit in the US. Having known each other and played together for such a long time and developing distinguished careers outside of the band has allowed the group to flourish in recent years.
The core members include Adam Deitch on drums, who has worked with Wyclef Jean and John Scofield, Eric Krasno on guitar and Neal Evans on keyboards, both from the jazz/funk pioneering group Soulive, Eric Coomes on bass, who has worked with Britney Spears and The Game, guitarist Adam Smirnoff, who tours with Robert Randolph and the Family Band, and saxophone player Ryan Zoidis, who is also a member of The Rustic Overtones. When all of these varied and diverse voices and energies converge with Lettuce, the shows have been known to go off.
[soundcloud params="auto_play=false&show_comments=true&color=0ac4ff"]https://soundcloud.com/lettucefunk/sets/fly[/soundcloud]
Although Lettuce's clear strength is their live shows, they have shown a renewed focus on putting forth quality recordings in recent years with Rage! (2008) and Fly! (2012). While their first two records, Outta Here (2002) and Live at Blue Note Tokyo (2004), were their introduction to the music world and used to support their live shows, the newer two have shown a clear effort to capture their live energy in the studio.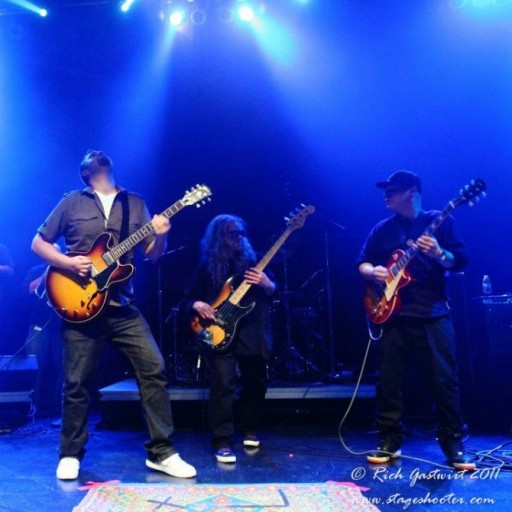 Along with harnessing their live sound, the band has made a move away from the jam band designation to a more song-oriented soul outfit, aided by frequent guest vocalists Nigel Hall and Alecia Chakour. That being said, and given the fact that they've been together for 20 years and only have four records, playing live is clearly still their bread and butter.
[soundcloud params="auto_play=false&show_comments=true&color=0ac4ff"]https://soundcloud.com/lettucefunk/lettuce-dont-be-afraid-to-try[/soundcloud]
Some might presume that Lettuce is a band that simply covers funk classics from yesteryear and even that funk as a genre is limiting. Not so. They play mostly original material and draw inspiration from the masters of the 60s and beyond while implementing an undeniable hip-hop sensibility. They are one of the tightest bands around, using sophisticated arrangements complete with soulful melodies, thumping bass and guitar riffs, and shredding solos. Their focus, though, is unquestionably their rhythmic unity and their undying adherence to the pocket of a groove.
[soundcloud params="auto_play=false&show_comments=true&color=0ac4ff"]https://soundcloud.com/lettucefunk/sets/lost-in-flight-the-fly[/soundcloud]
It's rare that Montreal is graced with such a talented and accomplished funk band, and although Lettuce regularly tours from coast to coast in the US, they seldom make it up to Canada. Their energy is infectious from the first note and their performances are guaranteed to get you moving. Montreal, let's rage!
Lettuce performs Sunday, October 26, at the Virgin Mobile Corona Theatre. Doors open at 6:00 PM, and the show is at 7:00 PM. Tickets are $22 in advance ($25 the day of the show) and can be bought here.