Skin of a snake, lungs of a dolphin, and the eyes of an eagle. A man so bad ass you could write a whole list of Chuck Norris facts about him.
Puma Nava, 25, was born of the jungle and knows how to conquer it. His scars, like the two snake bites on his right hand that brought him within five minutes of his death stand as a reminder of the experiences he's faced and survived.
Puma was my tour guide for the Pampas region along the Beni river in the Amazon basin. He is like no other human being I have ever encountered.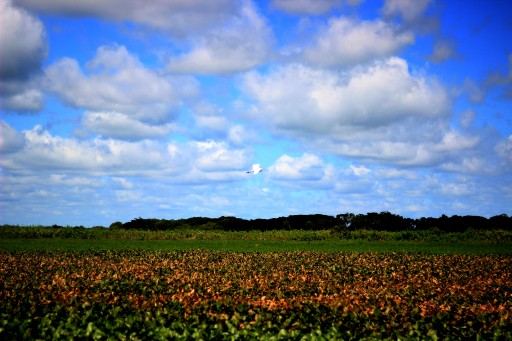 Picture a group of gringo tourists floating slowly along the Beni at nightfall, shining their flashlights and dorky headlamps towards the muddy shores for a glimpse of a nocturnal predator. They sit there hopelessly wagging their artificial lights and praying that they are not another group of tourists to get rejected by the mighty stubborn force of jungle wildlife. Then, unexpectedly the 35-foot ancient-looking wooden motorboat edges closer to the shore. Puma, it's worthy captain, slowly with eyes fixed on the translucent brown muddy water steps out of the boat and into the water. In a smooth, but deadly attack he plunges his bare hands into the water and pulls out a medium-sized alligator by the neck, hauling it into the boat for the stunned tourists to touch and take photos with.
"Classic Puma," said an English tourist with a cowboy hat.
Puma is a member of the primarily traditional hunter/gatherer indigenous tribe called the Tsimané who live in the Beni region of Bolivia. Their tribe has been subject to various anthropological studies over the last decade under the banner of "The Tsimané Health and Life History Project," which looks into the effects of aging on this traditional population. The Project and the Tsimané made news in 2009 when a study uncovered that Tsimanés are generally exempt from diabetes and hypertension – a worthy discovery in the battle against these two mass killers. Instead, Tsimanés tend to be brought down by the infectious diseases that run rampant in their tropical homeland, which brings their life expectancy to just 42.
Not so for the Nava family, according to Puma. His shaman-healer grandfather allegedly lived to 105 without once attending an infirmary. Natural remedies found in their regional backyard have aided his family over the years.

Lounging on a branch in the Pampas, Puma recounted a story in which his father's leg was crushed by a large tree. Broken and with the skin around his thigh completely torn off, Puma's grandfather took bark from a nearby tree and made a skin graft out of it to cover the open wound.
One year later, his father could move his foot just the slightest. Two years later, he could walk. Three years on he was back to leading tours in the Beni region, just like his two sons Puma and Ariel would go on to do as their careers.
Tours are extremely popular in the Beni region. Experience-hungry tourists eager to see the wonders of the Amazon region tend to land in the town of Rurrenabaque and sign up with one of the many tour companies stationed there. Rurrenabaque is also home to Puma's family.
Despite the influx of tourists from England, the United States and Canada, Puma cannot adequately speak English. "When you come to Bolivia, you speak Spanish," said Puma in Spanish to a couple of girls from Holland. "If I go to Holland I will speak Dutch."
"But, you don't speak Dutch!" giggled the girls.
Puma may not speak Dutch or even English, but he happens to be fluent in one of the world's newest conversational languages, which is officially spoken in only one tiny country – Hebrew.
After some Israeli-tourists made fun of Puma in Hebrew, Puma decided to become fluent in the Semitic-based language by learning on his own.
"He speaks perfect Hebrew," said one rambunctious Israeli-tourist. "It's unbelievable."
Rurrenabaque and the Beni tours are especially popular among Israelis who tour South America after finishing their military service in the Israeli Defense Force. As a result, many tour guides like Puma and his brother choose to learn Hebrew instead of English in order to communicate with the Israelis.
Learning to communicate with the tourists is an extremely minimal criteria for Beni tour guides. Their greatest worry must be the dauntingly unpredictable rainforest.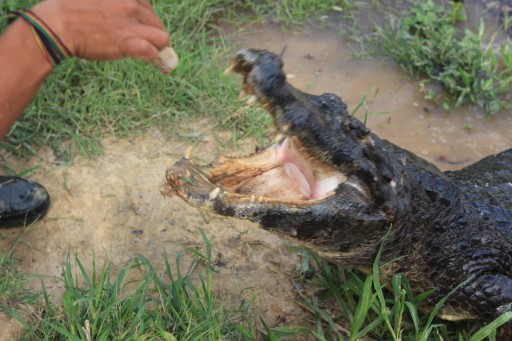 For the Pampas tour, Puma is expected to find anacondas, alligators, caimans, river dolphins, monkeys and maybe even a jaguar. The stakes are high for the illustrious recommendation in a blog, travel guide or even a suggestion to some friends interested in taking the trek.
In the morning of the second day of my Pampas tour, we trudged through the swampy Pampas in our knee-high boots staring at the shrubbery for a glimpse of a ferocious anaconda, cobra, or even a poisonous rattlesnake. Many tours don't get to see snakes and we had no idea what to expect.
Suddenly, we heard a loud grunt and looked over to see Puma swinging a massive poisonous yellow cobra around, taming it with every blow to the ground. The cobra eventually submitted to our Steve Irwin-esque tour guide and was a friendly subject for pictures. Classic Puma.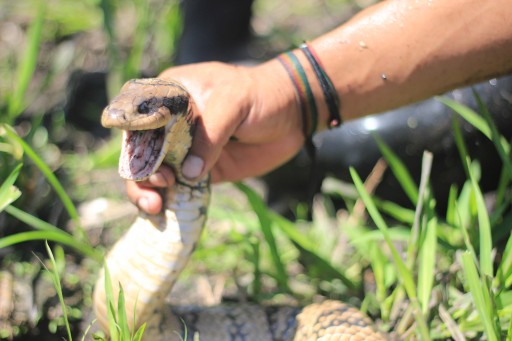 Later in the trip, Puma whistled down a wild eagle to come eat a fresh pirinha that he caught, teased a deadly caiman with fresh catfish, toyed with troops of tiny monkeys, and introduced us to a number of river dolphins. Just another day at the office for a Beni tour guide.
While the spectacle for us humans is an absolute delight, adventure tours like these are not sustainable for the animal population. Swinging around a rare snake or choking an alligator is not exactly healthy for these animals. Plus, the tourists' DEET insect repellant covered fingers are poisonous to the animals that they touch.
What the tours bring us is a rattling sense of human capability. No amount of schooling or training could adequately prepare Puma for his daily dangerous bouts with wildlife. It is this feeling that makes us question our sheltered and safe lives in the West and gives us the ever-illustrious culture shock that we crave.
For Puma, a father of two, even if the tourists leave and never come back to visit him, each tour brings adventure and puts a smile on his face.
Classic Puma.