It's all in the family and all about fun and quirky fashion at Le Caniche Noir. The Montreal born online boutique that has been buzzing on peoples' newsfeeds is all about "not taking yourself too seriously" but exploring the "elegance, independence and intelligence" of the modern woman.
When I met with Dilara Dzafic, the birth mother to the brand, I knew right away that I could relate to her style. I absolutely loved her outfit. The Eastern European/Middle Eastern Poodle was rocking this moderately 80s inspired Power Look with a twist: a beautiful white ruffled cropped sleeve top that was paired with flared trousers I have always wished I had enough guts to pull off, and those mid 90s, slightly pointy toed, classic black heels that looked just like the kind Corporate Barbie would wear. Dilara's butter blonde hair was chopped and cropped into a modern pixie cut and she sported gorgeous, black cat eye glasses. She exuded non threatening, natural glamour. "Fashion is my escape! I've been doing it forever."
Bicontinental Dilara, who has a background in marketing, commutes between Germany and Montreal, and has worked for brands such as L'Oreal and Nivea, launched the business in 2007 after completing her MBA… and it was an instant hit!
"We would have photoshoots to market the clothes, and they would sell out before we could even post them on the site!" chuckled the site's marketing manager and brother, Dzaner. Thankfully, the Dzafics don't have to worry about that anymore, as they have a warehouse in Montreal and everything on their site is ready to order. Dilara designs the "first draft" of many of the pieces, others are bought in straight from Europe.
Though Le Caniche Noir is proud to be a Canadian brand and is situated in Montreal (plus offers same day deliveries, no customs shipping within Canada, and free returns), their apparel doesn't only cater to a North American consumer audience. With influences that trace back to the founders' roots, their sales skyrocket in other continents and their international style is apparent with concepts that wouldn't necessarily be overly marketed in North America.
"European style is sleek and simple, but very powerful," dishes Dilara, "the point of our clothes is to empower women, especially those behind the work force. There are a lot of powerful women out there who want to look classy and feminine but fun business casual attire is more difficult to find."
At the end of the day, Le Caniche Noir's ultimate objective is to inspire the lady behind the desk to think outside the box when dressing for success. They want their ladies to look good, feel good and be original!
Their website is super comprehensive and helpful, dividing their apparel into sub categories that relate to the browser's mood. Femme Fatale, Weekend Glamour, Dare to Bare and Gypsy Queen are only a few to mention.
Notable pieces in their collection that I personally covet are this beautiful red cross back romper, a silken middle eastern inspired tube maxi dress, this backless, black mini dress with a pearl studded design at the shoulders (for that edgy 21st century look) and a piece that was named as the season's best seller (and was generously gifted to me by the designer) this absolutely stunning, flawless coral button down blouse with a lace back.
In my opinion, these pieces sum up the theme Le Caniche Noir tries to convey in their clothing. They are versatile and classic pieces with a twist, that can work for any occasion.
Le Caniche Noir is definitely different than anything else out there. The Dzafics are all about adding the extra "oomph" and personality to their pieces. As Dilara puts it, "the average girl could wear a long black dress and keep it simple. Our girls would wear that long black dress with a big red hat!"
They're also harmlessly kooky, yet tasteful: "We love to have fun, and we don't take ourselves too seriously. We were bored at work once, so we made a sex tape." I tore my sides in laughter as she immediately pulled out a masking tape that had the word "Sex" scrawled across it in red marker.
The quirky Dzafic quality is illustrated all over the brand, with their entertaining photoshoots that could initially raise an eyebrow, but would bring a smile to even the most prudent person's lips at any time. Concepts that are so cheesy yet so charming, like Fashion Addicts, or Fashion Crimes, turned into photoshoots to promote their product. "We're even having a Christmas party… on September 21st! Since Fall is like, Fashion Christmas," Dilara said with a cheeky smile.
Why Le Caniche Noir? I think this boutique sets a positive example to women today. Even the concept behind naming the brand is inspiring. I originally thought it was named after Dilara's adorable black poodle, Kiki (who is also the mascot of the brand), but there is a lot more to it than that.
"To us, Le Caniche Noir translates to a fashionable black sheep," explained Dilara, "a woman who gets a little extra attention in a good way. The poodle, like our consumers, is elegant, and they are the second smartest canine breed. We aim for our clothes to cater to a strong, smart, elegant, and independent female audience."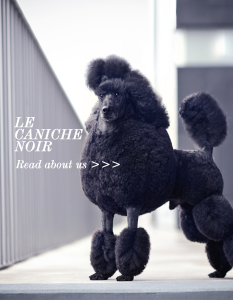 What's next for Le Caniche Noir? They don't plan on marketing men's clothes, but "we're thinking of making doggy clothes! Ones that would match some of the outfits we sell!" Isn't that just the cutest thing you've ever heard?
They also daydream about opening up an actual flesh n' blood boutique, but maybe somewhere in Europe. "Actually, we want to open up four different boutiques that cater to different moods: Office Look, Party Girl, Hangover Chic and Look at Me. This would probably be done in Europe, but the idea expresses how eclectic the brand really is, and how it encourages it's buyers to shop for their mood!"
Become a Caniche Noir girl and visit LeCanicheNoir.com or, call them at their adorable phone number 1-855-7-POODLE (I just love it, I don't even know why!!)