St-Henri is resonating with the raw energy of a burgeoning scene. An impending volcanic eruption of creative gusto, hip boutiques and cozy cafes, St-Henri is on the brink of becoming Montreal's hip new borough. I love that it's a westward valley laying low beneath the overdone hype of Mile End. It's a picturesque little hub with a strong neighbour vibe, where Mom and Pop diners still serve all-day breakfasts next to new-wave bistros with harvest menus. It reminds me a lot of Halifax's North End neighbourhood, where, just like in St-Henri, gentrification is painting vibrant shades over faded colours.
Along Notre-Dame, tucked into a tiny storefront, is one of the neighbourhood's coolest boutiques. Perfide is a gem of a discovery, a tiny closet sized space bursting with spunky stuff. It's comparable to visiting a friend's apartment for the first time and realizing they have an edgier wardrobe, artsier things on display, better music playing, and basically just a way cooler life than you do.
Perfide is located at 4217 Notre-Dame West and co-owned by Julia Ponsford and José Bernatchez, two of the most creative people I've met since moving to Montreal. They seem to have a fluid stream of projects in motion, in creation or in the back of their minds at all times, and Perfide mirrors their artistic interests. The store sells an assortment of merchandise, the majority of which is made in Canada, and features some well known Montreal designers such as Elaine Ho, Supayana, Ruelle, The Pin Pals, Velvet Moustache and more.
The first time I stumbled into the shop, I was overwhelmed by the vast amount of stuff packed into such a small space. Books on fashion, books on mural art, the entire Juxtapose series, The Disposable Skateboard Bible, Cara Carmina's wicked cool handmade dolls, super cute locally designed iPhone cases, a slew of Demeter fragrances (I don't know about you, but I've always wanted to smell like crayon), funky jewellery collections, pillow creatures, tote bags, t-shirts and more, more, more including Julia's own line, SweetMeat.
Julia's designs are bold, edgy and original, often with strong silhouettes and innovative features. And for the most part, when you buy a piece from SweetMeat you're the sole owner. "I started SweetMeat in 2009, largely creating one-of-a-kind garments. I'm not very interested in doing mass production, creating the same garment over and over again bores me to tears, so the most I'll do of one style is three" she says. "My clothing line is all about individuality. I want to give people unique clothing options at an affordable price. I'm constantly changing and evolving my designs depending on how I feel and what's going on around me, and what I want to wear at the moment."
Julia's a completely self-taught designer. "I never went to fashion school, so I learned by myself with a lot of help from the internet and lots of experimentation." It's too easy to be cocooned by feelings of incompetence or inability that are detrimental to, ahem, getting shit done, so it's motivational to realize that hard work breeds talent—something that everyone's capable of.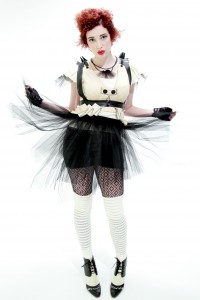 Julia and José have a website, vachemorte.com, which features their own video and audio projects (check out some of their short films and documentaries), as well as collaborations with different artists. "I've created clothing for some short films that we did, and I recently did a mini four piece collection for a collective portfolio video with our friend, hairstylist Kathy Simon of Mekka System."
"The video depicts a tea party in space. The clothes have some Victorian influences mixed with some modern trends, I'm very proud of it. It was shot and directed by my boyfriend José Bernatchez. I love working on projects like this because the clothes don't have to be practical at all, and it gives you the ability to create a world that doesn't exist and bring it to life."
Although SweetMeat is primarily clothing at the moment, Julia also designs jewellery and has taken up knitting and crocheting, slowly adding accessories and different pieces to her collection. Aside from Perfide, SweetMeat can be purchased at General 54 (54 St. Viateur W) or online.
Perfide, 4217 Notre-Dame West, open Tuesday to Friday 11-6, Saturday and Sunday 12-5.
Julia Ponsford is pictured above, along with the one model wearing SweetMeat designs featured in the collective portfolio video.