* This article originally appeared on QuietMike.org and is republished with permission from the author
While the rest of the world debates how handsome Canada's new Prime Minister is, actual Canadians are just relieved to be rid of Stephen Harper and his Conservative Party for the first time in a decade.
While Canadians are happy with the change, promises were made, and we're all curious to see just how many promises Justin Trudeau is able to keep. According to trudeaumetre.ca, a self-proclaimed non-partisan website dedicated to tracking Trudeau's election promises, he made a total of 174 such assurances.
That is a lot of promises by anybody's standards. They vary in size and importance, and it will certainly take a lot of work. From tax changes to full marijuana legalization, it will be a busy four year mandate to be sure.
Of the 174, there are a select few that may turn some heads within Canada and even the rest of the world. Here are the top five Justin Trudeau promises:
Taxing the Rich
After almost ten years of Conservative rule, it's no surprise that Canadians find themselves with the smallest tax burden in half a century. That might seem great on the surface, but Harper's Reaganomics policies have led to a big spike in income inequality along with huge gaps in investments toward infrastructure, research, manufacturing and just about everything else.
In order to reverse these trends, Trudeau promised to change Canada's tax code by taxing the 1% more while cutting taxes on the middle-class within his first 100 days. He'll also reverse the Conservative government's doubling of Tax Free Savings Account limits and the income splitting they introduced for families with young children. Both of which overwhelmingly favour the wealthy.
On a separate note, Trudeau was also elected on the promise to run a $10 billion deficit for each of his first three years to jump start Canada's economy, which is now in an official recession. The money will be used primarily for infrastructure.
Access-to-Information
Harper's government and office was exceptionally secretive, to the point where Canada's scientists were even muzzled. It was welcoming news then to hear Justin Trudeau promise to modernize Canada's Access to Information Act. A deed not done since the time of Justin's famous dad.
The Liberals have pledged to eliminate all but the $5 submission fee for access to information requests. Under the new and improved act, Trudeau has promised to give the Information Commissioner more power along with the ability to require federal departments to disclose information. They will essentially bring more federal departments, including the Prime Minister's Office, under the act.
ISIS and Terrorism
Along from pledging allegiance to Benjamin Netanyahu and Israel, Stephen Harper, during his only Majority Government, also managed to bomb three separate Muslim countries (Libya, Iraq and Syria). None of which has yielded any positive results, just more disorder.
Although it is yet to be seen if we stop taking sides in the Palestinian/Israeli conflict, Trudeau has promised to put an end to the bombing campaign against ISIS. The Liberals seem keen on returning to the peacekeeping days of the past which Canada was famous for.
Trudeau has already announced an end to the mission and has announced a continuation in the training of the Iraqi military. Iraqi troops have come under fire for human rights abuses recently so Justin will have to tread lightly.
Electoral Reform
When Trudeau originally made the promise of electoral reform, his party was running in third place. Hopefully now that he is enjoying a newly elected majority government thanks to the strategic voting of Canadians, he doesn't rescind on his promise.
Electoral reform done right should change the country forever and for the better, but it would also be the difficult task to accomplish. Trudeau said during the campaign that he will consult Canadians on a new electoral system with an aim to adopt proportional representation.
First he'll need to teach average Canadians what proportional representation actually is, then he'll need the provinces to sign off on it. It will be difficult, but not impossible, and in a country with five major parties, it is absolutely necessary. No one should form a majority government with less than 40% of the vote. Nor should a party have to settle for one seat after accruing 5%.
Marijuana for All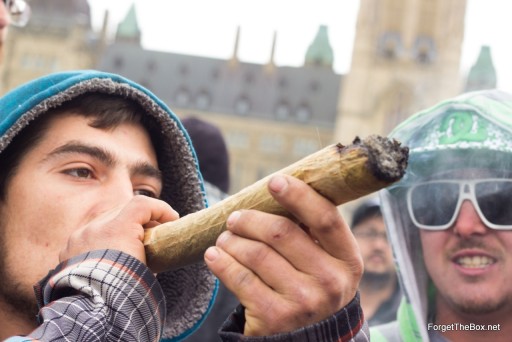 After the Liberal Party's thrashing during the 2011 election, the party decided to make marijuana legalization part of the platform in order to win back voters. Justin Trudeau was elected party leader not soon after and with it came the announcement that he had smoked pot while serving as a Member of Parliament (at home, on his front porch, at a party, while the kids were away). Aside from some Conservative Parliamentarians, no one was really upset.
Perhaps Justin was testing the waters a little, maybe he just wanted to be honest when he was asked. Regardless, Trudeau did pledge to legalize and regulate the sale and taxing of marijuana across the country. A measure if carried out to fruition, will have worldwide consequences.
No one knows yet what legalization will look like, whether it will be open to private industry for instance, regulated the same way as alcohol or controlled differently by each province. What we do know, is that no major country on earth has gone beyond decriminalization at the national level.
I have no doubt that Trudeau will move to decriminalize within the first few months. If however he decides to take it to the next level, he will be sending a powerful message to the United States and the rest of the world about the sorry state of the war on drugs. He'll even have to break several international treaties to do it. Now that would be progress.