When Just For Laughs announced this year's festival line-up would include a free outdoor "Weird Al" Yankovic concert, you could practically hear the collective cry of delight across town. Who better to entertain the masses than he who bridges the gap between pop music, social commentary, and comedy? Excitement was in the air, though the full extent of that excitement wasn't evident until last night, when several thousand fans huddled together under a sea of umbrellas in an unrelenting downpour, refusing to leave Quartier Des Spectacles until they'd seen a good show. And boy, did they ever.
Weird Al took the stage shortly after 9 p.m., accordion at the ready and wearing one of his signature Hawaiian shirts, determined to get the crowd revved up. He launched into "Now That's What I Call Polka!" – a toe-tapping number featuring snippets of everything from Miley Cyrus' "Wrecking Ball" to PSY's "Gangnam Style." Though the waterlogged audience applauded, it was clear they'd need more to chase the clouds away. So, following a brief video break, Al reemerged as a purple octopus with an ice cream cone hat to sing his Lady Gaga parody, "Perform This Way." Mercifully, the rain let up as he continued with his 1985 ode to the absurd, "Dare To Be Stupid," and then proceeded to slip into a fat suit and double chin to crotch-grab his way through another Yankovic classic, 1988's "Fat".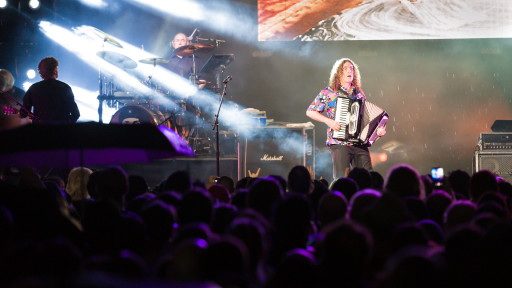 It was exactly what everyone had shown up for and yet strangely, the crowd – themselves noticeably White & Nerdy – did little more than sway or bob their heads as Al and his tight four-man band cranked out tune after tune. The atmosphere improved slightly when he mixed things up with an acoustic set, blending "Eat It" and "Lost on Jeopardy" with "I Love Rocky Road" and "Like a Surgeon," but throughout the evening the most enthusiastic response seemed to come mostly from those closest to the stage.
Which begs the question – why the hesitancy to dance? Weird Al's parodies cover four decades of the biggest hits in pop and rock music, many of which are regular crowd-pleasers in clubs and at weddings. With lyrics that often outshine those of the original songs they're spoofing, how could several thousand Montrealers not find themselves whipped up into a gyrating frenzy? Why the palpable sense of hesitancy to let loose and dare to be stupid with someone who's all but begging you to?
Was a language gap preventing the crowd from fully appreciating the playful lyrics? Had the rain simply tired everyone out? Or are people so used to enjoying his work in a more intimate setting – say, during a road trip with friends, or while hanging out in someone's basement – that being grouped together felt odd? Audiences are accustomed to publicly rocking out to good music or laughing at a clever comedian. Perhaps it's when the two experiences are merged that they clam up, uncertain of how best to respond.
Even if they never completely embraced the party atmosphere Al was trying hard to create, he certainly didn't let it faze him. Donning a maple leaf-patterned blazer, he strutted around the stage for "Canadian Idiot" before moving on to "Word Crimes," a delightfully scathing riff on Robin Thicke's infamous "Blurred Lines" that takes aim at our constant misuse of English grammar and spelling. A song that reminds you of the best way to use an apostrophe while also making you laugh is a rare delight indeed.
His zany personality and sharp wit, highlighted in those aforementioned video clips of his various appearances in film and animation over the years, earns Weird Al a place alongside the stars he's spent his career lampooning. One particularly hilarious moment screened between costume changes showed him "interviewing" rapper Eminem through careful editing. The resulting repetition of Mathers' uttering, "You know what I mean?" left the audience roaring in delight.
It's worth pointing out that the audience was very much intergenerational. Adults who'd grown up in the '80s watching Al TV on MTV stood alongside those who only become aware of his existence when he parodied Lorde's "Royals." Retirees, Hipsters and tiny tots alike were all able to enjoy the content of the show – a testament to the artist's lasting appeal and proof that JFL organizers were wise to book an act that could appeal to families as much as the comedy club regulars.
Perhaps the most impressive element of the tightly choreographed show was his unfaltering voice. Whether growling like Nirvana or hooting like Michael Jackson, the man has some serious pipes that held up extremely well over the course of the 90-minute extravaganza. By the time he stepped out in a black coat and beard to sing 1996's "Amish Paradise," the crowd had no choice but to believe his claims that he had nothing left in the tank as he exited like James Brown with a cape draped around his shoulders. After all that singing, how could he? Thankfully, he returned in fine form for an encore of "Yoda" that featured an unexpected a cappella/scat interlude. Though the crowd wasn't entirely sure what to make of it, their deafening cheers made it clear that, come rain or come shine, Yankovic's particular brand of weirdness was definitely worth waiting for.
Weird Al continues his Mandatory Fun tour this week with Sold Out shows in Nova Scotia and New Brunswick. For tickets to his Maine and New Jersey shows, visit www.weirdal.com.
Photos courtesy of Mathieu Deshayes and Just for Laughs.