La Coalition opposée à la tarification et à la privatisation des services publics has declared this week a week of action. More than 15 demonstrations will take place in the Greater Montréal area alone. As they say on their Facebook page, The Non Aux Hausses coalition invites everyone, everywhere to join in on the demonstrations against the austerity measures of the Liberal government.
Today is already the second day of actions. Yesterday at Place Émilie Gamelin, at least 500 people attended the gathering held by the teachers, protesting the Liberal government's austerity measures. The main point was the state of the education system and how the Liberals are leaving it into shambles. There was also interventions from social groups on how the recent measures are directly affecting the welfare of the poorest in our society and especially women. The speakers also indicated that today's action was but a shadow of things to come with actions to be taken on a weekly and even daily basis throughout the province.
The event closed off with a march accompanied by the SPVM intervention squad.
Click on the image below to see a gallery of photos from Sunday's event. All photography by Gerry Lauzon.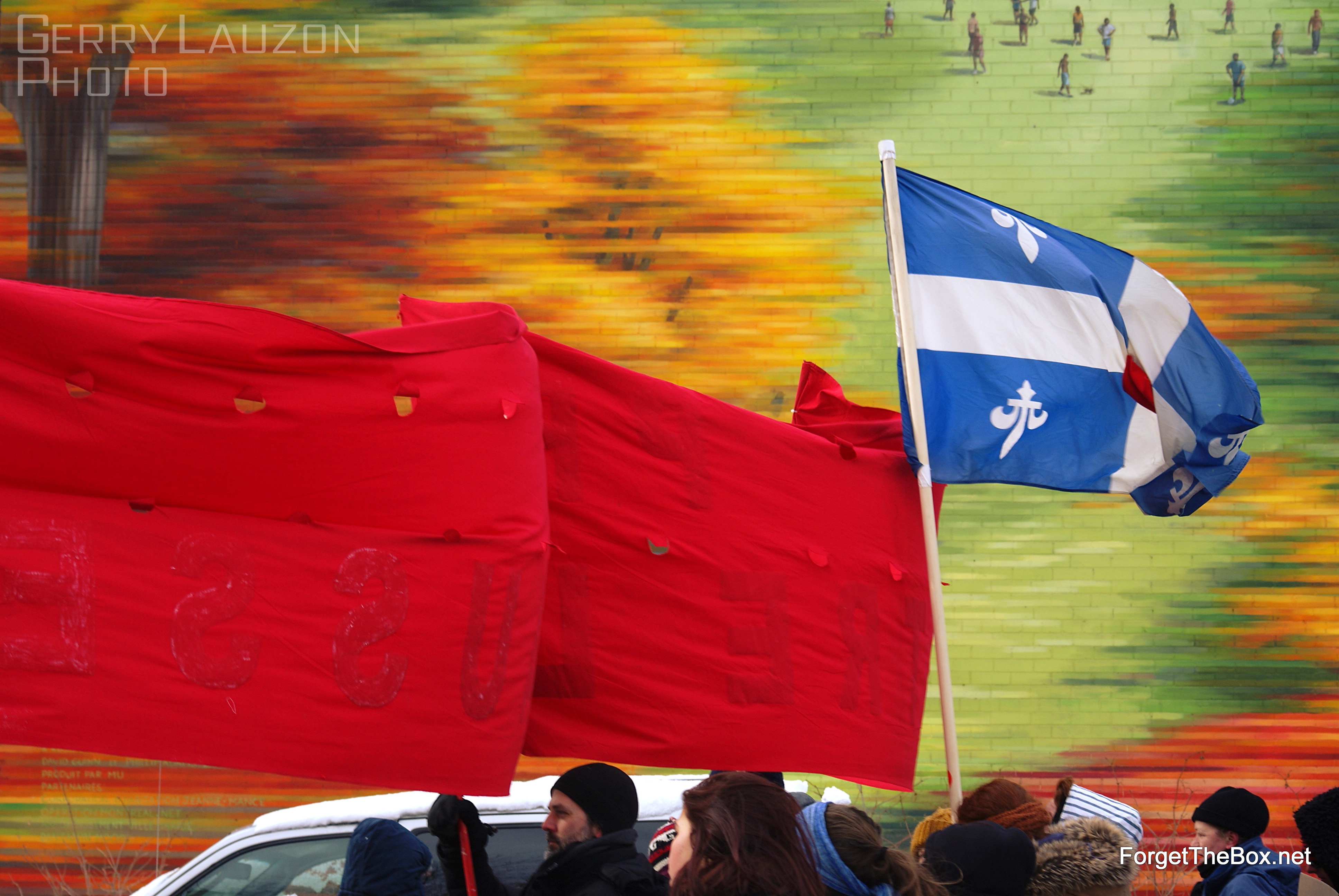 Anti-Austerity Teacher Protest
Today's Anti-Austerity Demonstration
Today at 11:30, a group of protesters occupied the offices of the Bankers Association of Canada in downtown Montreal. The protesters met at McGill College and Sherbrooke, and walked towards Place Montreal Trust. The protest lasted roughly an hour.
Outside Place Montreal Trust, protesters take on "Philippe Couillard" over #austerity measures. #manifencours #cjad pic.twitter.com/ZqtZRECSyt

— Andrew Brennan (@Brennamen) February 23, 2015
La #manifencours est terminée. La rue McGill College est ouverte à la circulation.

— Police Montréal (@SPVM) February 23, 2015
More manifs to come in the next three days
Check out this poster below for to see what else to expect this week. If this is what folk are planning for this week only, it looks like Spring 2015 promises to be anything but boring.