Warning: The second half of this review ended up being more of a rant about Mike Ward.
The Midnight Surprise shows are a staple of Just For Laughs. Part of OFF-JFL, the only thing audiences are told is the host. Apart from that, people buy their tickets without knowing ANYTHING about the line-up. And I mean anything. Any of the comedians that are performing as part of the main festival could appear. For instance, last year, Louis C.K. and Dave Chappelle both made very surprise appearances at these shows.
So while I was waiting at the line with my friend, checking my phone to see if there were any rare Pokemon around, I had no idea what to expect. But I was in for one heck of a ride, it turns out.
The first week of the Midnight Surprise is hosted by Piff the Magic Dragon, or John van der Put. You may know Pif from American's Got Talent, which he did not win. He seems to be kinda bummed out about that, but hey at least he's got a regular show in Las Vegas, so that's cool.
Basically, Piff's whole gimmick is that he wears a dragon costume and does magic acts with a lot of whooshes. All of this is mixed with his brilliant British style humour that involves dark and fast one-liners.
For instance, a good bunch of his jokes involve him implying that he is very mean towards his pet chihuahua Mr. Piffles, who helps him out with most of his magic tricks. It is a bizarre combination of really neat magic tricks, British-style dry stand-up comedy, and the absurd.
But the relatively more important question is, which stand-up comedians showed up at Friday's Midnight Show? Long story short, I got to see Tom Green, Jessica Kirson, Yannis Pappas, Brad Williams, Mark Little, and everybody's favourite controversial Quebecois Mike Ward.
That's quite a lineup! To put it in perspective, that's a relatively famous movie star, ~1/3 of the Ethnic Show, ~1/3 of the Nasty Show, and Mark Little, who is also pretty famous, I think.
My favourite was Jessica Kirson, and that's not just because I got to interview her last week before the Ethnic Show. It's actually because her style of humour speaks to me. It's fast-paced, it's somewhat dark, and it's sincere. I think I'd call her style psychological humour – she talks about her insecurities and troubles, but does it in a way that makes you laugh. She also tells the audience that she needs our laughter and us to enable her.
If nothing I've just described appeals to you, the awkward moments she constantly creates will get you to laugh. One way or another you will laugh at Kirson's show – and she doesn't really care whether you laugh at her or with her.
Tom Green's routine is similar to Kirson's. His delivery is dryer than hers, though. Green talks about how he doesn't want to die in his sleep, because he wouldn't know that he had died; and how he doesn't like/want to understand all those celebrities who die of drug overdose, because their biggest problem in life is having to memorize a few lines.
Again, Green proves that most of comedy has to do with delivery. He stands in the middle of the stage, looking dazed and confused (and is probably drunk), and just talks and talks and talks.
I really want to talk about the other comics as well, but I have limited space, so I have to choose what I talk about. That's why I want to dedicate the next few paragraphs to a rant about Mike Ward.
In case you haven't heard, the Quebec Human Rights Commission has decided that Ward has to pay $42 000 for making a joke at the expense of a child with disabilities. Obviously, his entire routine was him complaining about how he has the right to joke about anything and everything he wants.
Now, I admit that $42,000 is a bit too much, and yes, maybe policing jokes is scarily similar to censorship. But the question is, what exactly do we lose if people suddenly stopped mocking people for disabilities? Does the world stop spinning? Probably not.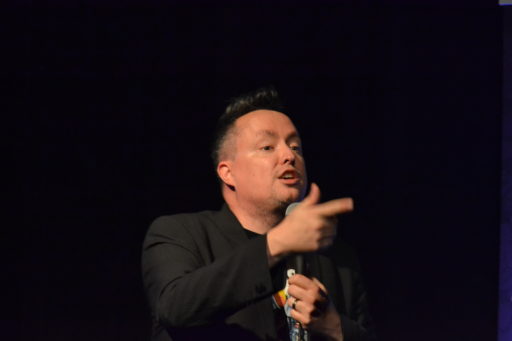 Ward is pushing the idea that he is fighting for his right to be mean to people; but I don't think that's what we should be focusing on. Ward has a right to be mean, sure; but he's also a public figure, you know?
At the show, he told us about an interview he once had, in which the media portrayed him as someone who condones pedophilia. Now, in that case, the media seems to have messed up horribly, just to make him look awful. That, however, doesn't change the fact that he has made pedophile jokes. I mean, sure he can just wash his hands off of all responsibility, arguing that he is simply making jokes, and that people shouldn't take him seriously.
The problem, however, is that words are more powerful than people seem to think they are. A joke is not merely a joke, I would argue. The kinds of jokes Ward makes normalise meanness and, to be frank, I don't think that's okay.
You can be funny without being mean. I understand that this poses somewhat of a problem for Ward and other comedians that have crafted their comedy careers out of being mean; but I'd rather side with the people on the receiving end of mean jokes than with those who make money out of a sick and twisted schadenfreude type of humour.
Anyways, this is what happened to me at Friday's Midnight Surprise. It probably won't happen to anyone if they were to go to another Midnight Surprise. But that only means that you have to go and see for yourself!
The Midnight Surprises will take place with Piff the Magic Dragon on July 24, and with Blake Griffin hosting on July 26, 27, 28, 29, and 30. Check out the Just for Laughs website for more information.
All photography by Cem Ertekin.
Midnight Surprise