It took me somewhat longer that expected to get to Avengers: Age of Ultron, the finale to the "second wave" of the Marvel Cinematic Universe movies and the informal beginning to Summer Movie Season for this year. In the time since it hit screens, Ultron has been a tad divisive, and people continue to argue about it on forums, Twitter, and nasty messages left on bathroom stall walls. The argument has been on two fronts: the first being the actual quality of the film, the second being the possibly troublesome gender politics behind a scene involving Scarjo's Black Widow.
The gender politics debate is ongoing, and something I'm still in the midst of considering, having finally seen the film. As for the quality debate, I knew almost immediately after the credits rolled that I stand with the side arguing that while Age of Ultron is definitely fun, oftentimes clever and an all around solid entry in the MCU, it's also as clunky and badly formed as main baddie Ultron is when he first appears as a shambling mess of parts that don't quite fit together.
Though there is a lengthy lead-up involving the team mopping up what appears (for now at least) to be the last remnants of HYDRA, the action really gets under way when Robert Downey Jr's Tony Stark and Mark Ruffalo's Bruce Banner use an artifact from the previous Avengers flick to create Ultron, a peacekeeping AI intended to bring about world peace. Of course, Ultron goes the way of pretty much every fictional AI ever developed and immediately announces his intent to bend humanity over his metal knee and make it think about what it has done.
From there, about a million different characters and plot threads weave in and out of each other as the Avengers try to stop Ultron from destroying the world, even as internal tensions threaten to tear the team apart.
As critics before me have pointed out, Ultron's biggest failing is an over-stuffed script crammed to the brim with new characters and action set pieces. Even though the franchise already has a dearth of characters to draw on, writer, director and fanboy messiah Joss Whedon uses Age of Ultron to introduce a whole whack of new blood to the MCU, and very few, if any of them, seem to get much screen time.
First there's the twins, Quicksilver and Scarlet Witch, arguably the most important and developed new characters besides Ultron himself. While Elizabeth Olson and Aaron Taylor-Johnson both get some good scenes in, they only just feel interesting and developed enough that I want to see more of them.
Paul Bettany also makes his debut as the friendly, cape-sporting android Vision in the third act, and boy howdy, did he feel like he didn't need to be there. I like that they brought in the character and all, and Bettany certainly feels right in the role, but both his character and what he brings to the table powers-wise feel so woefully underdeveloped that the whole thing screams missed opportunity. We never get a sense of what his powers even are beyond flying, smashing stuff and occasionally shooting a laser from his forehead, which is a shame since his actual powers of density control (which allow him to phase through solid objects or become an ultra-dense immovable object) could have been used for some really great visuals.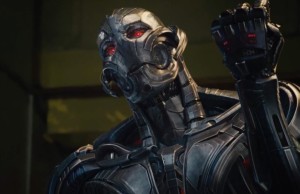 The look of the film over all felt very cluttered and unfocused. Fight scenes often have multiple characters elbowing each other for room in the frame, and the 3D (as usual) makes things look so much more messy than they should. I feel like this is yet another one of those movies that will look better on the small screen and CHRIST am I getting tired of saying that about effects blockbusters.
Another thing that kept bugging me about the visuals was the editing, which often has this disjointed feeling, like certain shots were missing. Nothing huge, just small insert shots during action sequences. As a result, things often feel jerky and chaotic, two qualities that you don't want in your action scenes, despite what anyone tells you.
But back to the script. Even with the burden of new characters to support, Age of Ultron bears the signs of a lot of hasty re-writes, missing scenes, and other behind the scenes problems. Plot beats will feel either unnecessary or like they aren't there when they should be.
I completely believe it when I hear that this flick has like an hour of extra footage that got left on the cutting room floor for time. It feels like there's a lot of connective tissue missing, which makes it feel rushed and disjointed overall. Sort of similar to that editing problem I mentioned. It isn't smooth or streamlined in even the vaguest sense and while the plates more or less are kept spinning, they aren't kept in the air with anything I'd call grace.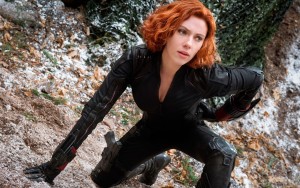 But then again, there's a lot to like. The dialogue is quick and snappy with Whedon's trademark landslide of zingers and jokes, and there are enough fanboy geekout moments that I giggled like a child on numerous occasions. James Spader's Ultron is a treat to watch, playing that old "serious villain who occasionally breaks character for a snarky one-liner" fiddle so hard the strings superheat and melt through the Earth's crust.
Series regulars like Chris Evans, Robert Downey and Chris Hemsworth all feel comfortable and at home in their roles, trading jibes and kicking ass just like we expect them to. The action scenes work as much as they feel cluttered and busy, and there are some great action beats in there. There's a great little sub-plot with Hawkeye, too, the only downside of which is that it makes any hope of an adaptation of the wonderful version of the character that Matt Fraction wrote in his fan-favorite Hawkeye series basically impossible.
Everything you liked about Avengers is back for the sequel, and it feels just as much like pure nerd-porn as ever. It's just messier nerd-porn, nerd porn that's maybe taking on too much and flying too close to the sun. It needs less of everything, less script, characters, maybe even take out an action scene if it means giving the thing some more breathing room.
In the spectrum of the Marvel Studios canon, Age of Ultron sits somewhere in the middle. It has enough fun to put it above the solidly "meh" entries like Thor: The Dark World, Incredible Hulk and the Iron Man sequels, but it is bogged down by enough script issues that it it gets left in the dust by the proud, magnificent stallions of Guardians of the Galaxy, Captain America: The Winter Soldier, and the first Avengers.
As a start to Summer Movie Season, it does what you want it to, delivering fun and laughs, but I have a feeling Age of Ultron is already set to be overshadowed as the king of 2015 blockbusters……