There was a time when Bell Canada had a monopoly on telecommunications in this country. That may have changed decades ago, but it's clear they still haven't gotten over it.
Sometimes this comes out as frustration at no longer being the only game in town. Try ordering internet through a third party ISP that has to use Bell's lines and technicians. When the Bell rep activates the service and tells you in no uncertain terms that they will only do the one thing they have to, no more, it will become clear that this is a company which still yearns for the good old days.
Sometimes, though, it seems like top executives are in denial about the company losing its former dominance. This "it's still the 70s" mentality is most apparent when it comes to technology that didn't even exist 20 years ago.
Shaming Canadians for Accessing US Netflix
Yesterday new Bell Media President Mary Ann Turcke asked the public to shame those who used VPNs to access the American version of Netflix. She also lamented media articles that she called a virtual how-to on unlocking Netflix content not officially accessible to Canadians.
I wish they were comprehensive how-to guides. Then they would include free options like Hola, which is available as a Chrome extension and takes less than a minute to set up. You simply click it when you're on Netflix and identify which country you'd like to be virtually visiting from. It also works on other sites which employ geo-blocking just as easily.
These articles also don't mention Media Hint which turns an entire browser, usually Firefox, into a US-based surfing device. Recently they've only made their service free on a trial basis, but supporting them financially isn't the worst thing you can do.
It's Not Stealing If You Paid For It
The most galling part of Turcke's statement is that she equates getting around geo blocks with stealing. Her messaging hearkens back to commercials from a few decades ago that argued illegally accessing cable and satellite signals was basically the same as shoplifting.
Now, if she was talking about illegal downloads or streams from pirate sites, she would have a point. I'm not going to get into a piracy debate now, only to say that her narrative would be consistent if she was talking about Pirate Bay, but she wasn't, she was talking about Netflix, something people pay for.
Canadian Netflix clients pay the same per month as those in the US, but because of geo blocks, they have access to a fraction of the content. There's no option to buy the American version.
How can you be stealing something if there's no option to buy it? But, in this case, you did buy it.
Imagine walking into a store, paying for a case of beer and as you walk out the door, the clerk realizes it's 11:10 pm and in Quebec, where you are, there are supposed to be no beer sales after 11.
In this scenario the store could be in trouble for selling alcohol after it is legally allowed to, but you did nothing wrong. While that point can be debated (did you know it was after 11?) one thing that is absolutely clear is that you did not steal the beer. You paid for it and were entitled to walk out of the store with it.
If you pay for Netflix and access US content, you are not stealing. Period.
Turcke's statement is just a desperate attempt to make people who have committed no crime feel guilty. Canadian media conglomerates, with help from the CRTC, already tried to go after Netflix. That didn't work because Netflix is doing all it can to prevent virtual border jumping.
Geo blocking is unenforceable as those circumventing it are committing no crime. They're not stealing. They may be breaking paragraph whatever, subsection something of the Netflix user agreement, but the last time I checked, that wasn't enforceable by federal law.
So Bell has resorted to public shaming. Problem for them is there is absolutely nothing to be ashamed of and everyone outside of the Bell bubble knows it.
Old Media Models Need to Go
When you access US content in Canada with a VPN service, you aren't taking food off the table of content producers, directors, performers or crew. The only thing you're doing is forcing giant companies like Bell into the 21st century.
When television content needed to be carried across great distances by conventional means, it made sense to have local distributors. Online, though, there is no need. Sending a friend who lives a few blocks away a Facebook message is just as easy as texting, even though your question about where you are meeting that night bounces to and back from a server in California before reaching its destination.
There are no natural geographic barriers on the internet, only those we impose on ourselves. The Canadian old media business model of buying US content and then redistributing it for profit is quickly disappearing. Likewise, the concept of selling content to distributors for specific markets needs to be done away with, too.
No More National Media
A few months ago, I argued that Canadian media companies should focus on producing original programming instead of paying to re-distribute US content. The biggest argument against this idea whose time has come is the fact that they would never be able to compete. The US is too huge a market.
If you see the entire population of media consumers in all 50 states as one block and Canadian media consumers as another, they're right. However, if the media model no longer called for national distribution by a network that broadcast to an entire country, then the size of a particular national market would no longer matter.
A drama about hockey, for example, produced in Canada, may not get "picked up" by a major American network as a distributor (because people in Nashville and Tampa don't really care about hockey cc: Gary Bettman), but could build an audience in this country and in major American markets like New York, Boston and Washington, plus in parts of Europe. If the model was one source distributing online to the world, that source would do very well.
Stuck in the Old Ways
Instead of trying to be that source of innovation, Bell would prefer stick to the old ways. Along with their Canadian media conglomerate compatriots, they rolled out sites like Shomi and Crave TV and called them Netflix competitors. Problem is they aren't competitors at all because you need to first get a cable package before signing up.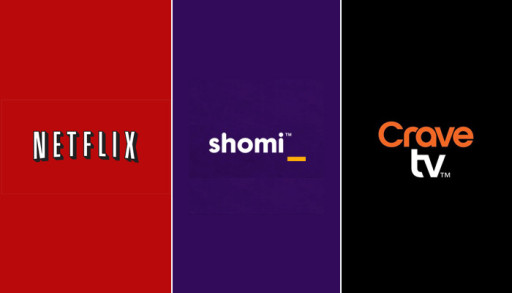 Either they just don't get what people want or they chose to be oblivious to the reality of the current global media landscape. Either through ignorance or arrogance, they are acting like the old Bell who had a monopoly. Now, though, they want to make you feel guilty about not buying into their view.
I could go on and on, but I think I'd rather marathon Star Trek: Deep Space Nine, available on US Netflix.