This week, we're in part two of three celebrating innovate or socially-responsible food startups around town! Check out Part 1 here, and stay tuned for Part 3 next week!
—
When I last caught up with Maurin Arellano Frellick, she was in the midst of cooking Sunday dinner for a group of whisky-loving nuns.
The time before, she was cooking succulent tacos de cochinita pibil on her balcony for $2 a piece as part of world Restaurant Day. Unfortunately, they'd already run out by the time I got there.
You might have seen her around town, delivering meals on foot, bike or car—often moments after they're cooked—to beloved friends and clients.
Her adaptability is striking—having lived in Mexico, Alberta and now Montréal, the caterer is always tweaking her menu, if not completely reinventing it–to suit her diverse and quickly-growing clientele.
"I've never repeated the same dish twice," she says proudly.
This week there was a grilled chicken sandwich with feta and apricot jam. Last week, fiddleheads came to the plate with tilapia and Italian-style spinach.
Though it fits the frame, Maurin Cuisine is hard to paint into the catering box. So what exactly is it?
"It's about working with people," explains Arellano.
Exhausted and slightly disheartened by many years in the standard restaurant and catering business, Arellano observed a simple truth.
"People were not eating well. Many people were eating takeout and frozen items," she said. "Sometimes they think they can't afford good food. I had to ask myself, how can I put my little print on this world and get home cooked meals to people?"
Her willingness to serve is evident. From ultra-rich clients to those who are struggling with the pocketbook, Arellano's outlook is based on  "working with people to figure out what they can afford" and inventing a menu for them daily or weekly.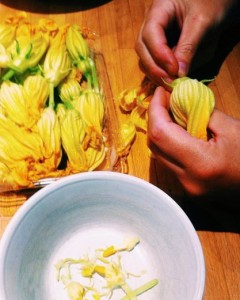 For Arellano, adaptation knows few bounds. This July, she'll be launching a series of painting and cooking classes together with designer and artist Isabel Gabarro.
Maurin Cuisine usually delivers as of Tuesday each week, either for a day or a week's worth of prepared meals. Though events have proven fruitful (the company started in earnest catering large Westmount Christmas parties), for Arellano, the focus is ultimately on the individual.
"Everyone has a code – flavours, budget. I work with what a person gives me," she smiles. "I'm just happy people have home-cooked meals."
Photos courtesy of Maurin Arellano via Maurin Cuisine.