There is a new record label anchored in the creative hub around Mont-Royal ready to bolster local talent. Queen Mary Records is the brainchild of Martin Bradstreet, front man of local psychedelic-rock trio Alexei Martov. Bradstreet and the Queen Mary Records team wanted to put something together for those artists whose talent and craft "was slipping through the cracks every day because they couldn't find their niche, or didn't have the infrastructure needed to launch into the public eye."
One such artist is prolific multi-instrumentalist Greg McLeod,  whose work is the first that Queen Mary Records is showcasing . Queen Mary Records recently released McLeod's MB-LP, his 7th album since 2011.
Prior to his current base in Vancouver, McLeod spent many years writing and playing music with pals in local bars like Brutopia, Barfly and Inspecteur Épingle. I crossed paths with McLeod years ago when he co-fronted local hootenanny throwing band The Argyles. Around then, McLeod also played with local acts the Pinyin Pals and Parapraxis – members of which are now in the This Many Boyfriends Club.
In 2012, McLeod moved homeward to Vancouver by touring his then latest album Mean Times alongside Alexei Martov. Once in Vancouver, he readied himself and began work on a series of five projected albums.
All the while, McLeod continued exploring different styles and instruments touring with acts like Jordan Klassen and a stint with The Oh Wells. He took some "time off" working on his solo albums to score a musical for the Toronto Fringe Festival. Currently, Greg McLeod plays in Good For Grapes who won the Peak Performance Project in November 2014.
MB-LB is McLeod's strongest album to date. Like his previous albums, McLeod wrote, performed and produced the whole thing in his bedroom. With his previous (and fifth) album Little Gwaii (2013), McLeod ventured away from the more folk and garage driven rock music he'd been making and dove into more alternative forms of pop rock: the world of live-looping, found sound, and combining spoken word with hip hop.
With MB-LB McLeod explores these new songwriting techniques even further.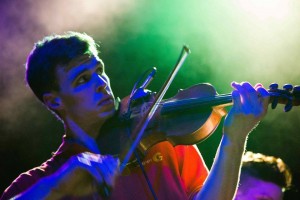 However, MB-LP continues building on the common thread present in all of McLeod's work: an exploration of diverse and differing human experiences.
Indeed, MB-LP is a fun sociological and musical experiment whose songs explore the worlds of distinct personality types (according to the Myer-Briggs test). Each song is a different style or genre based on McLeod's research on the sixteen Myer-Briggs personality types. Lyrics were written based on McLeod's observations of about eighty persons he knew and whom he had take the test.
Despite the eclectic nature of these songs, MB-LB is McLeod's most coherent album in terms of track strength: with half the songs being strong enough to hold the status of single. The flow from one song to the other is rather seamless and the entirety of the album is engaging.
Five of the sixteen tracks on MB-LP are standouts:
5. ISFP (Disappear) is smooth rap-like spoken word track with a fun horn chorus.
4. INFP (Halo) is a catchy pop rock ballad with spoken word delivered confessions.
3. ESTP (Come With Me) is a seductive dance anthem from the perspective of someone who 'goes hard' and talks a big game.
2. INFJ (In a Dream) is a softer and simpler melodic track with a poetic charm exploring the mysteries of the subconscious and the perils of having a body.
1. ISFJ (Angels in the Dust) is a darkly sweet end of the world lullaby that is quite fun to harmonize with.
For more information check out Queen Mary Records' website, their Facebook page and Greg McLeod's Bandcamp
*Featured photo by Braeden Klassen