With all the bad news coming down the wire in the past week I was looking for something positive to report on. Thursday night I found it. Out of the blue, on the Orange Line, I finally got to ride on the new Montreal Metro train, the almost mythical Azur.
Sure, quite a few friends have already rode it since it first appeared in February and I even saw it pass twice going in the opposite direction. However, with only one train in operation so far, and not on the Green Line, which I use for most of my underground travelling these days, I guess you could say I came late to the party and this is a late review.
With a provincial government hell-bent on austerity and a municipal administration which is building on a legacy of corruption with completely unappealing corruption like the granite tree stumps, I didn't hold out much hope for a project from an organization funded by Quebec and controlled, for the most part, by Montreal. Especially since the organization in question, the STM, is known for hiking fares while not improving service, even in ways they promised to (cough, accordion  busses on the 105 route, cough).
I was pleasantly surprised. While this new train wasn't perfect, it was most definitely money well spent, and I did enjoy my first ride on it.
The Best Parts
Here are some of the highlights:
One Big Car: The whole train is made accordion-bus style. It's one big car. This obviously creates a less confined feeling, but I also can see this coming in handy when I catch a metro at the last minute by hopping in the first car available knowing that my connecting bus is closer to the other side of the train. Now, instead of having to race across the platform, it's possible to leisurely make my way to the desired exit while the train is in motion. Also, no reason to illegally and quite dangerously cross between cars when the train is moving (something I had never tried but cringed when I saw others doing it).
Feels Like Air Conditioning: While I'm pretty sure the train isn't actually air conditioned, it sure felt like it was. Most likely due to the fact that with one large car, there is much better air circulation.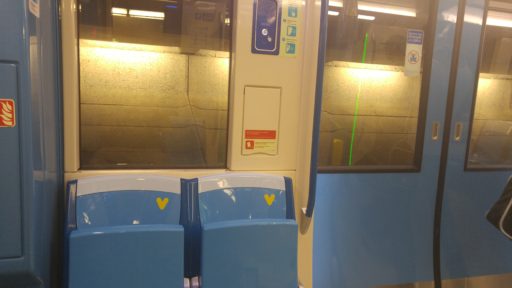 Retractable seats: The seats in the new Azur train can fold back when not in use, or at least the ones I saw can. Not only does this create more actual space and add to the general feel of more space, but it can be useful for people in wheelchairs like on busses. That would, of course, work better if the whole metro system was more accessible.
Station ID and Ads Separate: There are still ads on this new train, of course, even some video ads, but the next station shows up on a different screen in a different location like in some new busses. Keeping the info separate from the ads is always a good thing in my book.
Smoother Ride: Maybe it's just because it's new, but the ride on this train honestly felt much smoother than any other metro I had been on.
What Needs to be Fixed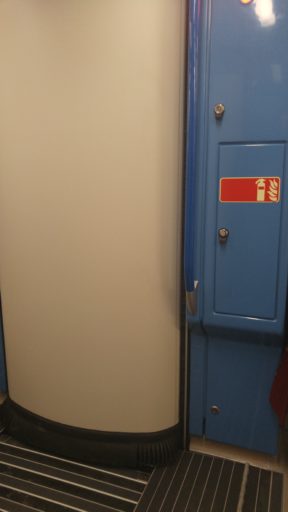 There are some areas, however, where improvement is needed:
Slippery Floors: I didn't notice this one myself, being non-disabled, but Samantha Gold, a colleague here at FTB pointed it out that she found "the floor of the new cars extremely slippery. Dangerous for disabled folk like myself."
No Audio Station ID: One thing I found conspicuously absent was the recorded voice announcing the next stop. Maybe it was just turned off for this particular ride or maybe it was something they were still implementing, but its absence made no sense and I can imagine it would be considerably more difficult for blind people who have gotten used to it.
So overall, for me anyways, more good than bad and the bad can be fixed. Regardless, it was nice to write about something good, or at least something not wasteful, that our municipal and provincial governments have done for a change.
What do you think of the new metros?