It's Sunday night, and the snow is falling like Hallmark movies and Christmas cards, all of which I'm well over by this stage of the season. I'm sorting through my wardrobe to find a summer dress that can be winterized long enough to get me to Chef Molotov Fiona Genevieve's Jardin d'Hiver.
It's her first Montreal pop-up, and I'm honoured to be here. While the term "adventurous eater" serves up questionable imagery, I consider myself "adventur-ish"; I've been known to throw a peach into a stir-fry, and was pretty sure I invented strawberries with basil when I made some jam once. All that to say, I'm eager to sample creative flavour pairings I didn't know I needed in my life.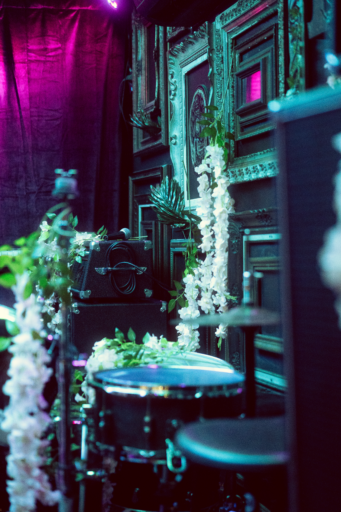 As a bonus, I've never been to Turbo Haüs, and it's been on my to do list. Walking along St. Denis on summer nights, the punk and metal coming out of the bar has always been up my alley, and the crowd looks like people I would hang with. Still, I can be reluctant to visit new places without a "reason", and here it is.
I absolutely want to stick to the awe-mazing dinner and a show, but I have to say that Turbo Haüs is a wonderful and warm space, carefully decorated so that while it gives all the dive bar vibes, it's still artsy af. The bar is a guy who looks like a mechanic doing delicate glasswork, and I'm here for it.
Once we're shown to our seats, the summer theme is in full bloom. Pink and white faux flowers cover the drum kit, the speakers; vines of fake leaves have been wrapped around VIP chairs, bringing a sense of pagan royalty, a fae feast of sorts. The combination of set and setting are in themselves a careful choice; Andrew Jamieson is producing the event, and his gritty graf vibes underscore the lush decor. Lights dance around the room, laughter and chatter bounce off the walls, it's a party before anyone has said or done anything.
Kola was the perfect opener to ease everyone in. His grooves were summer sexy, and just when you thought that was the whole thing, he started to sing. Smooth and bright, his voice brought honey soft sunshine, and I could've been laying out on the fountain at Jazz Fest feeling the warm concrete on my skin. I'd never heard of him before, and now I'll be adding him to some playlists.
I'd never been to a fancy-ass tasting menu thingy before, so I'm trying to look cool while being full of excitement. The first course arrives, Melon with a Mint Salsa Verde, Wrapped in a Curried Butternut Squash Ribbon, and these are the combos I'm here for. Three perfectly balanced bites, and I'm marvelling at Fiona's mind. It makes sense in the mouth, but it's weird in the brain.
Mina Minou takes the stage, and I'm already cheering for her. I've had the pleasure of seeing her before, and while her moves and creativity rightly captivate audiences, I must add that she has the brightest, kindest smile I've ever seen a burlesque performer bring to the stage. As such, she'll get you in your cockles and your —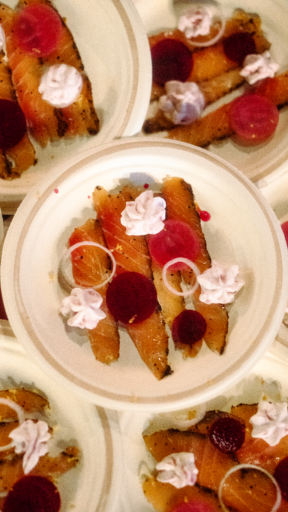 We eat the best halloumi I've ever had (Seared Halloumi with Z'attar and a Pickled Peach Salsa with Confit Cherry Tomatoes), and I'm already wondering if I can convince Fiona to hold a workshop so I can learn her ways. While the presentation is picture perfect, the ingredients are accessible, the methods are doable. Pop-up today, cookbook tomorrow..?
Stepping outside for a break with friends, I'm shocked by the cold. When was the last time I had watermelon in winter?
Lea Keeley was also new to me, and she sang the room into silence. Her range and heart, her intimate lyrics — she played the guitar and keys, and even looped herself live into a layered and haunting song. Definitely not her first rodeo, even if the instruments were stripped away, her voice would stop you in your tracks and take your breath away.
I'm not going through every course here, mostly because I'm still thinking about the stone fruit gazpacho (yes, you read all that right). When Fiona called it the evening's showstopper, she was absolutely right.
Reading it, I couldn't imagine what it would taste like. While I'd caught her on Insta making the tomato caviar, you couldn't see them in the rich, purple gazpacho, just feel them in my mouth, like little flavour pearls. And a perfectly seared scallop with stone fruit?! Yes; definitely yes, I would eat it again right now.
Turbo Haüs was the perfect host, and kept the cocktails flowing. Fiona had selected cocktails to pair with courses, and the couple I had were wonderfully matched. More intricate than "white or red", the combinations were a continuation of her bold pallet.
The event ran late, and people still lingered, ordered another, chatted with the friends they came with, and new ones too. I was pleased to see how many people sought out the performers and of course our Chef to express gratitude and joy.
My fingers are crossed that we'll be talking about another Chef Molotov event soon enough.
Featured Image: Chef Molotov's Melon with a Mint Salsa Verde Wrapped in a Curried Pickled Butternut Squash Ribbon, photo by Josh Kirshner