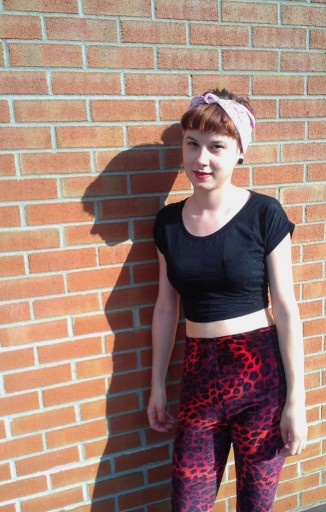 It was a gorgeous summer evening in the Mile End, and I was sharing an iced tea and some girl talk with local designer, Kayleigh Peddie, who's been branding herself and her collection since 2010. Peddie, a graduate of Lasalle College's class of 2009, was wearing a gauzy black crop top baby T, paired with her handmade high waisted red and black leopard spotted leggings, and a kerchief  neatly tied against her maple wood coloured hair a la Lucille Ball.
Like her collection, her look exclaims fun, flirty, and individualistic, with a nostalgic feel towards the classic cuts and silhouettes of the mid 20th century. I almost immediately interrogated her choice and courage to wear leggings as pants- a look that not many people can pull off, though she did so beautifully.
"I vowed to never wear leggings as pants," she assured me with a modest chuckle, "I wore them around the house all the time because I was like 'this is the comfiest thing ever'  but I'm like, leggings are not pants! I finally wore mine out of the house like, two weeks ago an I was like 'never ever taking them off, they're so comfy!"
Needless to say, the comfy report and overall aesthetic of the leggings convinced me to confirm my plans to invest in her velvet floral leggings from her 2011 collection.
But not everybody is petite like Peddie. Can the rest of us pull off the taboo "leggings as pants" look? Peddie thinks so: "I think the high waist helps out a lot, it kind of gives it a little more than low cut with a muffin top hanging out." Sold. Add to cart.
Though some may initially see her collection as daring and directed towards a specific body type, Peddie claims with confidence that her clothes are made with everyone's body type in mind. This is especially apparent in her swimsuit and lingerie lines, and on her Facebook page where she consistently posts pictures of her friends and customers wearing her pieces. These models range from petite to curvy, and they all look great in Peddie Couture.
As we discussed her swimsuit lines, I couldn't  help but mention to Kayleigh that her pieces remind me of modern, funky, and sexier versions of Wilma Flinstone and Peggy Bundy. She beamed at my comparisons and exclaimed : "The Flintstones and the Jetsons are like my favourite things ever!" And with her use of old time cuts, it is easy to see that she appreciates shapes from the 1950's and 1960's, with wild prints leopard prints that are modern, yet have the brightness and flashiness that would be seen in the 80s. "The cuts are more classic, because they're  much more modest with the higher necklines. But I think people are more willing to wear that these days, it's not all about triangle bikinis anymore."
The bikini tops can also be recycled as tops for every day outfits (for example, with a long skirt or flowy trousers, high waisted shorts (whatever your little hearts desire) but the experiment has the designer's stamp of approval. "I've worn that top as like a shirt, and I don't feel half naked. I like doing things more modest like that where people can wear them and be comfy, but still feel great"
Her lingerie as swimwear line was also discussed. The 2012 collection consists of several pieces varying in colours and prints that resemble 1950s undergarments. At first glance, I found this line a little daring. But then at second glance, I feel quite tempted to rock it. When I asked Kayleigh how she feels about the concept she says, "it can be done there's lots of really great swimwear out there that's lingerie inspired.. as long as it's done right and in a tasteful way". Well I'm sold. I'll have one in pink, please!
As for her actual lingerie lines, like her, they are fun and flirty looking with splashes of modesty and a vintage sexiness all intertwined. Materials like mesh and velvet are frequently used, which is not unusual, but definitely rare in the world of lingerie. Peddie's designs are completely original, but her favourite lines that specialize in lingerie are from Australia; Hopeless Lingerie and Lonely Hearts. "It looks like stuff you've never seen before, but it's really classy!" Well, I could definitely say the same for Peddie's lingerie collection. Personal favourite of mine: the black velvet bandeau bra and matching high waisted panties. Perfect undergarments for a harsh Canadian winter, with "super strong material that never fades".
Another notable piece is the Kayleigh Peddie smiley faces bandeau bra and panty set. When I asked if this print is considered her signature, since it is also available as an oversized sweater, a mesh high neck bra and panty set, and (only as seen on her Facebook Page) a crop top, but she laughed and denied it. It is just one of the prints she enjoys using "I can't not use all those colours! With swimwear and lingerie, people are willing to wear prints they wouldn't wear everyday and look a little cheekier."
All of Peddie's pieces are made to order, and completely handmade by the seamstress herself. She is a one woman operation, and a great talent who bared a strong (yet unintentional) resemblance to Betsy Johnson- though on a personal note, I find her apparel to be way cuter. It is playful, yet mature, exciting and daring, but doesn't look like it's on crack. She doesn't have plans to add accessories to her collection, but she has plans to expand her empire by eventually making her own fabrics, and "actual lingerie".
Visit Peddie's site KayleighPeddie.com, and spend a couple of hours looking through her stuff. You can also "like" her on Facebook.
There are size options listed, but she prefers to have people send her their actual measurements to avoid confusion: "I feel better sending somebody something that I know is going to fit them because they didn't just guess their size."
As for prices? They definitely range, but the quality and attention paid to the craft is worth it. "Nothing is out of reach, some people might people think it's a little pricey, but it's all handmade, it's good quality, and it's me."