There has been quite a bit of talk about money in politics lately. Thanks in part to Bernie Sanders, we all know about the obscene amounts of money donated anonymously through SuperPacs to political candidates in the United States.
But the problem isn't limited to the States, and it's also not limited to major national campaigns. In fact, it has permeated even the most basic elements of our representative democracies.
There's a phrase I saw, or rather re-saw, recently in a meme, and I've been thinking about it for a few weeks, now:
"If it's inaccessible to the poor, it's neither radical nor revolutionary."
I have been trying to reconcile this with my long-held view that internet media can be revolutionary. There are good arguments both for and against the notion. When it comes to party politics, though, things become a little more cut and dry.
Application Fees for the Top Job
On Monday, Projet Montréal, arguably the most progressive political party in the city, officially began its search for a new leader. There were, of course, rules. Understandably, you have to be legally eligible to be a candidate for Mayor of Montréal (because that's what the job essentially is) and you have to have already been a member of the party (fair play, considering they want to weed out people running just to disparage the party).
But there's more: you also need to have previously donated at least $300 to the party and must raise between $5 000 and $30 000 during the campaign. Yes, there are financial requirements for prospective candidates.
On one hand, I understand that a City Councillor who owes their better-than-average paying job, in part, to a party, should give a little back. I also realize that for many, $300 isn't all that much money.
However, these requirements limit the field to those who are already elected or have enough money lying around to make that $300 investment. If someone doesn't, sure they can borrow it off their friend, but then they will be beholden to their friend. Sure, it's not like owing Walmart or Imperial Oil, but it's still owing a contributor.
When it comes to raising money during the campaign, it does make sense that a well-funded campaign will do better than a poorly funded one, so I imagine any candidate for leadership will try to raise money. But making it a requirement effectively works against someone who has an idea of another way to succeed (an excellent social media campaign, for example).
It's not that foregoing raising funds in lieu of another approach will work. It's that someone who has that idea should be given the chance to succeed or fail with it.
That said, you do not have to be a member of a political party to become Mayor, you can run as an independent. That's not the case everywhere, though.
You Need to Lead a Party to be Prime Minister
The Federal NDP will also be holding its leadership race in the near future. The NDP also has rules for candidates wishing to enter (at this point, just proposed rules):
Leadership hopefuls need to collect 500 signatures from party members in different regions of the country. Makes sense.
Half those signatures need to be from "female-identified members" and 100 need to come from "other equity-seeking groups" which means visible minorities, Aboriginal Peoples, members of the LGBTQ community and people with disabilities. Yes, sure, absolutely. The more representative, the better.
There is a $30 000 entry fee. Wait, what? Some people don't make that in a year!
30 grand for a chance to be NDP Leader? That's like taking three huge steps forward and then 30 000 steps back when it comes to inclusivity, especially when you consider that those the NDP is trying to include in the voting process are more likely to be those who can't afford the leadership registration fee.
Former candidate Cheri DiNovo brought this issue to the forefront, refusing to officially enter the race and pay the fee. While she said she could probably raise the money, no candidate should have to in order to run.
And she's absolutely correct. The only people who can afford to spend $30 000 on a job application when getting the job isn't a sure thing (and a PM or MP's salary isn't either, even if you do get the job) are those who are already wealthy, are already elected officials, or those who know enough donors to raise the money from.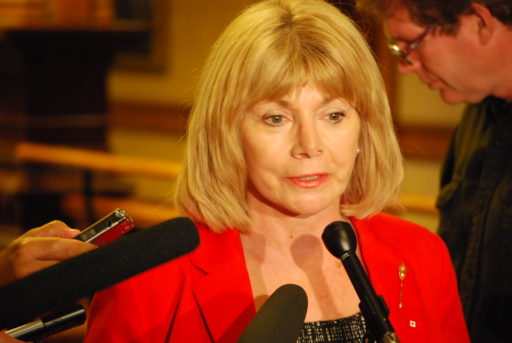 No matter how you cut it, there is a huge personal economic restriction placed on people not already part of the political process who want to throw their hat in the ring. Sure, anyone can get involved, but the limits to the higher levels aren't based on experience, they're based on personal finances.
And unlike municipal politics, you need to be the leader of a political party to become Prime Minister of Canada. Not sure what the other major parties charge to run for leader, but if the progressive, left NDP is any indication, PM is a job inaccessible to those who don't have or can't raise large sums of money.
Until someone with hardly any cash can successfully run for mayor or PM on a party ticket, party politics remain inaccessible to the poor and therefore cannot be considered radical or revolutionary.