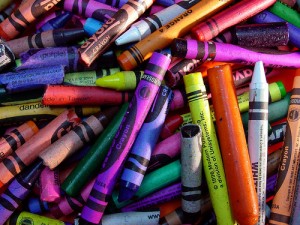 Remember how many hours you spent as a kid colouring with crayons, and how much fun you had?? Sixteen rainbow shades, all standing tall and still with slightly blunted points, silently waiting for grubby little fingers to grind them down to a one inch stub. It was always the best colors that met this fate, like jungle green, hot magenta and dandelion. Crayons! Such fun! One waxy whiff of a brand new box and I revert to five years old.
If at this moment you're contemplating rushing out the door to the nearest DeSerres to buy yourself a box of crayons, then good, do it! But finish reading this first, because there's an awesome show happening Friday night that you probably want to attend. In Theory presents Crayon Party!, a comedy/sketching show where not only do you get to watch some seriously funny people access their deepest feelings with crayons, but YOU get to too!
Sasha Manoli, the brilliant lady behind January's Liar Liar Show, has created another genius show where audience participation is a must. An audience-wide drawing contest will top off the night, with the comics selecting the winners and free booze as the prize. Yay! But before you hurry to hone your drawing skills, remember, it's a comedy show no one cares that your stick man looks like a donut with pretzel appendages.
So Friday night, join Asaf Gerchek, Bianca Yates, Chris Betts, Faisal Butt, Morgan O'Shea, Robby Hoffman and Rodney Ramsey at Theatre St. Catherine for the best of both your childhood and adulthood worlds. Paper and crayons provided!
The Crayon Party!—don't miss this rainbow mess:
Friday, Aug 12, 8:30 pm at Theatre St. Catherine (264 St. Catherine East)
Tickets are $12. To buy call 514-701-9688 or buy online
Photo cred: www.photographyblogger.net/crayons/