Many things happened in the Montreal arts scene in 2013 and Forget The Box was there! Let's take a look at some of the highlights:
Stage
Early February, Cabaret 87 at Sala Rossa celebrated the 25th anniversary of AIDS Community Care Montreal. It was a very successful evening hosted by Antonio Bavaro and Ryan Ghinds with performances by artist Danny Gaudreault and friends.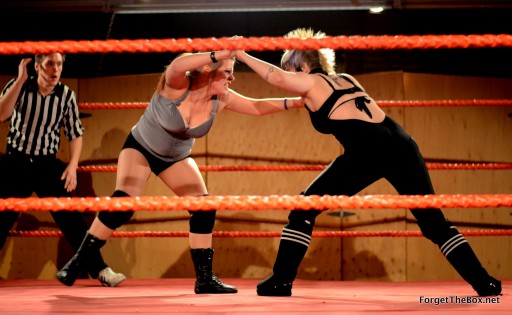 March brought us the 20th edition of the Edgy Women Festival, a celebration of feminist art. This year featured events at a gym, on an ice rink and finished up with Edgy Lucha, a sexy boxing evening covered by Keltie.
Summer came around and so did full coverage of the 10th edition of the Montreal Infringement Festival featuring a multitude of awesome events including a haunted mountain walking tour that Bianca reported on and plenty of music goodness and stage performances which Jason (also a performer this year) covered.
It also brought the Fringe Festival. Jerry, Chris and Stephanie checked out quite a few events this year including the Hopegrown Productions debut at the festival, Jon Bennett's Fire in the Meth Lab was also a must and Jerry checked out Peter 'n Chris exploring their bodies in an improv comedy which almost gave him a spleen injury due to so much laughter. Also Forget The Box teamed up with Yelp for their annual party Yelp Helps during the fest.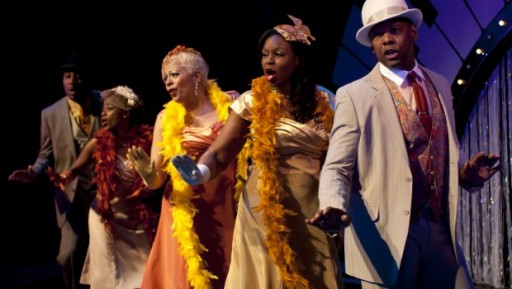 Then it was time for Zoofest! Jason and Chris went down to Café Cléopâtre to check out an unforgettable Burlesque show with the Bad Ladies and Detective while Jon Bennett's show Pretending things are a Cock  gave Bianca a new understanding of dick jokes.
The summer also gave us Fantasia and Just For Laughs and many more music-specific events that Bianca will cover in our Year-In-Review music.
In early fall, Stephanie reported on Ain't Misbehavin', a great production at the Sadie. Later, in November, Jordan checked out Pure, an incredible dance performance by Charles Koroneho from New Zealand at MAI.
Meanwhile, Halloween was definitely sexy this year thanks to Tales from the Crotch, a burlesque play produced in 24 hours, another awesome project by Glam Cam production with the participation of our awesome Jessica!
Visual Arts
A different type of event happened at Café Zosha early this year. Music for 12 Domestic Lamps was an interesting installation and performance using lamps and sounds reviewed by the lovely Naakita! She also went to discover the new exhibit at the DHC Art Foundation where artist Thomas Demand filled up the gallery with an installation of animations and photographs.
Taymaz shared his thoughts with us on photography as well as the art of love for Valentine's day. He also reviewed The See by Jessica McCormack, a beautiful book with great artwork and covered Chinese art and it's importance in today's art world.
March brought us Nuit Blanche which is always packed with interesting things to do. Naakita took a look at what was happening in the streets while Stephanie reported on her night at the museums.
The 13th edition of the Art Matters Festival also happened in March. The Human Error paintings at the VAV Gallery really impressed Taymaz and Naakita checked out the MAC for their exhibition on abstraction.
Summer came around and brought us a new festival, Mural, a celebration of street art. Local and foreign artists covered a few walls along the Main and its neighboring streets during the St-Laurent Street Festival.
Meanwhile, the original graffiti festival Under Pressure had it's 18th edition in August. This self-funded event run by an amazing team of volunteers is still going strong. The Fresh Paint Gallery, run by the same team, moved to its new location and still showcases great work by many different artists.
More Festivals
A new festival started this year, the Pitch Fest, a celebration of the soccer culture, it happeneed just a few weeks ago. Luminotherapy, the light festival is on until next year so make sure to check out the awesome installations all over the Quartier des Spectacle area.
Looking forward to what 2014 has to bring us, be ready for some more awesome coverage of everything that matters on Forget The Box.