Regular readers (hypothetically, they could exist) of my weekly ramblings will know I'm a fan of documentaries, so much so that an entire festival devoted to them happening right in my home town is a pretty big deal. In under a month, the Montreal International Documentary Festival (RIDM), will kick off, and so on this week's FFR, I thought I'd take a look at some of the screenings that I'll hope to attend. But the lineup this year boasts and impressive number of films and shorts, more than I could hope to discuss in 1000 words or less, so when you're done reading, head over to RIDM's website for more.
Actress (dir. Robert Greene)
You probably haven't heard of Brandy Burr, an actress who once had a small but important role on HBO's The Wire. Burr has spent most of the time since her HBO turn as a housewife, but acting never left her, and her attempts to balance her attempts at kick-starting her career and maintaining her family life are the subject of a new documentary by the director of wrestling doc Fake it so Real.
But rather than simply following Burr in her day to day life, Green seems to have woven an intensely personal, penetrating movie, full of style that will probably leave you emotionally devastated.
Le Nez (dir. Kim Nguyen)
Making a documentary about the sense of smell is probably one of the more difficult projects a filmmaker can undertake. Try and film Tristram Shandy, while you're at it. But Le Nez seems to be trying, and all power to it. Le Nez purports to explore both the science of scent and its role in culture, covering topics ranging from the whale-excrement driven perfume industry, to the link between smell and emotion, and even seeking answers to such lofty questions as "What does space smell like?" You can't fault the film for not being ambitious, and hopefully the Rebelle director can make good on the film's promise.
The Look of Silence (dir. Joshua Oppenheimer)
The Act of Killing is a film I still haven't gotten the courage up to watch yet, but the debut of its companion piece, The Look of Silence, may wind up being the push I need. While Act of Killing focused on supposedly politically motivated killing in Indonesia in the mid '60s, its companion focuses more on the victims of these atrocities than the perpetrators, telling the story of the family of a man killed during the incident, and his brother's journey to confront the men responsible. Act of Killing is renowned for being one of the most difficult and unsettling films of the past decade. That's a hard act to follow, and hopefully Oppenheimer delivers again.
Altman (dir. Ron Mann)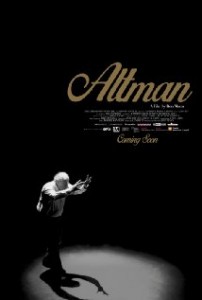 He made MASH, The Long Goodbye, Gosford Park and, er, Popeye. Often overlooked, but undoubtedly influential, Robert Altman continues to influence films and filmmakers, even years after his death. By all accounts, Ron Mann (Comic Book Confidential) has crafted as loving, and impassioned a look at Altman's life and works as fans of Altman could hope for, including extensive interviews with his friends, family and the countless actors he's worked with over the years. This is one for the film nerds, and you can bet I'll be there.
Citizenfour (dir. Laura Poiras)
Mentioning Edward Snowden's name in a room full of politically minded people is like setting off a hand grenade. Ever since coming forward to blow the whistle on NSA misconduct, Snowden has remained a controversial figure to say the least, and Citizenfour, the doc directed by Laura Poiras (the first person with whom Snowden made contact) is sure to be equally polarizing. Citizenfour promises to take audiences through those first fateful meetings between Poiras and Snowden, giving us a ground floor look at the events that became made headlines around the globe. Hopefully the NSA doesn't shut down the screening.
The Kingdom of Madness and Dreams (dir. Mami Sunada)
For years, Studio Ghibli, the Japanese animation studio, has basically been Willy Wonka's chocolate factory for how many impossibly sweet cinematic treats it's unleashed to the children (and adults) of the world and for how bloody mysterious its inner workings have been. But now, possibly in the cusp of the studio's twilight years, the curtain's been lifted for an unprecedented look inside the studio that brought us My Neighbor Totoro, Nausicaa, Princess Mononoke and The Wind Rises. Guaranteed to get anime fans emotional.
The 50-Year Argument (dir. Martin Scorsese and David Tedeschi)
The New York Review of books is one of those monolithic, unchanging cultural institutions, like the Louvre but for booky New Yorkers. Martin Scorsese's new doc sheds light on the staid organization, charting the magazine's history and cultural impact, as well as its continued policy of high standards, and looks at some of its most important contributors, like Susan Sontag and Norman Mailer. And since it's Scorsese, you can bet we'll be met with something pretty interesting.
RIDM will start on November 12, and will continue until November 26. Keep on following FTB for more updates on the festival!