Moon King @ Wrongbar
Nothing makes me feel more like a tool than realizing I completely misinterpreted the gender of a singer (this said with love). I love surprises. For one thing, I thought Moon King's lead singer was a female from listening to the audio online. (I didn't Google Image them beforehand). This surprise made me like them even more. Plus, they've got a Mother Mother vibe about them. Which rocks my world.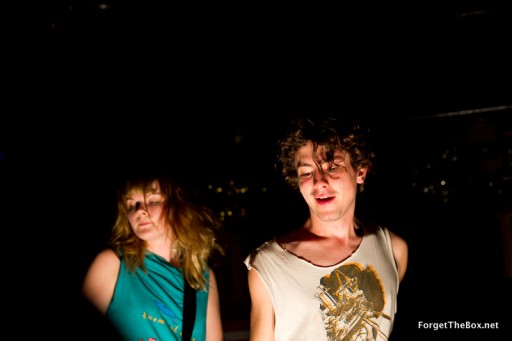 Good thing: Their live music sounds pretty damn close to their Soundcloud audio. Their show was fucking lively as they jumped around, dancing and everyone mirroring their physical energy. Crowd was midsize diner-like with a unique twist of people who looked like regulars and semi-hip. Semi-hip are the best kind because they aren't too cool for school that they still dance.
Definitely a show and band worth checking out next time they're in your hood.
Foxtrott @ Silver Dollar
By the time I got to the Silver Dollar I had already been to The Drake, Monarch Tavern and Wrongbar. (This says something about the state I was in as I piece together this show). The good news is it was one of the best I saw that night. Usually if you're over the edge you either hate it or love it, right? I was beaming.
Foxtrott is Marie-Hélène L. Delorme's solo project. The actual sound quality—which can be hit or miss at Silver Dollar—sounded almost identical to her audio on Bandcamp. It's for sure the type of music you want to move to when you're half in the bag and looking to feel like you're on top of the world. It's outdoor festival camping at 2 a.m. in a tent with glowing balloons, and one friend plus randoms – all moving like they've been hypnotized with a light buzz. Or if you're from Montreal and you remember the second life of Silverdoor, she'd be there in the corner playing for us until 9 a.m.
Take a listen for yourself. Does it make you feel like 2 a.m. in a dark bar or loft? Yup.
*Photos by Celia Moase. See our NXNE 2013 album on Facebook for more photos.