The Plante Administration really isn't wasting much time implementing their election promises. The pit bull ban is gone, so is the Formula E, and now cars won't have a mountain shortcut to get from one side of Montreal to the other as part of a pilot project this spring and summer.
The city will close Camillien Houde to cars between Beaver Lake and Smith House (the big lookout) while allowing buses and bikes to pass. This stems from a promise to do something about bike safety on the mountain in the wake of the death of cyclist Clément Ouimet last summer.
Their strategy seems to be get as much done as possible early and let Montrealers grow to like the changes over the next few years. Since this is the first time Projet Montreal, or any left-of-centre political outsiders for that matter, find themselves in power here, it makes sense.
But is this particular plan a good idea? One that we will come to appreciate in four years' time? Yes, but only if it goes further.
Winding Highway in the Middle of the City
Not everyone is happy with this pilot project, as expected. Even some Plante supporters aren't for the plan. Some feel this was too hasty and decided without enough consultation while others wonder why they didn't just make a separate bike path. Most criticism, though, centers around additional traffic on other routes.
Living in Montreal my whole life but not being a driver, I have traveled that stretch by car and taxi many times. It always felt like I was in a racing video game, even with cautious, responsible drivers behind the wheel.
The lack of stops turns it into a highway by default. And at that, it's a highway that winds and curves its way up and down a mountain. It was a bad idea to begin with, albeit a convenient one.
Yes, this will mean more cars on other roads, but the safety concerns for both cyclists and drivers outweigh the inconvenience. Also, public transit users will still be able to take advantage of this shortcut as buses will still go through.
This is a needed move. My only concern, though, is that it doesn't go far enough.
The Shortcut is Gone, But the Risk Remains
Blocking off a chunk of Camillien Houde will mean fewer cars, but not no cars. Now, all those who drive up the mountain will be doing so to visit a part of the mountain such as Smith House and then return.
Well, almost all. There will inevitably be those unaware of the change who will make their way up expecting to end up on the other side only to find out they have to turn back.
If this seems like just a minor problem, it won't be. The only thing worse than drivers barreling down a winding pseudo-highway is frustrated drivers trying to make up lost time barreling down a winding pseudo-highway.
A Proposal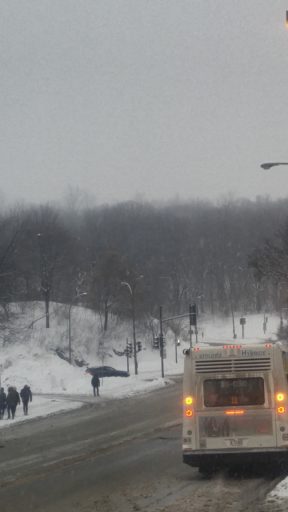 There is an easy fix, though, and it's one I hope the Plante administration considers:
Stop all car traffic at Parc and Mount-Royal on the eastern end and Beaver Lake in the west.
Create two lanes, one in each direction, for city buses and emergency vehicles, two separate lanes for cyclists and, if possible, a space for pedestrians.
Add more buses on the route and create stops: one at the Camillien Houde lookout midway up from the east, one at Smith House and one at Beaver Lake for now and maybe more later. All stops should be wheelchair accessible.
If people want to visit the mountain and are unable to do so on foot or by bike (or just don't want to), they can do so by bus. There's already a parking  lot at Beaver Lake. For this plan to really work, the city would need to make another one near Parc and Mount-Royal. You can drive to the mountain, but not over it.
If this seems like a permanent change, then good. A pilot project can only go so far and risks alienating people without fully showing the payoff.
Eliminating the mountain shortcut will draw the same ire if you cut cars at Smith House or at Parc and Mount-Royal, so why not go all the way and fully eliminate a pseudo-highway that was a bad idea to begin with.
* Featured image of the Camillien Houde lookout via WikiMedia Commons