For ten years, Stephen Harper has used the same electoral strategy:
1. Campaign from the centre, hold a kitten, don't say much
2. Let opponents destroy each other
3. Govern from the far right
4. Repeat
It was a strategy that served him well and even gave him a majority government. He had no reason to change it, until a few weeks ago.
For the first time in a long time, it looked like the Conservatives were going to lose, badly. Harper's own efforts to scare his opponents into accepting Bill C-51 had made this possible.
Liberal leader Justin Trudeau took the bait. NDP leader Tom Mulcair didn't and fought hard against it. This encouraged many progressives to abandon the Liberal brand and get behind the next Orange Wave.
A mostly united left in a country that is predominantly centre-left is a real threat to Harper. He recognized it and decided to send his campaign manager back to Ottawa and bring in Lynton Crosby, known to many as the Australian Karl Rove.
Crosby didn't waste too much time: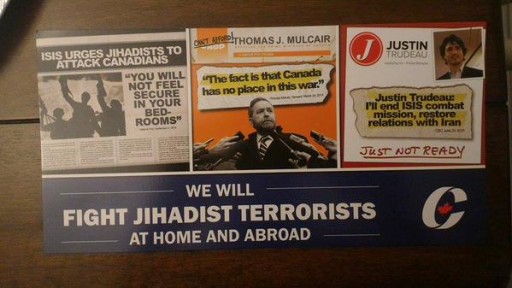 Canada is now getting a federal George Bush-style campaign of fear.
The Niqab Debate is Back On
A few months ago, before the campaign was even launched officially, people were talking about the Niqab. It all stemmed from the case of one woman who wanted to wear hers while taking the oath of citizenship but was denied because of a rule imposed by Harper's Minister of Citizenship and Immigration.
When the rule was overturned, the Conservatives wanted to bring it back, the NDP didn't and the Bloc Quebecois, under the leadership of Mario Beaulieu, tried to make it their wedge issue against the NDP.
It stayed in the public eye for about a week and then most people forgot about it. The Bloc changed leaders and started attacking the NDP from the left on pipelines.
Fast forward to the week leading up to the first French language debate. The Bloc, reeling in the polls, brought the non-issue back up and in the debate, Harper pounced on it.
In a heated debate, Mulcair got off a great one-liner: "Stephen Harper is trying to hide his failed economic policy behind a Niqab." Elizabeth May echoed that statement. Bottom line, this is a distraction pure and simple.
Mulcair is right. Very few women actually wear the Niqab in Canada. I have seen maybe three people wearing Niqabs in my life and I live in Montreal. Only one woman fought for the right to wear one during a citizenship ceremony. Also, during the French debate, "What is a Niqab?" was the top Goolge search in Canada.
But yet, this non-issue is somehow THE issue for the moment.
You're Either With Us or You're With the Guy Who's Already Serving a Life Sentence
When the Conservatives brought in Bill C-24, making it possible to strip citizenship from anyone convicted of "terrorism" or "treason" who could be considered the citizen of another country as well, most people, to put it mildly, weren't impressed. Harper had just created second-class citizens and seeing as C-51 made it possible to define anyone the government didn't like as a terrorist or terrorist promoter, it was now possible to have political opponents deported.
C-24 fell to the backburner quickly, but now that Crosby's in charge of the campaign, the government decided to apply the law. They picked Zakaria Amara, one of two leaders of the so-called Toronto 18, a group of home-grown terrorists who planned to detonate several bombs in Toronto.
A dual citizen of Canada and Jordan, Amara was stripped of his Canadian citizenship on Friday. He was informed of this via a letter sent to the prison in Quebec where he is currently serving a life sentence. That's right; our government boldly declared that someone serving life is no longer a citizen, though he will be staying here as long as his sentence lasts.
For him, that punishment means, wait for it, absolutely nothing. He's still behind bars and will be for a while. Sure, if he gets paroled while he is still alive, he could be deported to Jordan, or, theoretically, Jordan could ask for his extradition before his sentence is up. After all, we are now holding a Jordanian citizen in one of our prisons. It was so much simpler when he was just a Canadian arrested and convicted under Canadian law.
It was a purely symbolic move. One designed to bring support to C-24 and the Harper government. Forget "sure it restricts freedoms, but it gets the bad guys," this is more like "sure it restricts freedoms, but it allows us to turn the bad guys we've already caught into a political prop."
Will It Work?
So, the big question is: will a right-wing wedge issue and fear-based campaign actually work federally in Canada? I don't think so and seriously hope not.
I hope that the predominance of the Niqab debate is just spin from a mainstream media desperate for divisive issues. While I trust the Bloc's statistic that 90% of Quebecers they surveyed are against permitting the Niqab at citizenship ceremonies (for now), I wonder how many of those people care enough about the issue to make it a primary voting concern.
If voters consider all the facts including the amount of women who actually wear the niqab in Canada, the fact that there are procedures in place at citizenship ceremonies to ensure proper identification and the fact that denying someone citizenship does nothing to protect them against coercion (in fact, it has the opposite effect), then the only way they can vote for a niqab ban is if their own cultural prejudices trump everything else. I seriously hope that's not the case with my fellow Canadians.
I also hope that we can all see through the charade of picking someone who is already doing life and making him the poster child for an ill-conceived law that does not affect the guilty and harms honest Canadians who only want their voices heard.
I don't think my countrymen and women are that fucking dumb. I don't think Canadians will fall for a Karl Rove strategy. But I guess we'll all find out on October 19th.
* Fetured image: feelguide.com