President Trump. President Donald Trump. Yes, a few months from now that will be an actual thing people say. For now, he's President Elect, but sadly, he is no longer a joke and he never should have been. We need to keep fighting Trump.
The over-the-top reality star will soon be Commander-in-Chief of the largest military in the world. Islamophobia, racism and misogyny have been part of American politics for a while, but they just went uber-mainstream with Trump's win a little over a week ago.
What's now frighteningly apparent is that his alt-right (really a fancy way to say white nationalists with computer skills) base, emboldened by his win, are voicing their bigotry and hatred and scaring the crap out of immigrants, visible minorities and anyone that doesn't fit into their white supremacist, misogynistic and anti-Semetic worldview.
Swastikas are showing up all over the US, people are being attacked, middle schoolers are even chanting "build that wall" and making school a frightening place for some of their classmates. Buzzfeed has even put together a tracker of racist incidents in the US since the Trump victory.
While Trump did tell his supporters to stop it with their racist attacks and graffiti, his early staff choices send the opposite message. He just appointed Steve Bannon, who ran Breitbart "News" as CEO until joining the Trump campaign, his top policy adviser. Bannon had proudly declared Breitbart to be a "platform for the alt-right" and oversaw the publication of articles with incredibly nasty headlines.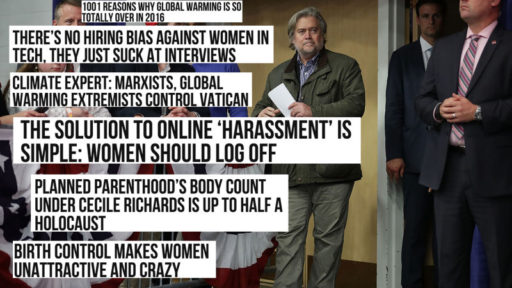 There is also now word that Trump will, in fact, be creating a Muslim Registry. One of his supporters even cited American internment of citizens of Japanese origin as precedent.
Throw in promises to break US climate agreements and the prospect of a second Supreme Court pick after he fills Scalia's seat and you get a picture that is terrifying for people of colour, the LGBT community, women and the planet.
How Did We Get Here?
President Trump is bad news, that much is clear. But why is this now a reality? It's because no one took his candidacy seriously. Comics thought him running would produce gold for them, but no worries, because, of course he wouldn't win. Pundits, same thing. Even I didn't take him seriously at first.
But we're not the only ones. The establishment of the Democratic Party clearly didn't consider Trump as a serious threat, either, despite their public rhetoric. They even tried to push both him and Ted Cruz to the top of the GOP heap thinking they would be easier candidates to beat than Jeb Bush.
It's true that Trump's core support came from xenophobic racist misogynists and they're now the ones strutting and scaring the shit out of everyone,  but this "basket of deplorables" weren't the only ones who voted for him. If they were, the electoral map would have looked quite different. The bigots are still a minority.
It's white working class voters in states like Pennsylvania, Ohio, Florida and now Michigan that tipped the balance this time around. It's not that their privilege blinded them to what a Trump Presidency could mean, it's simply that Trump's obvious bigotry meant less to them than the prospect of losing jobs due to the Trans-Pacific Partnership (TPP) did. Some lifelong rust belt Democrats who voted Obama twice and supported Bernie in the Primaries switched to Trump in the General.
A truly selfish act, to be sure, and an ultimately counterproductive one. Stopping the TPP is probably the first campaign promise Trump will break.
There was also a real feeling of dissatisfaction with the political establishment which Trump, posing as a populist, was able to tap into. If the choice had been between a right-wing, xenophobic pseudo-populist and a real left-wing populist like Bernie Sanders, Sanders would have easily won.
This election also proved that standard political tactics like a good ground game and mainstream media support are now less important than huge rallies and a solid social media strategy. Trump ran an unconventional campaign, so did Sanders. Clinton played it business as usual and lost.
What Needs to Happen Now in the Democratic Party
It's all water under the bridge, now, but that water is what people need for drinking and bathing, so we can't ignore how we got here and Democrats can't ignore the mistakes they made. If they do, they are bound to repeat them.
The party establishment didn't just lose. They lost to a third-rate PT Barnum who only ran to get a better TV deal with NBC. They lost to a man who admitted to being sexual predator during a national radio interview and who has bragged on tape about sexual assault. They lost to their dream opponent. They lost to Donald Fucking Trump.
If that's not the impetus Democrats need to show their leadership the door, I don't know what is. Now is the time to replace everyone at the top who pushed for Clinton over Sanders in the Primaries. Progressives need to take over the Democratic Party…soon!
If there is pushback, and there will be, fight it. If the pushback from the DNC establishment succeeds, it might be time to think about a new party. Even as President, Trump may end up destroying the Republican Party and there could be room for a new party in the two-party system.
What Needs to Happen Now Outside of the Echo Chamber
I had thought, as did many, that if he won, protests against Trump would start on day one of his Presidency. I was wrong. They started less than 24 hours after he won the Electoral College vote and became the President Elect.
From mass marches in New York City, Chicago and around the country to high school students walking out of class, people are voicing their displeasure with an impending Trump Presidency and what it will mean for them and their communities. This needs to continue.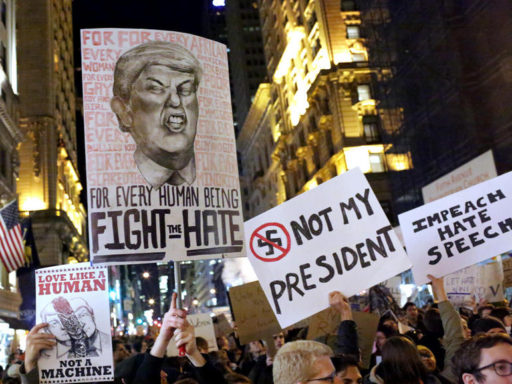 No, the whole "just accept the election results" line or the "give him a chance" attitude don't fly in this case. First, he's already shown us by appointing Bannon that he blew his chance to change the tone to a more President of all Americans one. Second, protesting the government, or even an incoming government is never wrong, in fact, it's a right.
If Clinton had won and stepped too far to the right with her picks, I would expect progressives, even those who voted for her, to be challenging her every step of the way. Now with Trump living up to the worst nightmare scenario fears and his most fervent bigoted supporters having their day in the sun, protesting has become a necessity.
An  election does not give the winner immunity from protest in a democracy. When the President Elect is promising to usher in a downright dangerous environment for marginalized groups, those groups and their allies should challenge the President Elect any way they can.
As for tactics, hitting the streets, boycotting Trump-aligned brands and calling out racism and misogyny can all be effective. Right here in Montreal, there is a Stop Bannon Phone-a-Thon putting Americans living here in touch with their local elected officials. There is also a solidarity action in the US encouraging people who aren't the target of persecution (ie. white people) to register as Muslims if Trump enacts a registry.
While I like the idea behind the move to impeach Trump, I'd like to remind those behind it that success would only lead to President Mike Pence, who, in many ways, is just as bad if not worse.
I would recommend aligning anti-Trump protests with other groups fighting against the things that this incoming President stands for. Solidarity with the #NODAPL protesters, for example, would be a great first step.
Politicians, other people and the mainstream media not taking Trump seriously during the Primaries and the General Election is what got us here. We can't afford not to take the threat of a Trump Presidency seriously now. It's time to fight.