Pierrefonds-Roxboro is one of the three Montreal boroughs under state of emergency, but you certainly wouldn't know it from walking on the dry and clean parts of Pierrefonds Boulevard, where even the buses still run on time. Nothing to indicate the multiple disastrous and somewhat surreal sights that await only a couple of blocks down: entire streets flooded, picturesque houses and vehicles immersed in eerily still water, piles of sandbags scattered like battle fortifications.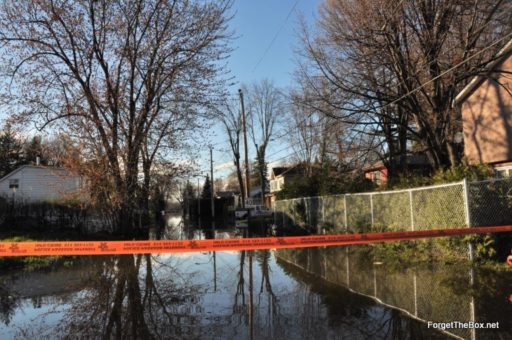 Everyday, residents stop by the disaster area, anxiously appraising the situation from their cars or going as far as their rain boots allow to check on their property. For some, it's been weeks since the water started seeping into their houses, others are still warily surveying the changing levels of the river, praying it won't reach their doorstep.
Early Tuesday evening, the first signs that the water has – ever so slightly – receded, elicited cautious relief in many of them. However, everyone knows that even if the weather remains stable, they are still in for a long wait before the river returns to its bed and they can start to assess the actual damages.
One man, who wishes to only be identified as a "directly affected citizen of Pierrefonds" stopped to take in the striking sight of a half-drowned mailbox, which despite being a few meters away from the Gouin Boulevard, now looks as if someone made the odd choice of planting it in the middle of a lake.
"Terrible, isn't it?" he said, his expression grim. "Everything we do to Nature, you know, there comes a point when she can't absorb it anymore and then she sends this back." For him, Pierrefonds' woes trace back to a far larger issue: climate change.
"It will be necessary for people to understand the gravity of the situation. And watching a little TV, you see it's not only Canada and Quebec that are affected. There are many countries in the world that live through the same situation, and they don't always have the resources we do."
The water had thankfully not reached his house yet, but, despite the first timid signs of improvement, he remained anxious. "If it rains, even one more day, I'm directly threatened," he explained. He bought a water pump during the week-end "just in case."
A few streets away, Maria** and her adult son were looking for their canoe to go check on their property. Originally from Poland, she and her two children had bought a brand new house here, on Vaudeville Street, only five years ago. Their beloved home has been flooded since last Friday. Like many of their neighbours, they were woken up by the army at five AM and told they had to get out, and quickly.
They are currently living in a nearby hotel with the help of the Red Cross. Last time they checked, the water was up to their chests in the basement. To say the least, stress has taken its toll. "It's panic attacks and sometimes, you can't sleep at night," confided the mother.
She was not alone to breathe a sigh of relief when she noticed the few inches of wet asphalt, indicating that the water had slightly withdrawn. Still, her worry was palpable. "I look at the water and I tremble," she admitted.
Nonetheless, just like the mailbox-watcher, they were thinking of those even less fortunate than them."You always have to think of those who have it worse than you," Maria said. "There are a lot of elderly people living here," her son added.
Civilians and officials
Police officers guard the flooded streets to make sure that no one has the bad idea of trying to pass through with their car, or the heartlessness to rob the deserted homes. The firefighters, the army and many volunteers are also present to lend a hand to whomever needs it.
"[The officers] are doing what they can, but they have a different point of view because it's their job, you know; we're their clients," Maria's son observed.
His mother agreed but sighed: "This tragedy, it's not theirs inside and when you see two policemen laughing and talking, it's hard to welcome them." According to her, it's the Red Cross that is their ultimate life-saver. They provided them with a hotel room, a meal allocation, and even some money to buy clothes.
Maria found one thing to be happy about in this ordeal: a new sense of solidarity in the community: "We became like a big family with the people on the street, because everybody helps each other and we are all in the same hotel. Before that, we didn't know each other."
Indeed, everywhere you looked, there was a little cluster of neighbours chatting, asking for news and offering help. One man was making the rounds with his own canoe to help other people around the flooded streets whenever they needed to get something from home or just to check that it's still standing. One of the policemen asked him to go check up on one of the rare residents who was still inside his house: "He's been there for a while, see if he needs anything."
Still, Maria reflected with a sad smile, "We shouldn't need to have a tragedy to be together."
State of emergency prolonged
By Wednesday afternoon, the water had significantly receded in the Montreal area. However the level of the Saint-Lawrence remains worrying near Quebec City and the Mauricie region. Nobody is out of the woods yet, since various amounts of rain are expected all over the province during the next few days.
The state emergency which is meant to allow the municipalities to mobilize staff and resources more efficiently is still in place in several areas including in Laval and Montreal.
As of Wednesday night, there was a total of 3301 people evacuated and 4141 houses flooded throughout Quebec. 166 municipalities were still affected.
The government has promised to deploy all the necessary staff on the field as well as financial aid for the affected citizens. However, the people of Pierrefonds and other flooded municipalities will also need all the solidarity they can get, not only form their own communities, but from all of us.
* Photos by Mirna Djukic
**Probably not her real name. Due to the engaging and organic nature of the conversation, this detail was lost. If her or her son read this and would like us to correct the record, please contact forgetthebox@forgetthebox.net and we will update the article