That was quick. A lot quicker than most expected. On Sunday Jagmeet Singh won with over 53% on the first ballot to become the new leader of the Federal NDP.
He'll be taking on Prime Minister Justin Trudeau and that guy the Conservatives picked, Andy something I think (yes I know it's Andrew Scheer, but did you without Googling it?), in 2019. It looks like we don't have to wait two years for the media frenzy to start, though.
In the past few days, Singh has already generated quite a bit of coverage to say the least. There have been mainstream pieces focused primarily on his style and how this is really problematic for Trudeau, plus the obligatory right-wing attacks and commentary from those who supported other candidates for NDP Leader.
Full Disclosure: At the start of the leadership race, I had planned to cover and comment on it from the sidelines, that changed after I interviewed Niki Ashton. I was so impressed with her I decided to volunteer for her campaign and therefore stop writing about the contest on this site (my personal Facebook was another story). Now that the race is over, game on.
While Singh was not my first choice, he did win our reader poll quite handsomely. Speaking of handsome and charismatic, as I'm sure many will continue to do, I realize that having a style that can rival or even beat that of our selfie PM is an important step up for the NDP, but what about policy and the message Jagmeet is bringing to the table?
Image and Policy
Singh does have some propositions that strike me as quite progressive. Most unique to him, he wants to decriminalize possession of all drugs, period, and treat addiction as a public health issue rather than a criminal justice one. That's a far cry from Tom Mulcair waffling on decriminalizing just pot and better than Justin Trudeau touting weed legalization while not overturning any convictions that happen before the legal status of the leaf changes, something Singh touched on in his first media scrum.
He also wants to decriminalize sex work and is a proponent of free post-secondary education. So far, so good.
Jagmeet is strong on social, racial and economic justice. For Singh, though, some of the NDP's core issues are much more than talking points. He can (and did during his victory speech) offer personal stories of growing up with economic uncertainty and being pulled over countless times because of how he looked and the colour of his skin.
While he may not have been as strong against pipelines as some of his opponents, he did voice his opposition to Kinder-Morgan and Energy East in an interview with The Financial Post of all places.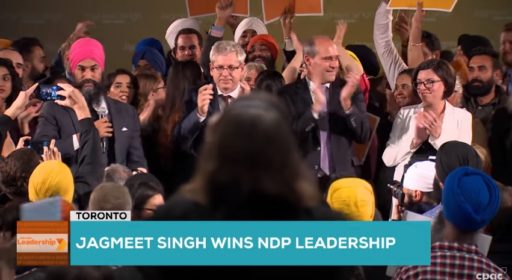 He wasn't the only leadership candidate espousing progressive values in this race and wasn't the furthest to the left, either. But it seems that this fact wasn't lost on Singh. Before bringing his fellow candidates up on stage, he praised Ashton for her progressive stance and stopped just short of admitting she moved the discourse to the left, a sentiment he reiterated in his campaign's email blast to NDP members on Monday:
"Niki has pushed the boundaries as a woman running for Prime Minister. Her courage to be unapologetically progressive and to engage a new generation has placed free tuition, climate change, gender justice, and unstable work on the federal stage. Thank you, Niki!"
He also thanked Charlie Angus for putting Native issues front and centre and Guy Caron for his "deep policy knowledge on (economic) inequality" before naming Caron his House Leader (Singh, an Ontario MPP doesn't currently have a seat in the House of Commons) a few days later. It looks like he's ready to listen, take what people liked about his now former opponents and integrate them with his own ideas.
He's in it to win and become Prime Minister of Canada and if his subsequent actions match his current rhetoric, he just might, or at least lead the NDP back to Official Opposition status. This is a step up from Tom "My Way or the Highway" Mulcair.
This means that it's up to all of us who supported other candidates to hold Jagmeet to his word and even guide him a little more to the left on some issues. He seems open to it.
There is a lot to like about Jagmeet Singh, but of course there are concerns as well.
The 'Burbs, the Party Base and the Hangers On
Everyone knows that Singh brought a whole bunch of new members to the party, which is great. Many of them live in suburban ridings and could possibly add to the party base which would also be good.
If his plan is to mobilize them in hopes of swinging a few traditionally Liberal or Conservative seats to the New Democrats by changing the voting base without changing his national presentation, then great, good idea. If, however, he also plans to suck up to current Liberal and Conservative voters in those ridings by altering his image and message like Mulcair did, it won't work and will turn off supporters elsewhere.
The NDP isn't the party of middle class suburban continuity, it's the party of big city and rural working class change. That's what fuels and inspires the party base, the people who, really, can make or break an election.
The independent left-wing group Courage listed some of what progressives can celebrate in a Singh victory but also stuff to be vigilant about. The part that piqued my interest was the revelation that some people involved with the NDP's move to the right under Mulcair were in the orbit of Singh's candidacy.
Turning over a new leaf doesn't just mean changing the face, it means institutional change behind the scenes as well. If Jagmeet truly wants to bring the party together and push a left-wing alternative to Trudeau, he should not only reach out to his opponents but the people who supported them, worked for them and volunteered for them as well (no, not talking about myself here, happily going back to journalism).
It's not just what I hope for, it's also good politics.
Oh Yeah, Racism
Jagmeet Singh was born in Scarborough, Ontario, a location that screams Canadiana about as loudly as Tim Hortons. When he speaks, he sounds like, well, someone from Ontario. When he speaks French he sounds like someone from Ontario who has put in the time and effort to learn the language out of respect for those Francophones listening to him.
That, of course, won't stop the racists from having a serious problem with him because his skin colour is different from theirs. It also won't stop the closet racists from using the fact that he wears a turban and a Kirpan (ceremonial Sikh dagger) to bring up some coded bigoted language about secularism and religious symbols while clutching their crosses.
The racist pushback started even before Singh won leadership. First there was the truly ignorant heckler at a Brampton event who started screaming about Sharia Law of all things. Jagmeet's extremely chill response to this garnered him media attention globally and even caught the attention of US progressive outlet The Young Turks.
Then Quebec MP Pierre Nantel said that Singh wearing a turban was "inconsistent" with what voters in Quebec looked for in a leader. Honestly, Nantel sounds so much like a Bloc candidate that he should just join them and stop pretending he's progressive.
Now, since the vote, the CBC's Terry Milewski interviewed Singh and tweeted that Jagmeet refused to condemn Sikhs who held up posters of Talwinder Parmar, whom some suspect was involved in the Air India bombing. Never mind for a second that Milewski is infamous for his Samosa Politics series targeting the Sikh community, is the first question someone asks Justin Trudeau typically whether or not he condemns the Quebec mosque shooter or the FLQ?
Of course not. We assume correctly that Trudeau does condemn acts of terrorism. Why don't we extend the same assumption to Singh?
I truly hope that the racists in Canada are as small and electorally insignificant a group as I think they are and that the only reason they seem louder is corporate media bolstering. I hope Canada and especially Quebec doesn't prove me wrong.
Gonna Stay On Board
I became a card-carrying NDP member shortly before the Orange Wave and volunteered during that campaign. After Tom Mulcair took over, I remained an NDP voter but let my membership lapse. I knew that my input was not sought, though I offered plenty of it in posts on this site.
I re-joined the party specifically to vote for Niki. She didn't win, but I'm not going to jump ship again, at least not right now.
Jagmeet is not Tom. Mulcair's victory felt as though the most I could do was offer advice from the sidelines and hope for the best. Singh, on the other hand, seems like someone who wants to do what it takes to win and if he is convinced that keeping the NDP on a leftward trajectory will do that, then those hoping for a true progressive political change should all help him do that.
At the very least he's a better choice for PM than Justin Trudeau.