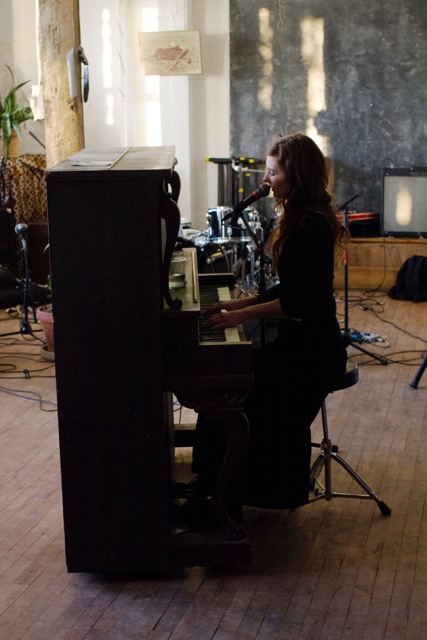 Last weekend, Passovah Productions, founded and directed by Noah Bick, celebrated its sixth birthday with an enthralling two day festival exalting music and community. Nineteen acts, a motley of genres, established names, fresh faces, remixed line ups and new formations, took the floor over those two days. Although I originally intended to take part in the conviviality for only a couple acts on Saturday, I found myself arriving home seven hours later to chow down on the usual post party guilty pleasures. No regrets whatsoever.
On the northern edge of Mile End in a spacious loft with several dozen people intently listening to every flight of finger on the keys, indie pop singer-songwriter Caroline Keating inaugurates the evening by debuting some of her newest material. Sunlight peers through windows kissing faces and giving shadows the opportunity to slow dance along as Keating performs to a crowd soaking in every note.
Keating's songs are moving and in perfect harmony with the settings. Fans of Silver Heart (2012) need not fear a vital change from what they've grown to love. The sun begins to set, casting the room in an orange light, and Keating's tunes echo the feeling of the end of winter and an anticipation of spring: a yearning for change.
The sun takes a bow, beer cans are opened as more people pour in and Adam Kinner takes the stage, saxophone in hand, accompanied by a fellow musician on the electric guitar. What comes next feels like an artistic experiment, a painting with sounds, and I decide to sit down next to a friend to take it in as our beer cans hum in succession when matching frequencies resound.
Kinner and his collaborator craftily build sound textures by playing a succession of notes and then setting them free as if in liberated Derrida-esque deconstruction. Speaking to a few nearby audience members, there is an agreement that the pulsing waves would suit the soundtrack of a film like the 1970s detective film Klute (Pakula 1971).
Up next is Silverkeys, a duo made up of two out of three members of  indie psychedelic band Adam & The Amethysts. With Adam Waito on the guitar and Rebecca Lessard on the cello and the keys, Silverkeys begins a set of "doo woop indie electro folk pop" that rings my heart bells.
Waito and Rebecca's voices recall the warm buzzing that the sun leaves on the skin. I drunkenly searched for comparisons, narrowly missing the mark, toying with names like Death Cab For Cutie (in the days of Transatlanticism). Silverkeys' track "Angelfire" is a favourite, making for a great summer bike ride anthem.
By now the party is firmly "on": the empties are piling and the number of people has tripled. Chili is served for those in need of filling bellies. Swept up in conversation, I stop paying attention to the music until Smokes takes the stage and summons me. I make my way to the front setting my eyes on the trio whose frontman is wearing a kick-ass purple unicorn t-shirt.
Smokes is Nick Mass (vocals, guitar), Patrick Cruvellier (violin), and Jeremy MacCuish (drums). Mass' vocals sometimes recall local band Cinéma L'amour but with a grungier garage sound. Their performance of "Deer in the Headlights", which makes for an adrenaline-pumping anthem, shattered my winter idleness.
After this set, I needed fresh air, a smoke/a toke, and CTZNSHP was up next when I returned. Although I'd heard tracks from their upcoming album Doom Love, I'd never heard this indie haze rock band live and was not disappointed in the least. CTZNSHP is Jesse LeGallais, Scott Delaney and Florent Clavel. With good reason, this trio is making waves on the indie music magazine and blog circuit as anticipation for their album release builds.


Next up was the energy bomb that is Nanimal, with their recognizable catchy tune "Muffin". Nanimal is made up of two ex-members of Parlovr–Louis (guitar, vocals) and Jeremy (drums)–joined by Vincent (guitar) and Noemie (bass, vocals). Nanimal is one of my favourite local bands these days. The crowd begins to dance, attentions drawn to the riot racket rock that Nanimal gifted us with, and I gleefully joined in. The rest of the night is a blissful blur.
Photos by Garret Lockhart.