Over a thousand people marched from the camp at St. James Park through downtown Toronto to Nathan Phillips Square on Saturday, one week after the beginning of the Occupy Toronto protest.
"I think it's really exciting and I'm really glad to see this big mobilization today," said activist and researcher Emily Paradis, accompanied by her teenage son and his friend.
After a week and extensive media coverage, it was still unclear whether Occupy Toronto would be able to maintain the public's attention.
"I was [at St. James Park] in the middle of the week on a night when it was just pouring rain and it just felt like this very small band of incredibly brave people camping in the freezing cold and the pouring rain," said Paradis. "I didn't want them to feel isolated or like an island, so it's nice to see this big mobilization today."
Protesters gathered at St. James Park in the early afternoon before marching through Toronto's financial district on the way Nathan Phillips Square outside Toronto's city hall.
Drums and chants of "This is what democracy looks like!" echoed as marchers streamed into the square shortly after 3 p.m.
As has become typical of the Occupy protest movements, the Occupy Toronto rally brought together people representing a wide range of issues including student debt, unemployment, native rights, environmental protection, housing, sexual and gender diversity and war.
The movement has brought the divergent groups under one umbrella against increasing income inequality and what is perceived as undue corporate influence in politics.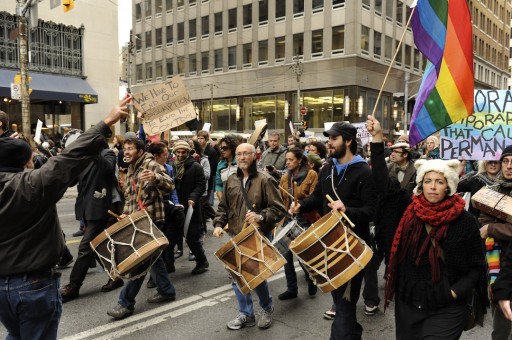 Speakers at the rally included representatives of the First Nations delegation, two unions, a social housing advocacy group and an anti-poverty group as well as author and activist Michele Landsberg.   Organizers also announced that a sign-up sheet for speakers at future events would be made available.
The rally took on a more political tone than the movement's first assembly one week earlier with some speakers criticizing the Conservative government and calling for change at the next federal election.
Meanwhile, Mike Roy of Occupy Toronto's media team transmitted the rally over the group's live online video stream. "We've been able to access mobile points and broadcast live to people all over the world," said Roy.
Roy also talked about the state of the movement one week in. "I've been down there since day one and every time I wake up in the morning there's another ten or twenty tents so it keeps getting bigger and bigger even though the weather keeps getting crumbier and crumbier," he said.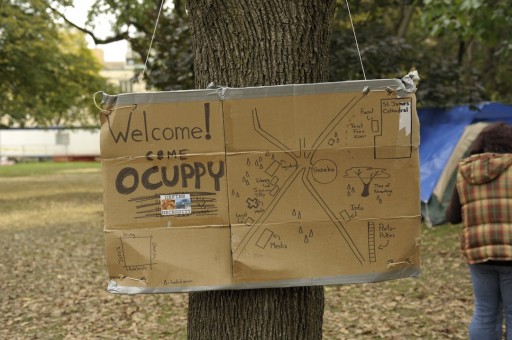 NDP Member of Parliament Olivia Chow rolled into the square on her bicycle. "The organization is tighter, it's growing and I think the message is getting through," she said.
"People are fed up with the 1% getting everything and the rest, middle class Canadians, are working longer hours and barely getting by," said Chow. "The gap between the rich and the poor is widening, young people are graduating with huge student debt and that's just not fair. So I'm here in solidarity with the folks that are out in the street and I support them."
The rally was marked by an unusual incident when a protester went over a fence and scaled and sat on top of one of the arches that cross the square's fountain.
"He's not intoxicated, he's just making a peaceful demonstration," said Peter, a volunteer with Occupy Toronto and marshal for the march who spoke with the man as police and others looked on.   "It's his way of performing a solemn protest and he is going to come down," said Peter, who did not want to release his full name.
Photos by ©Alistair Maitland and Tomas Urbina.