From French commentators calling Japanese gymnasts "little pikachus" to media systematically crediting male coaches for female athletes' achievements, the coverage of the 2016 Olympics is accumulating mishaps. Not that it's anything new.
Once every two years, sport journalists are thrust in a spotlight of epic proportions. Every media tries to make the most of it, scrambling to find a commentator who has the faintest idea about the rules of slalom canoeing. Not only are mistakes bound to happen, but they are bound to be heard by a greater audience than ever.
One of the most disturbing effect of all this live, unfiltered, commentary are some shockingly racist comments appearing on national television. France Télévisions' Thomas Bouhail kept comparing Japanese gymnasts to pokemons and mangas. CBC's Byron MacDonald had to apologize after saying a Chinese swimmer "died like a pig."
The lack of technical knowledge is forgivable. As a gymnastics fan, hearing nonsense like "piked salto with straddled legs" about a bar release certainly makes me wince, but I have to appreciate the challenge of commenting on sports – especially ones you only have a passable knowledge of – in real time.
What I take offence to is commentators who palliate their lack of knowledge with relentless remarks about every competitor's age, appearance or nationality that are redundant, irrelevant and bordering on prejudice.
Take young Chinese gymnast Wan Yang. She was wonderfully consistent in Rio, qualified for two of the four event finals and came sixth all-around. Listening to Radio-Canada's announcers, though, you would think that the most interesting thing about her is that she is 4'6″.
I swear more than half of their commentary about Chinese women's gymnastics was an extended exercise in variations of the terms small or tiny. The rest of it was mostly preconceived notions about what China was good or bad at with little regard to what was actually happening at the moment.
I particularly resent one commentator discoursing on the lack of artistic delivery, amplitude and good connections in Chinese floor while Yang delivered a brilliant performance that presented none of these problems. The same commentator, in a remarkable impression of a well-meaning but obnoxious uncle, exclaimed that Yang "looks 12 or 13, ahahahah."
Radio-Canada is not a lone sinner. It's amazing how much of the coverage of women's artistic gymnastics is still a long-exhausted running commentary on how young and tiny gymnasts are.
Not only is it annoying and besides the point, it's deeply rooted in racial and gender bias.
How often have you heard about the height of male gymnasts, this year (yes, male gymnasts too are notably short)? Which brings us to Olympic coverage's other most enraging aspect:
Ubiquitous Sexism
The world of sport journalism is very unwelcoming to women, be they athletes or journalists.
Has this issue been explored before?
Multiple times.
Do we need to keep talking about it?
Well, let's take a look at a couple of things that actually happened in the last two weeks: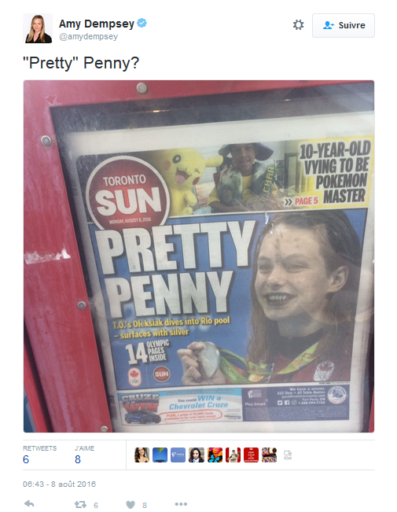 Canadian swimmer Penny Oleksiak breaks an Olympic record and wins four medals: Toronto Sun's cover gives her the nickname "Pretty Penny."
American Corey Cogdell wins a bronze medal in trapshooting (her second one in three Olympics): Chicago Tribune refers to her as "wife of a Bears' lineman" in a tweet, omitting her name.
Majlinda Kelmendi wins the first Olympic medal for Kosovo, in 52Kg Judo: A BBC commentator calls the final a catfight.
Women's rugby sevens make their debut at the Olympics: France TV's commentary includes a consultant calling the French players "little darlings" and saying they are cuter and more feminine than the Americans.
I recommend you devote four minutes of your time to have a look at this spot from Vox's Wide World of Sexism (I promise you it's worth it).
Why are Olympic commentators so bad at commenting on women's sports? Probably because they never do it.
A Canadian study published this year highlighted how little attention women's sports usually get. In 2014, National newspapers only devoted 5,1% of their sports coverage to women's sports. National sports channels had similar performances.
This is despite the fact that Canadian female athletes have excelled more than ever on the international scene in the past couple of years. As of this morning, women have won 14 of Canada's 18 medals in Rio. Nonetheless, according to the same study, 99,5% of sponsorship sums are still awarded to male athletes.
Female athletes who actually make it to the news don't have it that much easier. Another recent study by Cambridge University Press analyzed 20 years and seven billion words of media coverage of male and female athletes.  They found striking differences in the vocabulary used to describe them.
Male athletes were found to be often described with words like strong, fastest or great. Words often associated with their female counterparts included married, unmarried and pregnant.
Women in sports were likely to be referred to as ladies or girls, whereas the terms boys and gentlemen were rarely used.
The researchers also observed a particularity in the usage of the word women. We talk about Women's football, women's golf, women's cycling. But we never see men's football or men's golf, do we? Usain Bolt won the 100 meter dash. Shelly-Ann Fraser-Pryce won the women's 100 meter dash.
BBC's John Inverdale gave a prime example of the mentality this is linked to when he asked Andy Murray how it felt to be the first person ever to win two Olympic golds in tennis. Because Serena and Venus Williams won about four each… in Women's tennis.
Women are a huge part of sports. They should be a huge part of the coverage of sports too.
*Featured image from the Nirvana News Youtube Channel