When it comes to the live concert experience, we expect a lot from the artists up on stage. But what about the crowd? If we demand that an audience display as much energy and excitement as we've come to expect from our favourite bands, every show would be like the ORG713 show that happened at Sala Rossa last Thursday.
Most of the crowd were very happily and exuberantly dancing along to every song. As one girl at the show put it, it was as if they were all competing to see who can dance in the most psychotic fashion. Indeed, most people looked like they had lost their minds from sheer joy and good times.
This much frenetic, arrhythmic movement is usually reserved for the most brutal heavy metal mosh pits. But there was a style and grace to the dancing people not present at louder, heavier shows.
The show featured Montreal bands The Haiduks, Blood and Archery Guild. Headlining was Toronto-based psychedelic outfit Ostrich Tuning.
The Haiduks' psychedelic 60s pop started the show off on the right foot. Their warm sound has a tendency to envelop you in a fuzzy blanket of comfort and make you feel a little zoned-out and loopy.
Just when you were feeling nice and relaxed, spanking-new band Blood took the stage. Founding member and show organizer David Kleiser describes Blood as "Elephant 6 forming a KC and the Sunshine Band cover band." This is when the crazy dancing started. The lights were off and some very trippy footage from obscure old films was playing on a big screen behind the band.
The captivating visuals continued when Archery Guild took the stage. The lights were back on and all nine (and sometimes ten) band members could be properly seen. Sala Rossa is a great venue to see bands with big lineups and even bigger sounds. There's something about the way those chandeliers and the velvety red curtains get reflected in brass instruments. It makes you feel like you're in another time.
In all honesty, I missed Ostrich Tuning's set. The show started well past the advertised start time of 8 p.m. and I wasn't able to stay until the end. I can imagine how their darker, moodier brand of psychedelic indie rock brought the entire evening to a beautiful culmination.
This video nicely captures the essence of the show, minus the amazing music.
ORG is a multimedia creative collective made up of musicians, artists and filmmakers. They regularly schedule events to showcase music, zines, comics, posters and other pieces of art from members and friends. To read more about the collective, see Pamela Fillion's interview with David Kleiser.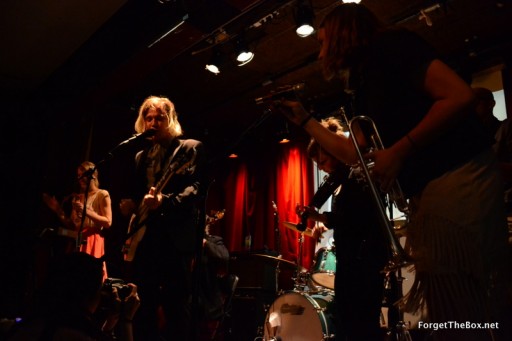 Photos by Bianca David.