Ice storms.
Triple pant layers for slippery grocery shopping trips.
Post-holiday back to the grind panic attacks.
Sound familiar?
I'm slowly working my way into a winter funk and I am sure I'm not alone in this.  Here's what I'm betting on as the perfect remedy:
Rx –  One vigorous dose of Archery Guild's launch of their sophomore album Manitòk  this Friday.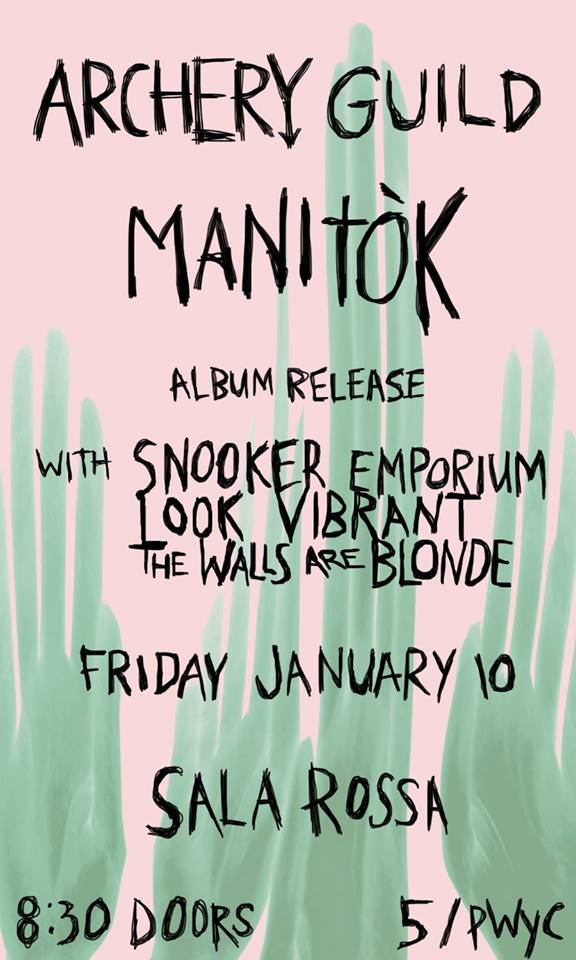 For those of you unfamiliar with these Montreal music makers, Archery Guild is an experimental indie rock band. Their line up currently includes Michael Cota (vox, guitar, synth), Marshall Vaillancourt (drums), Tristan Giardini (Bass), Mariah Andrews (trumpet, synth, vibraphone), Ian Gibbons (cello), Huei Lin (sax) and Casimir Kaplan (guitar).
Archery Guild is known for their dynamic wall of sound and their joyful cacophonous melodies. I greatly anticipate experiencing their new tracks and haven't looked forward to a show like this in quite some time.
This line up of local musicians is pretty sweet: I've seen experimental psychedelic pop act The Walls are Blonde and enjoyed their tunes and stage performance thoroughly. I've yet to see Montreal's psychedelic prog surf rockers Snooker Emporium and noise pop duo Look Vibrant live.
See you there. I'll be the head bobbing, feet swaying gal wearing wool socks. Don't be shy, come say hi.
Get ready and have a listen: